We Pickup & Deliver Furniture & Appliances Cheap!
Quick Move delivery service Sydney specialises in picking up & delivering furniture for customers in NSW. Whether you have bought an item online or simply had it handed down by family or a friend, it's all the same to us. As a specialised home furniture removalist in Sydney, we have proven to be the most reliable and affordable delivery service for everything furniture transport by far. Our unique style of operation coupled with our superb customer relations gives us the leading edge required to carry out our duties successfully. Known as an affordable removals company our staff have extensive training in furniture handling and packing, therefore you get the best help there is available to you. Nothing is to hard for our delivery service team. See our recent customer reviews. Call us on 0487 399 669 to get a free quote now or easily use our quick quote form today.
We Deliver & Install Furniture, Appliances In Sydney
Sofa Bed Delivery Service in Sydney
Sofa bed delivery install and much more…..
Are you after a sofa bed delivery? Quick Move is a professional furniture delivery service who specialise in all kinds of sofa beds, lounge suites and couch deliveries. We only employ experienced furniture handlers to move your items of furniture. Our boys are known for being able to relocate the most awkward of lounge suites without hassle.
Sofabed Pickup Service For Quick Deliveries
We relocate all different shapes and sized sofas. We also offer lounge covers as a part of our service. We cater for all sizes – 2 seater, 3 seaters, sofa and chaise etc. We have pristine clean vehicles with polished floorboards in all the pantechs, the perfect transit vehicle for couch deliveries.
Hire a Sofa Bed Mover That Can Handle The Weight!
What makes this job so easy for us is YOU!! If you provide all the information we need about your couch, sofa or lounge suite, than the jobs run extremely smooth. Dimensions are always helpful or even an image of your sofa for us to view to give us a rough idea of what we are up against. When providing access details, please provide accurate access details to eliminate delays in your couch deliveries. If there are any stairs on either property than please let us know and if there is a lift please do your measurements to make sure the sofa will fit. These details are important to ensure our furniture removals service is prompt and professional. Please note though these details will not affect your rate that you will be quoted. You will be happy to know that the half hourly rate you are quoted will be a fixed rate and will not change. If access details look tough than we can always offer an extra man to make sure no damage is done to your property. This is very rarely needed as our furniture removalists are all experienced and tackle tricky access on a daily basis. Its all part and parcel of their job. Quick Move have a remarkable reputation for furniture deliveries and we intend to keep it that way.
Sofa Beds, Day Beds, whatever type of bed you need delivered we can help!
Quick Move is well known for online shoppers. We are the people you call once you have done your shopping online and are looking for a reliable friendly lounge courier service. Grab a quick quote today or simply call us on 0487 399 669 to have a chat with one of our staff members at Quick Move.
Bed & Mattress Delivery Service Sydney
We Deliver Beds, Bed Frames and Install It All
From cots to king, queen, double, king single and single bed deliveries, you name it we move it. Quick Move are known bed couriers within the Sydney region and run a well known mattress delivery service designed to cater for online shoppers. As you know there are many different sizes and kinds of bed and mattress items you can purchase online. We are well known and respected in the online shopping industry. We are recommended by alot of ebay delivery users as they know that we help in any way that we can. We are able to pick up anything you have purchased and deliver them to you fuss free.
Mattress Delivery & Bed Frame Installation
We come well equipped with all the necessary tools to dismantle or to reassemble your bed upon delivery. Most bed frames require just the standard tools to do so however in some circumstance certain beds may require a special tool. If this is the case please make sure you have this handy on the day.
Bed & Mattress Delivery Charges
Our rates start as little as $45phh. It is all about the time it takes. Of course all the normal aspects come in to it, access, and if there are any stairs and the parking situation. We offer a 2 men team at all times so nothing is too big or too small for us to deliver for you. This will not alter our prices at all, it just helps the guys knowing what they are up for prior to arriving. If you need your mattresses delivered, use Quick Moves mattress delivery service. We offer a free mattress wrap on all moves. For a free no obligation quote, simply fill in the form and you will get a reply instantly.
eBay delivery service Sydney
Sydney's Original eBay & Pickup Delivery Service
If you are new to eBay you may have not heard about Quick Move eBay delivery service? Well now you know! Quick Move is a removalists company that conducts ebay courier delivery services for the city of Sydney. We have multiple vehicles picking up and delivering items that buyers have purchased on ebay. Items ranging from but not limited to microwaves, fridges & freezers even Gym equipment, mostly furniture. Though Quick Move specialises in relocating furniture, we tend to move alot of exercise equipment around Sydney also.
We are located in Sydney, you can be anywhere in NSW and request a quote. We have a large fleet of staff and hopefully someone nearby that can assist with your eBay delivery service needs. Buy & bid with confidence knowing that Quick Move will assist in any way possible to get your item to you offering a professional and a competitive eBay Pick Up Service. For a full range of our service areas check out the service map.
We Provide a Delivery Solution For eBay Members
Buying & selling second-hand furniture on eBay & gumtree is a great way to recycle and make some extra cash at the same time, "One persons trash is another's treasure". Websites like eBay are great, it gives you great opportunity to let everyone know what you have. The auction format is the way to sell, start your bidding really low, don't worry too much about your reserve if you describe the item really well it will hit your reserve. Starting the bidding off low attracts buyers, the more people it attracts the more you will get interested in buying it and before you know it there is a bid frenzy and your item sells for top dollar.
Last minute bid, now you need a eBay Delivery van?
When selling an item on Ebay, I want to see the bids escalate over the days. I always choose 10 days Why you say? Simply because I want more people to see the auction and get interested. By starting the bid low gets people to click on 'watch this item' in their 'my eBay', this does absolute wonders for you because people that watch it are really interested in buying it and by the 10th day they are that intrigued by the item they will pay top dollar just to win. Last minute bidders they will always be there.
Sellers feedback is important, check before you bid
The first thing you should do is check the sellers feedback. If it's above 100 I would consider that to be pretty safe, but anything under i would consider asking for a phone number to either text or speak with that seller, just so you can get an idea if they are genuine and not interested in selling the item elsewhere.
Some sellers will say in their descriptions that they are advertising the item on another website or in the local paper and they usually put a tiny disclaimer like "we reserve the right to end the auction if sold elsewhere" so if you do see that or something to that effect, straight away call the number or message the seller and see where they are advertising and how much for.
Negotiate a better price, make the eBay delivery cheaper
Take a careful approach with your negotiating as you don't want to upset or offend the seller by offering a ridiculous amount. Some people can get pretty upset, especially when its furniture, or something that once they held dearly to their heart, so be gentle with your approach and don't be ruthless.
So how much should you negotiate?
I recommend firstly checking what the going value is of that particular type of item. Take into consideration the condition and the age, try and find a few to compare that will give you a rough guide, now if the item you are interested in is significantly dearer then others, find out why. If there is no significant difference, then I see no reason that you should pay more than the going rate, or better yet get it a bit cheaper as this is what eBay is all about. So my suggestions are do your homework and then search for the item.
Once the deal is done, Hire us to Deliver
Communication is the most important thing for a smooth transaction. Everyone these days has such a busy schedule and some sellers can be really direct with pickup times. We have teams running from 7am – 7pm Monday to Sunday. This being able to work in with any busy schedule.
Pickup up the item & Deliver direct to your door
We are professional furniture movers by trade so you know you are getting the real deal when we deliver your furniture. It's really important for you to understand that we are removalists by trade and you will get that moving experience done by professionals, so all in all I am really proud of what we do.
What we need to know initially before quoting
Before any of the staff give you a price for delivery of the furniture, we want to know a bit about what we are picking up in order for your ebay delivery to run smoothly. This will not alter your initial quote unless you add extra men due to the item being too heavy or unsafe for 2 men to move. For eg: Is it timber, is it marble or is it steel? Are there any stairs or is there a lift and will it fit? And same regarding the delivery address. It is a good idea to also makes a few suggestions to the seller like how to prepare for us, for eg: what to do with furniture with drawers and loose items like glass shelves and what not, handy stuff that saves the sellers time, our time and your time.
Available pickup times and schedule for an eBay delivery
With us we like to get everything done and dusted during daylight, especially when we have an inner city eBay deliverys. Peak hour traffic in the Sydney cbd is a nightmare we all know this so what we want is recognition of it. We offer reasonable timing windows and through no fault of our own may be a bit later than suggested due to traffic. In most cases we are able to pickup and deliver an eBay delivery any time of the day between 7am – 7pm, On top of that you will receive a courtesy call approximately 30 minutes prior to us arriving, giving you time to get home and be ready. So to avoid disappointment we always give a window of at least 3 hours.
Protection for a safer arrival on delivery
We use only the best products like furniture removalist blankets and soft straps to cover and secure everything we carry. We carry the furniture with care and experience, impressive quality workmanship is a promise. Some eBay sellers can be dishonest and some are just not as fussed as you may be about a few marks. So the best solution would be to ask questions and ask for pictures of the condition prior to purchase.
Using PayPal to protect you from Scams is important
Choose PayPal to pay for your Ebay items. PayPal has a resolution center for eBay members. PayPal can freeze the money you have paid the seller through the dispute centre if a problem occurs due to a dishonest seller or the item not being as it is described. The seller must respond to the dispute and you must provide evidence of your complaint and from there a Paypal team member will review and make a decision.
Don't pay anymore than we charge you for the eBay delivery!
We offer the best rates in Sydney. If we still haven't convinced you that we are a superior removalist company check our reviews and see what our previous customer have had to say about their amazing experience us.
Sydney's First Choice for eBay Courier Deliveries
Shopping online for furniture is a great way to buy what you want at a fraction of the retail price but you will need an eBay courier at some point, whether you're buying from eBay, Gumtree or other classified websites like Bondi classifieds, Graysonline or even the good old Trading Post. Quick Move the Furniture Removalists offer you a removal service that you can afford. Contact Us for a free Quote
You need a reputable eBay Courier service!
Thousands of people now look on eBay and Gumtree for all your families needs and wants. It's the way of the world as we know it! We can set our own budget, NO dealing with pushy sales reps, and with the click of a button we can find new, old and antique furniture. Ebay and Gumtree have all the options to narrow down your search so you can be as specific as you want! Honestly we no longer have to leave the house and can find anything we want and have it delivered straight to our door by a trusted eBay courier without it costing a fortune. We have a strong customer base who trust and use us on a daily or weekly basis. We pick up and deliver the goods, whether it's being taken to your home, place of business or a storage unit. See our note to eBay sellers for more information.
eBay Courier & Furniture Removals Service
We are the most affordable choice to have the items you purchased (regardless to how big & heavy or small) they are. We simply pick them up on your behalf and deliver them direct to you. Not just to your door, we place the items inside the home for you, wherever it may be that you need them to go. An eBay removals service that can provide a great affordable quote for whatever items you purchase. We provide you with a great price from the get go, no need to bargain with us at all, our prices are amazingly cheaper than any other eBay delivery service.
eBay courier for bulky deliveries
Our removals company in Sydney consists of staff that have over 10 years experience and know how to deliver the best possible service you can buy. We are highly experienced and we use only the very best tools and moving equipment to ensure your items arrive safe and sound. But why choose us? There are heaps of other eBay couriers offering the same thing right? WRONG Most delivery services have exclusions with their prices or rates, so it ends up costing you alot more than you initially thought. All our rates and charges are fully inclusive so no nasty add on charges at the end of your delivery.
eBay courier same day delivery
We are based in all major cities of NSW, we operate 7 days a week. However, we also deliver to the North (as far as Newcastle) and South coast (as far as Narooma) on a regular basis. Sydney really is the HUB for bargain shopping so no matter where it is we will pick it up and bring it to you.
eBay removals service with buyer protection !
That is why we developed Quick Move, a unique service that not many have successfully accomplished as yet. Our services and business practices are built on the very same foundations as the furniture removalist industry, the way we handle the furniture is no different and the tools and materials we use are the same as if we were moving your whole house, the only difference is the price. We are amazingly cheaper. We can do this successfully, simply because the demand is there, and you will be glad to know that we operate 7 days a week. There is NO extra charge for weekends or after hour deliveries. It's just another way to serve you better..
Get a quote to pickup an eBay item
We give you instant eBay delivery quotes with simple pickup and delivery solutions for most furniture stores and online shoppers, in fact we are rated the best furniture eBay removalist service for eBay in Sydney
Over 1000 eBay members have used us to pickup items they deemed to be awkward,to big or to heavy for them to do themselves. Please feel free to Contact Us, Or call us today on 0487399669 No matter how big or small your item we have the tools and the people to get your delivery where it needs to go.
eBay Delivery Quotes Online Easy as 1-2-3
Quick Move developed an eBay delivery service in 2011 and since has become the favourite way to get your items delivered online. Our eBay rates can be fixed, therefore giving you a superior service without blowing the budget. We operate 7 days a week from 7am to 7pm, and you would expect to hear back from our staff within the hour from submitting your eBay delivery quotes during these times. For more information on our services and how we can quote you give us a call on 0487 399 669.
Booking Online is easy after you get a eBay delivery quotes
We provide everything online, from quotes to booking, it is as easy as 123. Don't waste time with the yellow pages, you have found your one stop shop eBay removalist Service. Let us quote you online, book you in online and take your payment all online. Its our pleasure!
Looking for an eBay delivery van that wont break the budget?
Look no further Quick Move – eBay furniture removalist's service can pickup that gift and take it straight to the recipient, all with a friendly smile our service is of the highest standard, we understand your needs and wants, its our goal is to meet them, you can send us the eBay item number and we can look it up and provide a quote for delivery that way also.
IKEA Delivery Service Sydney
Ikea Delivery Solution For Sydney Buyers
We can pick up your in store purchases, deliver and assemble the flat packed Ikea furniture for you on any given day. How do we do this you may ask? Simple, we meet you at the Ikea store after you have bought your furniture, we then pack and load the items onto the truck and deliver them to your door. All our trucks come fully equipped with all trolleys and tools if assembly is needed.
We Can Unpack & Install Flat Packed Ikea Furniture & Take Away The Rubbish!
You will need to have purchased and paid for the items prior to us arriving to save you time and money. Once you have done that our furniture removalists can take them from the loading bay at Ikea and load them onto our truck for delivery to you. So prepare well in advance book us in at a time that allows you to shop then simply meet the guys and the truck in the front car-park and we will take over from there.
The dont's of the fast Ikea Delivery service
We do not shop for you
We do not pay for you
We will not add the total of your shopping to our delivery fee.
The Do's of the fast delivery service
We do assemble your items
We do lift and load everything
We do take away the rubbish and packaging
Our Ikea Delivery Service is Fast & friendly
Fast delivery times are flexible to suit everyone. Our Fast Delivery Service is unique we can make sure that you have your items the same day.
Delivery & Assembly Service for flat packed Ikea furniture
To enquire about the cost to assemble please call us or use the quote form and one of our Quick Move team members will reply within minutes. We are fully trained experienced furniture removalists. Remember this is our profession, we do this every day of the week. So kick back make a cuppa, relax and leave all the hard work for us.
Quick Move the furniture removalists take great pleasure in doing the hard parts for you. Leaving you to enjoy your new items. Check out our reviews and see what other thought of our friendly, professional service.
Lounge Delivery Service Sydney
Any Type Of Lounge Delivery Same Day in Sydney
We take super care when it comes to moving lounges. We protect the fabric using removalist pads and remove all cushions before transporting the lounge. A general lounge delivery service would not go to the extra lengths we do. Lounges come in all shapes and sizes, so its important we obtain what type it is and whether it is leather or fabric. What this does is lets us plan ahead for the job at hand and it also helps with quoting as well. All of our customers will have access to our same day pickup and delivery service, for out of Sydney areas you can also request a same day delivery. Just one of the many options our company offer our customers.
Sofa Beds & Lounge Delivery Service
Sofa Beds are a lot heavier and will require more time for the delivery, especially going up stairs and into properties with tight access, however your in top hands. Our lounge delivery teams are more then qualified and more than happy to deliver the heaviest of lounges. You make our job easier by moving any obstacles from our pathway, it's hard to see what we are walking through so a little preparation really makes the job easy. Be careful when shopping online, I have seen a lot of people just buy lounges online without inspecting it and when it arrives they have been disappointed in the condition. Regardless to what price you may have won the lounge for, a recommendation from a professional is to fully inspect it before you make the final purchase.
An affordable lounge delivery service in The Sydney Region
Our prices for picking up lounges start from just $45phh. We achieve to give you the best price possible. We do have professional lounge delivery teams working with us Monday to Sunday to get your lounges and sofas delivered to you in impeccable condition and all within a reasonable price.
Need a Lounge delivery service quote?
Simply fill in the quote form and one of our friendly staff will reply with an amazing price, to proceed with the quote simply call us on 1800 784 256 to book over the phone or take advantage of our discounts and book online . You can contact us Monday – Sunday from 7am – 7pm. We are professional furniture removalists and your number one lounge courier delivery service. Forget the rest and hire the best, use a lounge delivery service in the Sydney metro area that offers more then affordable rates.
Protecting Lounges during delivery
We wrap every lounge and sofa in quality padded removalist blankets to protect it whilst in transit. The blankets that protect the lounges are made from high quality soft padding manufactured right here in Australia. We only use the best and therefore can provide maximum protection for a lounge delivery service. If we haven't convinced you yet, check out our lounge delivery service reviews. Like us on facebook to receive all of our amazing deals and snap specials.
Call us today on 0487 399 669 or simply book online through the website. Quick Move, your local moving professionals.
Wardrobe Delivery & Install Service
Wardrobe Installation & Delivery in Sydney
Quick Move wardrobe delivery couriers are a simple yet effective solution for all your relocation needs. We specialise in all furniture, particularly large awkward items like wardrobes and appliances that you would not attempt to move on your own. Our professional furniture removalists will have your furniture delivered to you fuss free. We are amazingly cheaper than any other removals company by far, check out our prices by simply entering your details in the quote request form. When it comes to wardrobe removals, there is simply no comparison.
Large or Small Wardrobe Delivery in Sydney
Quick Move is your best solution, we provide a safe and easy online booking system with various ways to pay, we move all types of wardrobes, new, second hand and antique with ease. Wardrobes can be quite difficult to manoeuvre around the home, our wardrobe removals team are qualified and insured to effectively move wardrobes anywhere in Sydney. Quick Move has a remarkable reputation in the courier delivery service check out our reviews of our wardrobe removals service.
Wardrobe Pickup Service For Online Shoppers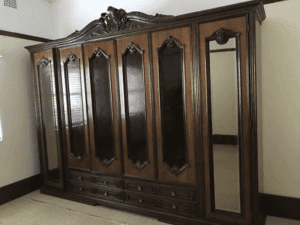 Quick Move can inspect, lift and load your new wardrobe from the seller. We deliver and place the wardrobe exactly where you need it to go. The wardrobe size may limit where you would like it placed, people with lifts should measure and make certain that the wardrobe they purchase fits before paying out any money. To make sure that we can give you the most accurate price please ensure that you give us as much information as possible when describing your item and access. If there are glass mirrors or doors please advise so in your quote form to reduce delays in your delivery process as we will need to wrap up the glass. Accurate info is what makes us run so smoothly and provide the best wardrobe removals service.
Pallet Delivery Service Sydney
Quick Pallet Delivery Courier Services
Quick Move, a furniture removalist that offers a quick pallet couriers service in Sydney, whether you just need a pallet of tiles delivered from Bunnings or simply just need a pallet moved from one location to another, Quick Move has you covered. We have a large fleet of vehicles on call ready to pickup any pallet with just little notice. The price is right the service is better and you will be glad to know we have you covered!
Sydney Pallet Courier & Transport with Men to Unload
We are your local courier service you can rely on.We service all areas of the CBD. All pallets will need to be forked on and off the utility. If for some reason there is no forklift at the delivery location, we can hand unload the pallet at a rate of $45 phh. Our removalists would essentially require notice if hand unloading is required, however we will never leave you in the lurch. Professionalism and being reliable is what we are known for.
We move tiles, bricks, besser blocks, basically any type of materials.
Builders love our service and same goes for home renovators. Pallet transport is just one of our specialities, we also provide a courier service for furniture & appliances, and a complete home and office removals service. We have high roof vans, small and large enclosed pantechs and subject to availability tray back utes and trucks, there is really nothing we are unable to move.
What else can we do for a Pallet courier job?
We can shrink wrap unsealed pallets for you on the spot, securing the load prior to transportation. We use quality shrink wrap to ensure stability whilst in transit.
How can you pay for the pallet courier?
We accept Visa and Mastercard debit and credit cards, and AMEX . Please see our accepted payment page for the full details of how you can pay and the fees involved with your particular move.
How do you book in a Pallet Transport Service with us?
It's easy simply contact us by simply calling 0487399669  today and ask about our pallet couriers service, one of our friendly staff will book it and advise when to expect the driver. Alternatively our easy to se online booking form will activate a 5% discount when you book online.
Garage Sale Pickup & Delivery Sydney
Buy Anything Anywhere in Sydney & We Will Pickup & Deliver it!
Garage sale pickup services are not a thing of the past, in fact its more popular now then ever. It's a fantastic way to find some hidden treasures and to grab a bargain. There are applications & websites like gumtree, that advertise garage sale locations for people. It doesn't matter where you buy your furniture, we will pick it up and then have it brought to you and place it anywhere you like within the home by real furniture removalists that know how to do the job quick, safe and stress free.
Bulky item Pickup from Garage sales
In Sydney you will expect a same day service, we are expanding rapidly so we re able to quickly pickup & deliver the items in a jiffy anywhere in the metro area and outer regions of NSW. For areas out of this region don't worry you can also use our service. We can pickup in any all areas of NSW. Wardrobes & buffets are a popular garage sale purchase, they are expensive to buy anywhere else and heavy and awkward to deliver, so people buying these items will benefit from our pickup service the most.
Garage Sale pickup service Prices & Rates
We charge the same as if we where picking up your eBay purchase, our prices are amazingly cheaper than any other mover. Compare the price we give you with other major removals companies you will be blown away, we offer the same quality workman ship as any of our highly expensive competitors would. Furniture protection and trained staff are all aspects of our company.
Do not pickup the furniture yourself
Its dangerous
Potentially you could damage the item
Potentially you could injure yourself or others
Damage to the property walls and door jams is the last thing you want
Clever ways to pay our guys, we accept cash and card methods. You need not worry the men will indeed pickup, deliver and take care of where the item needs to go, up stairs down stairs or over a balcony, you are in great hands.
Bulky Goods Pickup & Delivery in Sydney
Buy With Confidence Knowing We Can Get It Home For You
We have a tray back truck that can handle bulky goods delivery in Sydney a whopping 8 ton of weight gvm. Our truck comes with two men to assist with loading and unloading of the bulky goods, We can lift and manually load the bulky goods if they are in reasonable movable weight. We will have trolleys dolleys and protection materials on hand to ensure that it arrives safe, this tray back truck is specifically for bulky goods like large pallet deliveries or commercial restaurant equipment and also be handy for gym equipment.
Need bulky goods delivered and pickup the same day?
Quick Move can move your furniture but we do not carry people or customers in our vehicles. However we are one of the most affordable and efficient ways to move extra large bulky goods. You can select from one to six men to be present on the job. Try our taxi truck option, our new Volkswagen Crafter is a 6 seater and can carry an item from 3.6 metres in length to 2 metres in width, perfect for business, industrial and commercial moving.
Bulky Goods Delivery Rates & Charges
Our bulky goods delivery rates start from a low $45phh and go up from there in increments of $5 phh depending on the size of the truck and the weight capacity needed. We have convenient ways to pay especially for businesses, all trucks will come with two experienced men that will help educate and guide you through the delivery process on arrival.
We wont be beaten on quality of service
You may find another bulky goods delivery service in Sydney a little cheaper than ours, but be sure to ask if GST is included in their price. That is one way sneaky competitors try and sway you to booking with them. You can potentially pay up to 50% more on top of your total once they add on all of their exclusions. Quick Move is an upfront and honest company with a respectable reputation to withhold. When it comes to furniture removals we know what we are doing and can tackle any challenging aspect of a removal or delivery.
Sofa Delivery Service in Sydney
Bought A Sofa? Hire Our Pickup & Delivery Service
Most people think it's too hard buying sofas online & furniture on eBay, they rather spend twice as much on new furniture from a retail outlet just so they have a delivery option. Well now you don't have to worry about that, go and buy whatever piece of furniture you like and let Quick Move the ebay courier pick it up and the relocate it to your home.
Don't risk breaking your back, if you don't know how to lift properly!
Don't ask for help from unqualified people! You are taking a huge risk
Don't hire a truck or trailer our rates are near better
Don't worry about anything just call Quick Move
We pickup all types of Sofa's and Sofa sets.
The most common sofa delivery is the 3 seater leather design, though for most people they are hard to manoeuvre and get into tight hallways. Quick Move is experienced in getting furniture through tight access paths. With just a quick look at the access path we know how we will handle it and what precautions will need to be taken. Now you can buy that new sofa you always wanted without stressing about who and how it's going to be delivered. Being a removalist company we all know sofa beds can be really heavy, it's because of the frame and all the metal that goes into the construction, not to mention the mattress. We come equipped with the right tools and staff to handle anything.
Sofas with recliners, an easy Sofa Delivery right?
Regardless to whether they are single, double or 3 seaters, they are not a problem. Forget the Mini Movers, the difference between a standard courier and Quick Move is that we truly understand the type of furniture we move. We know the weaknesses in construction and we take super care when handling to avoid any damage to the functionality. Get your sofa delivery at an affordable price today. Quick Move is the most affordable way to have your new sofa, lounge or arm chairs picked up and delivered to you anywhere in Sydney, South Coast, Blue Mountains, Newcastle & the Central Coast.
What can go wrong with my Sofa Delivery?
Nothing if you hire Quick Move. We have a secure system that lets you pay with Visa, Mastercard or AMEX. We are in no doubt the most affordable & stress free solution for all of your moving needs. When comparing removalists & furniture couriers to Quick Move please take into consideration what we have mentioned here. Remember there is no such thing as free shipping on sofas so don't let the cash cowboys so called furniture delivery services fool you with this.
Don't trust just anyone to handle your Furniture Courier needs!
Are you after an ebay courier quote? Simply fill out the online quote form and a member of our furniture removalists team will personally respond within minutes.
Things you should do before leaving this page;
Click on "Add to Watch List" if you see our eBay ads
Save Quick Move mobile number to your phone
Book mark the website www.quickmove.com.au
Call us on 0487 399 669 today for your best delivery rate in Sydney.
Glass Table Delivery & Pickup Services
Heavy Glass Tables Require Experienced Removalists

We can offer you a glass table delivery for all Sydney siders. When buying a tempered glass top table, especially larger types they are extremely heavy and need extra care taken when handling them. Dealing with glass is of course a higher risk, but Quick Move are still able to help you. The thickness of the glass determines the weight, and how we as removalists will handle the glass. Two men are always required and in fact on the larger types that can weigh over 100kg maybe even a third man. It will all depend on the access.
Glass Table Delivery can be difficult to carry, Hire Professionals
The Glass table should be easy enough to simply lift off the legs, in some cases its only sitting on light aluminium legs that have a suction cup like setup to stop the top from sliding. Basically 99% of the weight in the table is just the glass top. Much like a Marble top table they are also are extremely heavy. Our team of removalists at Quick Move are trained to provide a quality service, we can disassemble the table, safely manoeuvre it, secure it in transit, unload & relocate it where ever in the home it is you require it to go. If you have fragile glassware that needs wrapping see our glass packing tips for information on how to avoid damages.
Beware don't hire inexperienced couriers to do your glass table delivery.
It's no doubt most people want the cheaper option, however the cheaper option may not be you safest option. You could be left with loads of damages and a hefty bill to pay. Never get just anyone to relocate your glass tables, they need to be an experienced team of men that do this all the time. We transport and pickup your glass tables without damages to your item or your property.
Small Furniture Delivery Services
Deliveries & Installation For Sideboards & Hallway Stands
Its quite frustrating when you find this beautiful sideboard or hall stand on ebay and all you need is it delivered to your home. Well stress no more as Quick Move offers buffet hall stand deliveries and a magnificent sideboard delivery service to make all your purchases and decision making easier. We have a fantastic furniture removals team that move all kinds of furniture on a daily basis.
Large & Bulky Furniture Delivery Service
All of our furniture removalists are experienced and specialise in moving anything from vintage sideboards to basic hall stands. No job is too big or too small for our boys. We come well equipped with all the necessary tools and trolleys to move your furniture. All items are wrapped in quality padded furniture blankets so nothing can be damaged. We have a large variety of vehicles to transport your items. With professional furniture removalists to handle your sideboard & buffet delivery, why would you do it yourself?
GraysOnline Delivery Service Sydney
So you have won an item or multiple items on the GraysOnline website ? Now you need a Courier Delivery Service right? GraysOnline delivery is an amazing website to buy goods, especially furniture & appliances! But as you may be aware now GraysOnline delivery and Pickups processes just may not work for you with your daily schedule as GraysOnline only lets customers pickup their items during business hours Monday to Friday. We understand you are busy, we know how important every hour is believe us, we are a furniture & appliance removals service based in Sydney, we can offer you a furniture removalist service 7 days a week, we conduct graysonline delivery 5 days a week, to get your items quicker call us now.
Graysonline Delivery For Furniture & Appliance
So what we have developed is a unique furniture removals delivery service especially designed for GraysOnline customers. Our furniture removalist teams will simply pickup your items on your behalf and deliver them to you direct whether you want us to bring the item to your workplace, place it inside your garage, leave it on your doorstep or perhaps you have organised a friend or family to be home to receive the goods, we have you covered on every aspect.
Here is what you need to do!
Call us on 0487 399 669 or follow the simple steps below;
Get a quote from us using the form below
To proceed and pay, simply follow the steps in the quote.
You can select any day of your preference
Now here is the stuff that makes the transaction run smooth…….
Send an Email to grays to organise your priority pick up
Make sure you CC us into that email.
In the email give Quick Move Removals written authorisation to pickup the items on the given day on your behalf.
Make sure you put the invoice numbers in that email so they can work out who you are.
Attach a copy of your photo ID, you must include this don't leave it out!
Once your priority pick up date is organised then proceed to our online booking form and select our grays online service. Here you can upload your documents to your booking form so our team of removalists will have all necessary documents to provide to Grays online on the day, They will not release the goods to us if all documents are not provided.
If you decide to pickup your goods yourself here is how it works.
GraysOnline delivery and pickups process is for the customer to print out their invoices, bring photo ID and go to whichever warehouse Grays are selling from. Take a ticket and then take a seat, you may be there for up to 30 minutes in the waiting room whilst they find and pick your order. A lady at the desk will then call out your ticket number and instruct you on what BAY /garage door number to head to. You will then need to go back to the car, and make your way around the side of the building, find the right bay number and back your car into that loading dock. Another staff member will greet you there and ask for more paperwork, you will need to sign the receiving documents and then once all of this is done you can take your items, but make sure you bring a friend as the GraysOnline staff are not allowed to assist you load. Now providing you have the right vehicle or trailer and have gone through all the processes you should be right! lol 🙂 Or you can hire us as for Cheap Removalists in Sydney, and use our Graysonline delivery Service & be done with it!
GraysOnline Couriers in Sydney
Quick Move pick up from GraysOnline on a regular basis,. GraysOnline is a great way to shop for a bargain, and we pickup some amazing things for people such as outdoor settings & appliances. Quick Move can pickup & deliver your grays order in the same day. Please feel free to Contact Us about our Graysonline delivery service Or simply call us today on 0487 399 669
Delivery Service For Small One Off Jobs
The furniture delivery service is designed to suit anyone that has either a single item or a few items to move. eBay members are the most to typically use this service as it was originally developed to suit as such, whether it's an eBay delivery or an Ikea purchase or even a simple Graysonline delivery, our furniture delivery service is what you need. The vehicles are fully equipped with everything we need to relocate your items safe and easy. Each and every item we load is covered with our padded removals blankets and secured tight using soft straps. We certainly take all precautions to ensure your items arrive safe and sound. Check out our reviews and see how impressed others were with our service.
7 Day Delivery Service, No Extra For Weekends!
We operate 7 days a week 7am till 7pm. We can deliver your furniture on any given day. We prefer to pick up and deliver during our normal business hours 7am to 7pm. We try our very best to meet your requirements, it can be difficult to work out the logistics in some instances particularly where people cannot be home until late at night. But rest assure we endeavour to try everything possible to make it happen for you.
Furniture delivery Rates & Charges
Our prices must be the most competitive on the market, for large bulky items that need that little more care we do offer a cheap removalist service. The prices are charged per half hour and start from just $45phh, thats 20% less after the first two hour charge and the service included two men.
If you can find a certified business or even a courier delivery service that offers a unique furniture delivery service as good as ours we are happy to negotiate, we guarantee to be cheaper. Free quotes are really easy to obtain. On this page you will notice a quote form, simply fill in the details and within minutes you will have a reply sent to your email.
Quick Move has numerous ways you can pay, we have made it super easy, you can pay by card for our service upfront and either cash or card on the day. You can pay over the phone with any major credit or bank card. There is a small 2.5% surcharge for card payments over the phone however we waive that surcharge for online bookings.
Just two simple steps to get started
Its relatively simple and you can do this all online at your finger tips we have developed a unique quote and booking system that is user friendly and mobile responsive making it super easy.
If you have any questions whatsoever please see our faq page for recent answers, or alternatively give us a call and one of our friendly staff will be happy to assist.