the best removals in Canley Heights
Quick Move, the the removalists you can trust and rely on in Canley Heights and Canley Vale. Quick Move is the most popular and trusted removalists in all of Sydney, we are the best choice for those moving to and from either Canley Heights or Canley Vale. These two suburbs are right next to each other and are very similar, they are best known for their AMAZING restaurants, predominately Asian and Lebanese cuisine, especially in Canley Heights. These suburbs are that close that the top of the hill is Canley Heights and the "valley" is Canley Vale, the houses are obviously ve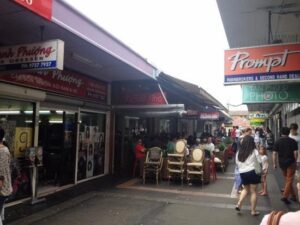 ry similar, majority being 2-3 bedroom sized town homes with a small amount of yard space. Quick Move usually specialises in small to medium sized homes just like those in Canley Heights and Vale. New improvements in houses are quite recent as they are knocking down the older houses and building more modern homes, the median house price for Canley Heights and Canley Vale is $732,000 which is quite cheap for such a popular suburb in Sydney. Between Canley Heights and Canley vale there are approximately 20,500 residents most of which being small families and couples. Quick Move does removals all over Sydney all day every day, no job is too big for Quick Move. You can contact us by calling us on 0487 399 669 where our friendly staff will happily answer any inquires.
Professional Removalists in Canley Vale
Canley Vale is a great place to live for small families, couples and single livers. During the weekends Canley Vale and Canley Heights seem to get quite popular due to the shops on a very popular street named Canley Vale street. This street holds many very popular shops like retail stores that sell items for cheaper, Chinese grocery stores with beautiful fresh Chinese vegetables, bakeries with all sorts of yummy treats and of course the amazing restaurants all throughout the main streets in Canley Heights. Our men definitely know their way around this town/s as we are often relocating quite a lot of homes in the area we know the ins and outs of this town, even to the best restaurant. Our removalists have explained numerous times that all the restaurants in Canley Heights are absolutely delicious but they're all time favourite would have to be Pho Hien, the best Vietnamese restaurant you could ask for. Canley Heights have many offices and meeting rooms in the floor above the shops on Canley Vale road, Quick Move is the perfect example of removalists who could relocate a whole office including board room tables quickly and successfully ensuring there is no stress on your part. Our company is the most trusted removalist company in Sydney, why? because of our amazing workers. All employees must complete immense training and majority of them have been in the removlists business up to 10 years before being employed at Quick Move. You can trust our strong and hard working removalists to keep your items safe 🙂 learn more about us and we are sure you are wann go with quick Move!
Free Furniture Assembly
FREE
Assembling beds is frustrating! Let our removalists take care of that task for you. Then re-assemble the beds and place them exactly where they belong.
FREE MATTRESS WRAPPING
FREE
All Mattresses will be wrapped in plastic absolutely free of charge as part of the removalist service, protecting your mattresses from any dirty marks.
Free Pre Packing Boxes
FREE
Free to hire packing boxes, simply pay a deposit any that you don't keep, simply we for the boxes, we can pickup and buy back for the same price per box.
Cheap and affordable movers in Canley Vale and Canley Heights
Quick Move has to be the removalists you decide to choose to move your items, we are the only company that can offer the best movers in Sydney without breaking the budget, Quick Move understands how stressful it can be to move so why not make it simple and let the professionals take over ? Canley Vale and Canley Heights are great places to move, there are fun things to do for kids and adults such as Karaoke Night on thursdays at triglav mounties club, perfect for the whole family! Quick Move offers amazing deals we are sure other companies cant beat. Free boxes, free we say? yes. free for use on the day of the move as long as they are returned, we will even help you pack and unpack the boxes. We also wrap your mattresses in free plastic wrap to keep them clean and safe during transit, while also wrapping the rest of your items in padded furniture blankets for extra safety. Canley Vale has an amazing spa and resting area for those who would love to relax after moving homes afterall it can be quite overwhelming. Quick Move's number 1 priority is to have the customer at the end of move happy and satisfied with our services and that is what has been happening and will continue to do so, check out our customer reviews and see what the people of Sydney are saying about the famous Quick Move!
FRIDGE DELIVERY SERVICE
Fridges
Bought a new fridge?, or perhaps just need the old one taken away, whether its new or second hand, it really doesnt matter let us at Quick Move pick the fridge up and deliver.
Home Removals Service
Removals
Home Furniture Removalist service for Sydney residents. Hire Quick Move for your relocation today and save, we can pack and move you, we offer very affordable rates
Furniture Delivery Service
Deliveries
We will pick up any type of furniture or appliance from any seller online or private and deliver it directly to your door, we can assemble and place where you need it to go.
Best removalists in Canley Vale and Canley Heights
Quick Move is the best choice for those moving in around and out of Canley Heights and Canley Vale. Both suburbs are extremely good to move to as they are family friendly, very welcoming and the community are very tight knit and invloved in what happens in the city. The towns are constantly upgrading and becoming more modern with new security cameras etc. Quick Move will reloctate anything you need, we can do anything from setting up and relocating event equipment, restaurant equipment, market tents etc etc. Quick Move will even go as far to assemble / disassemble any item you need. Call Quick Move on 0487 399 669 to make a booking with our lovely staff over the phone OR make a booking online by yourself to activate a 5% discount! Quick Move is the right move for those moving to Canley Vale and Canley Heights.