Do You Require Just Two Men to Assist You in Moving?
To easy, from just $45 phh you can experience a professional service by two of our most experienced staff. We do this a lot for customers, just send the two men to move furniture in and out around the home, or even from one unit to the other in the same building, same same you don't need the truck just the men! Our furniture removals service is an affordable way to have your new furnishings delivered to you and placed exactly where you would like them to go. Call Us on 0487 399 669. Not to be confused with a standard courier and not to be confused with other removalist businesses we are a uniquely developed moving service that cares about customer service above profit just see our reviews.
Muscle Hire – Two Men Without the Truck
Our staff are fit, strong and all trained to handle furniture the way it should be with care! Our furniture re-locators have undergone extensive training so that they are able to avoid damages to your goods and property. Since most of our services in-tale two parties, two locations, our Furniture removalists must meet the minimum requirements that we have set. The bench mark is high so that we do not attract inexperienced, under-trained staff. Two men are always on hand enabling you to put on the kettle, sit down and relax while we remove or bring in your furniture for you.
Labour Hire – Professional, Friendly Movers At Your Call!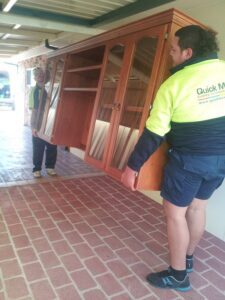 Have you seen some of the trucks that most removals companies get around in? Filthy, dirty trucks that hardly meet the road standards let alone a decent business impression. Our vehicles are all new Volkswagen's, Isuzus, Hinos & Mitsubishi's with new clean and pristine pan-techs, you could literally eat of the floor! We have strict maintenance scheduling daily so that all vehicles are kept in tip top shape to ensure that your items of furniture are always looked after to the best of our ability. Feel comfortable in knowing that the two men that we assign to do your job will have all the tools, trolleys, blankets and experience that we need to properly protect your furniture. All our quotes are for 2 strong men and either a truck or van. There are no hidden terms or added charges for GST ect like others do. It is thoroughly explained in our quotes the service you will receive. Get a free no obligation quote for our moving services by simply filling out the form. At Quick Move our reputation stands strong against other companies, we are always receiving remarkable reviews and feedback from our customers. Our drivers are contactable between our business hours 7am – 7pm and our emails are checked constantly so you can always know what is happening and where we are for the day. Call us today on 0487 399 669.