Moving Cartons & Portable wardrobes for Packing Clothes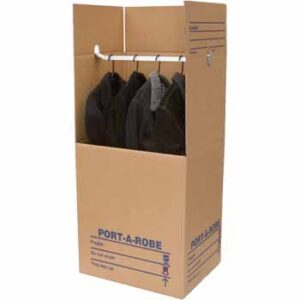 Quick Move supplies boxes, cartons and wrapping to Sydney & The Central Coast with quality moving boxes & cartons, a reliable delivery service and other packing supplies such as tape, labels & plastic mattress covers. Its so easy, just select what boxes you will be needing and you can make your payment using PayPal a secure and easy way to pay. We can also deliver the boxes for you for a small fee. Alternatively you always can pickup Monday to  Friday free at any of our packaging depots in Sydney and the Central Coast.
Removalists always use top quality boxes
It is necessary that all boxes are labelled and taped down nice and tight using a good quality packing tape. Use stick on labels and a black marking pen to write down where the box needs to be placed in the home and its general contents, ie: Kitchen / Cutlery, or Master bedroom. This will make it a million times easier for our furniture removalists to place things in your home, exactly where you want them to go. Nothing worse than having everything put inside sending the men home and then realising everything is put in the wrong places. You may as well start again. Clear precise labels on your boxes = a fuss free move.
Porta Robes are absolutely fantastic to use..
Our porta robes will  keep your clothes dry and hung for easy transportation. No worries about all your clothes being scrunched into garbage bags or suitcases. We can keep them hanging crease free, and aired nicely so no need for ironing or rewashing.  All of our boxes and cartons can be recycled, although what most people do is sell them on eBay & Gumtree, or we can even take them back minus a small fee as long as they are in good condition.