Why Choose Quick Move Sydney?
Unlike our Competitors our prices include GST so we do not charge an extra 10% for GST at the end of the day our rates already include it!, we are the quickest and most reliable furniture removalists in Sydney i couldn't say the cheapest, unlike some other removalists in sydney there is some real cheap and nasty movers out there so beware! but we are definitely the best value for money you could buy, we have been doing this for a long time satisfying thousands of clients check out our reviews here, we are very experienced and have made many great friends whilst moving customers over the past 10 years, it doesn't end there you will soon come to realise that we are bigger than you thought, with excellent staff and customer service you will feel you are in the best of hands and lets be honest why would you trust someone to move your precious items without doing any background checks, do a little bit of research and remember its not the dollar per hour you should be concerned about it all comes down to the time it takes.
Hire Two Removalists & a Truck Today!
Call us on the Mobile – 0487 399 669
Furniture Removals Sydney City & Metro Regions
Quick Move a Furniture Removals company based in Sydney that you can trust & rely on! We move homes & offices at remarkably low rates 7 Days a week from 7am to 7pm. We do not Charge any extra for weekends!. Call us on 0487 399 669

Our professional furniture removalists are all trained & equipped to make certain your precious items are relocated safe and sound. We operate 7 days a week and deliver furniture  in Sydney, The Central Coast & Newcastle with over 17 trucks now in our fleet there is nothing we cant do! We do not charge any extra for our weekend furniture removals services & we are the most affordable & reliable Sydney Removalist company by far, when it comes to professionalism and affordability our hourly rates so low you will be amazed. Moving family homes & businesses is our specialty, we are also well known in Sydney for our delivery services for online shoppers.
Need Help Choosing the right size truck for your move?
Well we can work it out for you either call us on 0487 399 669 today or if you have already spoken with us or have an email and wish to proceed with the booking simply book online now FYI we are centrally located in the cbd of Sydney City therefore we do not charge any travel for Sydney Metro moves that's a huge savings to the customer the metro covers the entire Sydney region right this includes Sydney's western suburbs and inner west through to the south western regions you could not find a cheaper furniture removalist. No Hidden Fees! That means no surprises!
when you request a furniture removals quote with us via the form to the right here you receive an email instantly outlining everything so you know exactly what you will be up for when the job is done, we do not charge fuel or travel for Sydney customers and we have convenient ways to pay for the total, all moves have a 2 hour minimum charge and a once off callout fee, for more info please request a quote and we will email you our cheap removalists price list.
You can upgrade your truck at anytime its easy to make changes and amend your booking simply by replying to the booking confirmation email that we send you after you book your move in, we are here to help with whatever circumstance so please do not hesitate to ask one of our friendly staff are always happy to take your call.
Delivery Services Sydney!
Bought an item on eBay? Or maybe you just need experienced cheap furniture removalists to deliver your new IKEA purchase. Our service is specifically designed to cater for small furniture removals and deliveries. Our eBay couriers can install your appliances, take away the old fridge & much more.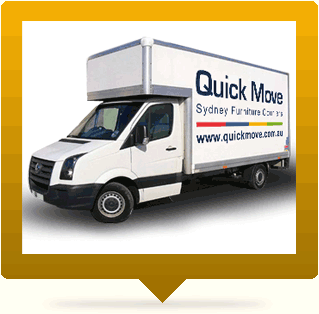 Furniture Removals Sydney!
Moving home or office? You need a furniture removals company and Quick Move here to help our movers handle furniture with care, try our furniture removals service today we are certain you wont be disappointed, friendly staff & customer service for the lowest prices in Sydney. Now offering a tailgate lifter to make life easier.
Furniture Delivery Sydney!
A very popular furniture removalists Sydney metro service that suits most people moving single items in Sydney such as fridges & large appliances, when its too heavy for you its our pleasure to assist also suitable for one off bulky deliveries in Sydney, quick move is well known for our fast assistance.
Did you know our furniture removalists can also…
Assemble & Disassemble Furniture at no extra cost!
When you hire our furniture removals service at an hourly or half hourly rate we do not charge any extra for assembling or disassembling furniture!. All of your bed frames, flat packed items and so on are all included, whatever you need done regardless if you are simply asking our movers to pull down a bed for storage or putting together a new TV unit you have bought, you are covered! Our Sydney removalist staff can do all of this on the very same day of your move, why pay any more than you should right? We have all the necessary tools to put together most items even the frustrating fiddly items:). Ikea furniture is mostly flat packed and some other furniture outlets also, the furniture removalists have extensive experience in assembling items from most furniture stores in Sydney, we also offer a Furniture Disposal service all we would like is notice so that we are certain we have the right tool for the job, example some pool tables have a unique tool needed so a little notice will make sure everything runs smooth.
Plastic Wrap your precious items & Mattresses!
For a limited time only Quick Move is offering FREE plastic wrapping on any single item such as a mattress, sofas,  TV's or any other fragile or fabric item – to be eligible you must like us on facebook & share a post with your friends. having furniture removalists wrap the mattress in plastic will near guarantee that it will not be damaged or get any dirty marks during the relocation process. Just ask one of our furniture removalists for a quote on the day, protecting your most precious items with extra plastic wrapping almost guarantees no marks whilst transporting, for your peace of mind we do wrap everything with soft padded blankets regardless however for the items that you care about most you will be glad to know our men can plastic wrap and even bubble wrap them all up. Its a great offer to receive a free item wrap so be sure to remember to share a post & like us on facebook to activate your freebies! we handle everything with care.
Supply Unlimited FREE hire of our Moving Boxes in Sydney!
Every move requires boxes right? Why not hire them off us for Zero Dollars! all you need to be eligible is to have a move booked in with us that's it! When you book online simply select the free boxes option on the main menu from there, you will have the option to select how many boxes you require for your furniture removals job, you can even pay for your boxes using PayPal. We pick the order and deliver to your door, days or even weeks prior to your move. Unlimited moving boxes will make certain you get everything packed up with no loose objects remaining. Our moving boxes are made in Australia and are the heavy duty tea chest size boxes that are most commonly used for moving. For the meantime the free box hire is only available for Sydney residents, our friends in furniture removalists Sydney can also pre pack your boxes on the same day. To get started and to secure your boxes see our Free Moving Boxes page for more information on how to order.
Real reviews left by real customers
Sep 2, 2016
We used them at short notice to move furniture from 2 places to our new home. Our cousine recommended them to us. The two guys arrived on time, were very pleasant friendly and helpful. They took great care not to damage walls or furniture. Just the kind of people you need during a move, which is very stressful in itself. Very impressed. I would book them again. Very different from the attitude of the previous removlists we used
Jul 14, 2016
Excellent service, prompt, reliable and courteous staff. No scratched furniture or walls. Thank you Quick Move!
Jul 14, 2016
Sam and Michael have done a great job for me. They have moved my 3 bedroom house from Caringbah to Jannali very quickly, professionally, and with appropriate caution. I would recommend these guys without any doubts. Regards, Nik.
Jul 9, 2016
They arrived about an half hour past the time.They worked well together and were cheefull.We had a large load which meant 2 trips.i would be happy to use them again and recommend them to others.
Jul 5, 2016
Excellent service by the boys who helped me move. They went above and beyond to help.I would highly recommend them to anyone.
Book your Removalists Sydney Service Now Online!