Removalists Sydney you can trust & rely on. Firstly here at Quick Move we provide a professional removalists service for small to medium size homes and offices without breaking the budget. And secondly we offer this low cost Sydney removalist service 7 Days a week with no extra charges for weekends. Contacting us for a quote is super easy. Because our business hours are from 7:00 am to 7:30 pm, Monday to Sunday including public holidays. So therefore whether you need a moving quote or wish to make a booking.  Call us on 0487 399 669 Today.
Call Us on 0487 399 669 To Get A Free Quote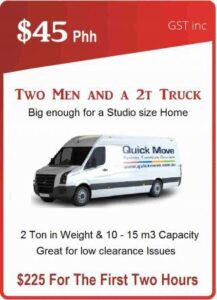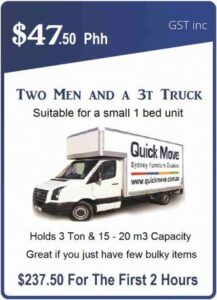 Removalists Sydney With No Hidden Fees!
Special 20% Discount Per Half Hour After The 2 hr Minimum Charge!
All Truck Sizes Include Two Men & are GST inclusive!

Delivery Size = 2T Truck = $225 for 2 hrs then

$45 phh 

Studio = 3T Truck = $237.50 for 2 hrs then

$47.50 phh

1-2 Bed Unit = 4.5T Truck = $250 for 2 hrs then

$50 phh

2-3 Bed Home = 6-8T Truck = $275 for 2 hrs then

$55 phh

3-4 Bed Home = 8-10T Truck = $300 for 2 hrs then

$60 phh

4-5 Bed Home = 10-12T Truck = $325 for 2 hrs then

$65 phh

6-7 Bed Home = 12-14T Truck = $350 for 2 hrs then

$70 phh
Sydney Removalists You Can Trust & Rely On! 7 Days a Week 
In most cases we can move you for less than it would typically cost to transport the furniture yourself, without the headache! We specialise in relocating family homes, mostly small to medium size apartments within Sydney. However we too also cater for larger homes. No matter if its a granny flat size or the largest 6 Bedroom family home we can get the job done within reasonable time and for a great price.
Same Day Furniture Removalists Sydney Cheap Rates & Free Boxes
For those that don't already know, Quick Move is well known for our budget Removals and same day delivery service. Saying that you would expect us to know a thing or two about removals. And now offering a whopping 20% less on the half hourly rate! Its crazy but we want your business, so book online or contact us to discuss anything you have on your mind. Submit an online quote request or simply drop us a line by calling our mobile on 0487 399 669.
Sydney Removals Service With Experienced Removalist Staff

Reliable, Friendly, Honest and Hardworking are all words customers leave in their reviews. Clients that have used Quick Move tend to use the furniture removals service again and again. This return business keeps us very busy as you can appreciate. In saying that though we can most definitely help you out The majority of our small jobs and one off deliveries are done within the 2 hour minimum. Though if by chance it exceeds the two hours we then charge in half hour increments "phh". Purely depending on how long the relocation took to complete will determine the final cost. However what we can say for certain is that the more prepared you are the quicker the removalists can complete the job. We have frequently asked questions that have been answered in more detail for further information.
Moving Home, Relocating or Simply Renovation Let Quick Move Get The Job Done!
You will be happy to hear that our rates are GST inclusive too. Likewise for Sydney local relocation's there is no extra charge for fuel, no additional charge for furniture or bedding assembly and we offer a complimentary plastic wrap for all mattresses. And unlike other removalists within Sydney, we have no ridiculous charges for heavy items like large pot plants, statues ect, no extra fees for stairs or complicated access. Free Use of our Packing Boxes and time starts when we arrive & finishes when we leave. See our terms of service for the full rundown.
Hire Two Men Only, Muscle Power Without The Truck!

For a little less than the hourly rate you can have two men with no truck. Basically just hire our furniture removal service for the day, labour hire only! Besides if all you just need is those extra hands and a bit of muscle why should you have to pay for the truck?. Moving heavy objects around the home can be very difficult especially in tight spaces. Specifically in small Sydney apartments where its difficult to even find a car park. Don't break your back trying, you could severely hurt yourself and cause unnecessary damage to the property.
Free Assembly Of Furniture & Bedding! And We Bring The Tools!

Disassembling and reassembling is all part of our cheap removalist service in Sydney. So at no extra cost to you we can include this assembly service absolutely free. Therefore we carry our own tools such as drills, Allen keys and much more to handle all types of jobs whether large or small. Consequently you can relax knowing we will take care of everything on the day! It's peace of mind knowing that you wont have to worry about pulling down the the beds.
Beds can be frustrating! So why not just let the friendly removalist take care of that task for you. And at the destination re-assemble the beds and place them exactly where they belong, After all you are paying for a removalist service. If by chance your bed or furniture require a special type of tool that is not normally used you can provide that to the men on arrival.
Free Hire Of Moving Boxes Delivered To Your Door Anywhere in The Sydney Metro!

Hire our packing boxes, buy tape and wrapping via the website, pay online save money all at your fingertips. Furthermore packing boxes are only $3.00 per carton to buy! You can keep the removalist boxes for future use, sell or simply take us up on our buy back offer. Thus having them picked back up and your money fully refunded minus the delivery fee of course. You can rest easy knowing that your moving boxes will be delivered on time prior to your moving date with plenty of time to get all packed up.
We can also include packing tape, butchers paper and labels so that your boxes are relocated to the right room of the home. And you can call us for packing tips! Fragile glassware and delicate sentimental belongings require extra protection and knowing how to place these items in the box is very important. So take us up on that and make sure to call before packing.
Furniture Removalists & Delivery Service Quotes, Get a Free Quote.
Being removalists by trade we also pick up and deliver furniture for online shoppers. Whether its a new bed, wardrobe or new fridge freezer. Your going to require a professional removalist to manoeuvre the item correctly.
Though Quick Move being mostly recognised for cheap removalists Sydney, we can also have your new fridge picked up and delivered, placing it exactly where you want it to go by an experienced mover. Fridges, freezers and all types of appliances and furniture are welcome. We always provide two men and a truck on all moves even the small jobs.
From online stores like eBay or Graysonline and classified websites such as Gumtree it makes no difference to the price. Private sales or even family giving away an item to you, we can assist with the pickup, the delivery and installation. Don't hesitate to give us a call if you have any enquiries whatsoever because there is a very high chance e have the right answer and can help.
Professional Furniture Removalists in Sydney With More Than 10 Years Experience!
Experience is certainly the greatest asset in our company. And for your satisfaction we are all fully trained beforehand. We are fully equipped to make certain your precious items and belongings are relocated safe and sound without any damages. Using only but soft padded blankets to ensure no scratches whilst we safely pack and tie furniture into the truck. Another point, for the fragile items we use bubble wrap to help protect from any sudden impact whilst in transit.
Experience gives us that edge over any other removalist service in Sydney. Too often our professional opinion is contested even though it is suggest to use all that is possible to protect your goods. Given that we have no choice but to recommend removals insurance. Make your enquiries, everyone is different and has items that are more expensive than others. Get yourself a quote and then hire us to do the relocation.