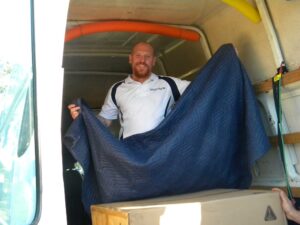 Quick Move a Furniture removals company within the Sydney region. We provide moving solutions for both family homes & businesses. Offering experienced men to handle all aspects of the relocation. A requirement with all the necessary equipment to relocate you safely.
Because we believe in customer satisfaction we offer a wide range of services. Available moving solutions range from single item deliveries. Like new sofas or fridges, right through to complicated full house relocation's.
Our Staff, Our Work Ethics & Chain Of Command At Quick Move
All staff members before joining us have had a minimum of 5 years experience in furniture removal. Some have had more than 10 years, quite noticeable when you see how easily they maneuver the most difficult of furniture.
All of our movers still participate in training exercises monthly teaching other staff and newbies the ropes. We have a few policies that you will be happy with. Such as our customer satisfaction policy. Our one and the only main focus is keeping our clients happy and educated throughout the move. See what the Department of Fair Trading NSW has to say on the topic.
Our furniture removalists are all very much approachable and happy to assist with anything at all just ask! We have various staff members in our bookings and inquiries department. And lastly, we have over 50 staff making us what we have become today, The most reliable removalists in Sydney!
Quick Move Great Rates, Friendly Faces & Tons Of Experience!
Our company offers amazingly low moving rates and experienced personnel. What more can you ask for in a moving company? You will be glad to know we are very quick, reliable and honest. We have no doubt you will have a great experience when you hire Quick Move. Check us out on our Facebook page.
Our Fleet of Trucks and their different uses for transporting items
Quick Move has over 20 trucks in the fleet! Our vehicles range in size and holding capacity. Starting from our smallest pantech truck being our 2-ton capacity. Truck sizes step up in weight and holding volume. Truck sizes range from two tonnes, 4.5T, 6-8 Ton, 8-10 Ton. And our largest truck 60m3 the 14T truck.
The largest being able to handle large 5 Bedroom homes or large office relocations of up to a whopping 65 cubic meters. Therefore we can offer a wide variety of transporting and removalist services. Such as moving family homes and businesses. Also moving commercial and industrial units is something we can also help with. So whether it's a one-off delivery like Ikea pickups, Graysonline deliveries and or pallet transport, we can help.
Amongst The General Residential Moves, We Also Offer Deliveries in Sydney
We can pick up old furniture from anywhere. Such as retail stores, garage sales, and more. We offer this service at a low cost for you. We also offer to assemble and install flat-packed furniture. Fridge delivery & installation is just one to mention. Moving is what we are all about, we thrive to keep our company competitive and reliable.
The Brand Trusted By Thousands In Sydney
Quick Move the number one furniture removalists in the Sydney region. Servicing the entire Sydney metro and surrounding suburbs such as the outer regions like Penrith, Campbelltown, and the Blue Mountains.
As far north as Nelsons Bay and servicing the entire Central Coast district. Newcastle & Lake Macquarie regions. And as far south as Bateman's Bay. And all suburbs & cities in around and between.
Covering a vast range of areas coupled with our super low rates it's no wonder why we are your first choice for moving. See our service map for more areas. As one of the best moving services, we are here to help so please do not hesitate to contact us or call us direct today on 0487 399 669 or simply Book Online today.