We are removalists by trade, therefore we conduct the exact same practices as any professional removalist company in Sydney would, the big difference is we charge a considerable amount less than your average mover. We specialise in all types of removalist services and removals and have been established in Sydney since 2011. Our movers have serviced well over 100,000 clients and are now a well-known and respected brand in the removals industry. The passion we have for impeccable customer service is what brought us to the top making us by far the cheapest and the best removalist company in Sydney. We handpick each and every single one of our employees to ensure our customers have the absolute best experience. This will easily show when you see our guys doing the move. Hence why we are Sydney's first choice for an affordable move. Call us today on 0487 399 669 for a free no-obligation quote on your next move.
Hire Our Two Men And Any Size Truck In Sydney Today
One Man & Van Moving Services Available, For Small Fast Removals WorkStarting off small we only had one man and a van. And we have now managed to broaden our horizons to having over 16 trucks and being able to offer nothing less. Long story short we have finally achieved what we set out to do. Therefore that is to make an affordable service for everyone in Sydney! Our furniture removalist service is dedicated to exceeding the highest of expectations. Just read our customer reviews and see for yourself how happy our customers are with our removalists service,
Did You Know We Offer The Same Day Removalists Sydney
You want a moving company that will not take advantage of you and has your best interests at heart. Well, that's a Quick Move! From start to finish we have clear communication with you and throughout your move. You will be happy to know that you are being well looked after. And your first initial point of contact will be with one of our lovely staff members in the office. Customer service staff will be able to help you with any query you may have.
Knowing you are in the best of hands will relieve all that pressure of moving. Ultimately take advantage of everything we have to offer. Benefits such as free moving boxes, complimentary mattress wrapping, and bed assembly all free of charge when you hire Quick Move.
Hire One Or Two Men And Any Size Truck Or Van & Man Today For A Great Price
Our staff has all undergone extensive training in furniture relocating and packing. Because none have been sent to do any removals job without the thumbs up from the owner Scott. We have a reputation to withhold. Therefore you will be glad to know that with Quick Move furniture removals Sydney you are in the best of best hands. All furniture is carefully loaded and nothing goes into our trucks without being covered and secured for safe transit.
Hire Small Movers Sydney That Are Trusted! We Are The Tiny Movers In Sydney!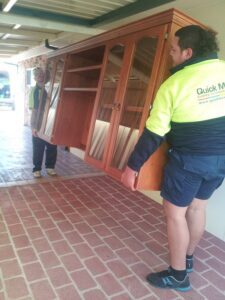 Importantly when hiring a mover you need to know if the staff is trained. We only employ highly skilled removalists in Sydney. And those that have at the very minimum 5 years of experience in moving and packing furniture. All staff undergoes physical on-the-job training to ensure all care is taken at all times.
We use the highest quality of materials, tools, and equipment to pack and transport the furniture. We are fully insured and all vehicles are equipped with first aid and emergency gear. Rely on us for any move even office relocations whether it be large or small, we will ensure you have a pleasant experience.
Home Removalists Two Men And A Big Truck Sydney
We take every job seriously regardless of what we are moving, everyone's goods are treated as if they were our own. Because we cover all items with soft padding and make sure they are held tightly with soft strapping during transport. Contact us at our head office during business hours. From the very first call right through to the final completion of your job, our friendly staff is always happy to discuss any of your concerns. That may not seem like much to you now,  but on the big day, it will. Rest easy knowing you have more than just the driver to deal with. You can call and speak with us all day during the move if you had any inquiries.
Secondly, why it's important to go with a trusted Sydney furniture removalist like Quick Move is that we must uphold our customer satisfaction policy. Therefore we have a review system that allows customers to leave feedback based on their experience. Thirdly why it's so important is obvious and that's experienced staff handling your precious belongings.
Two Men No Truck, Just Hire The Men!
We Can Send Two Men Without The Truck For Internal Moves.
Our trucks and depots are located in the Sydney metro and the outskirts of Sydney. See the areas we service for a full list of suburbs and cities we operate in.
With great thought, we have covered a vast area of the state giving you. Giving the customer, an opportunity to experience a Quick Move service virtually anywhere. So whether you are in the eastern suburbs or moving from a location out west or down south we have you covered. Predominantly the majority of our customer base is located in metro regions. Areas where we have many trucks all varying in different sizes ready to remove any size home.
Large Truck Removals in Sydney, Or Hire Our Small Trucks & Vans
In most cases, we can move you for less than it would typically cost to transport the furniture yourself. But just without the headache! We specialise in relocating family homes, mostly small to medium size. However, we also cater to much larger homes and of course offices and businesses.
No matter if it's a granny flat size or a large 6 bedroom family home. We at Quick Move can get the job done within a reasonable time and for a great price. We say we are the cheapest and we say it out LOUD. Because of our rates and service we provide coupled with the extensive experience we get the job done quickly. Therefore this saves you a lot of money and time at the end of the day. So just beware of other "movers" that claim to be cheap. Because it is not generally the case they are cheaper food for thought.
Hire Two Men Team And Any Of Our Removalist Trucks Cheap
Quick Move provides two men and any truck or van for a cheap simple move. We can send two movers and any truck or van service for homes, units, offices, and even small one-off jobs such as fridge deliveries.
Our two men and truck service operates within the Sydney local area. And you can see our service map for all the locations we service. We also provide trucks with 2, 3, or 4 men for larger jobs that require more men. So if you are moving apartments in the city and seek an affordable furniture removalist. Or you are in Sydney and just wanting a delivery that needs a two men team. It would be our absolute pleasure to be of assistance. You will be glad to know that the two movers that we assign to do your job will have all the tools. Equipment for moving with ease such as trolleys, blankets, etc. And not to mention the experience required to properly protect your furniture.
All our quotes include standard two men and any truck or van of your choice. There are no hidden terms or added charges and GST is inclusive in all of our prices.
Two Movers With Any Size Truck Home Removalists Service Saving You $$$
We simply plan ahead for your move, each and every job has a plan of attack. If we plan it right we can effectively get you there faster and cheaper, simple maths! Planning for your removal seems simple right? It can be, however, it can also be stressful so let us worry about it. We will need your assistance in providing the correct details about the number of items, and to if possible reserve suitable parking, this alone could save you hundreds of dollars.
Hire The Men Only Without The Truck Expense
Need Just Muscle Power? Hire Our Two Men No Truck Service
You can experience a professional removalist service by two of our most experienced staff without the worry or the expense of the truck hire. We provide this amazing service for customers that simply only need the manpower to move their furniture in and out around the home, office, or for apartments in Sydney that are relocating within the same building.
If it is just an internal move then our two men no truck service is a perfect choice. See a full list of locations we service within Sydney and surrounding cities,
Hire Man Power Get Two Strong Men, For Quick Internal Moves
Our staff are fit, strong and all trained to handle furniture the way it should be with care! Our furniture re-locators have undergone extensive training so that they are able to avoid damages to your goods and property whilst packing.
Since most of our services in-tale two parties, two locations, our Furniture removalists must meet the minimum requirements that we have set. The benchmark is high so that we do not attract inexperienced, under-trained staff. Two men are always on hand enabling you to put on the kettle, sit down and relax while we remove or bring in your furniture for you.
Fast friendly Movers In Sydney Operating Quick, Safe & Careful
We understand moving can be stressful! So we have taken the time to develop a unique furniture removalist service for those seeking value for money in Sydney. Our efforts to successfully accomplish this task are done! Now you can enjoy a professional furniture removalist service at an affordable price. Have you ever had a terrible experience with a moving company in Sydney? We all have, so it is our goal to achieve a 100% customer satisfaction outcome. Our friendly trained staff is just the beginning of the pleasant experience you will receive.
Specialising in Quick Small Removalists Sydney
Hire A Small Removalist Service For Tiny Moves in Sydney
Small moves, tiny jobs, little relocation's, no matter the size let us handle it fast and cheap. We have specifically designed a small removalist team to help people with only a few items such as one-bedroom and two-bedroom apartments & studios.
We operate this small moving service 7 days a week 7 am to 7 pm, we also provide a small delivery for small businesses moving. Online shoppers can also benefit from this small moving service in Sydney. A major factor why we are so different than most removalists is that our prices are all fully inclusive meaning no nasty surprises or unexpected charges at the end of your move.
Cheap Small Removalist Service Cost Less Than Doing It Yourself
We are affordable and are very upfront with all our rates and charges. Just as all removalists do, we have a small 2-hour minimum charge. This is standard practice for all modern removalists in Sydney nowadays. However Quick Move offers an unbeatable discount on anything past 2 hours. We drop the rates down by a whopping 20% for any move exceeding the 2 hours.
We are unbeatable in value for money, service, and quality, not to mention customer service. So if you are moving just a one-bedroom home or office or simply just need a couple of men or manpower only to assist you with relocating a few pieces of furniture Quick Move is your one-stop-shop for all moving and relocating small homes in Sydney, book online and save a further 5% off your rates.
We Specialise In Relocating Small Sydney City Apartments & Units
Though apartments are quite compact in size they usually have complicated access and difficult parking arrangements, that's why we have developed a new and improved furniture removalist service specifically designed to help those people in these situations overcome a potentially large bill. Your standard Sydney removalist wouldn't want to give you a fixed price, and it's not in any of their interest either, simply for the fact that how long is a piece of string.
Small Movers Sydney For Small One Of Removals
It is due to the fact that units with stairs can take a considerable amount of time longer. Certainly, longer than you or us can anticipate sometimes. Planning ahead for parking, and a few other tricks we hold up our sleeves is critical. Because we know all the good moving tips. Though lifts are great they sometimes are too small to load larger furniture and appliances. So in some instances, we may need to use the fire escape for large items.
Because we specialise in small moves, we can take the time to dismantle furniture and appliances to ensure safe relocation. The difference with us is we charge no extra for any of these services.
We Are That Quick Tiny Moves Are Mostly Completed Within 2 Hours
Most of our small moves are completed in less than 2 hours. But It really does depend on how well prepared you are. If it's a very small move make sure you have everything is packed and ready to go. Because all items need to be boxed up, and try and reserve a parking spot close to the door. That way we can get the items out quickly.
Last Minute Emergency Removalists in Sydney
Emergency Furniture Removals Service In Sydney For Last Minute Jobs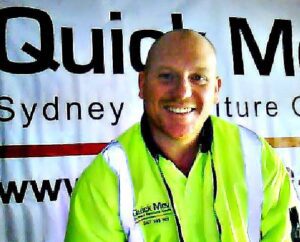 Quick Move provides an emergency removalists Sydney service. We can be anywhere within the hour. Whether it's that the removalists you hired didn't turn up. Or perhaps you just need to move today, we are here to help.
We understand how frustrating it must be for you, for a furniture removalist to boycott you! Or to just simply not turn up. See what the Fair trading in Sydney has to say about these guys. That is why we have teams on standby 7 days a week. And have over 16 trucks and have over 35 employees ready for that call.
We can accommodate any last-minute removals request. Anything you need, or any problem you have, our emergency moving team can tackle it.
Hire Same Day Movers Sydney That won't Let You Down Last Minute
We are the number one mover in Sydney when it comes to affordability &  being reliable. Not only can you count on our emergency furniture removalist teams if your original movers have let you down. But you can contact us in regards to any type of move. Anything at all whether it be just one item that you need to be moved urgently or your entire home.
Height restrictions or any tight access issues are no problem for us. Because we are the small move specialists and can have the correct size vehicle to you the same day. Our fast team will arrive and handle your last-minute move. The moving rates must be the most competitive around call us today for a quote 0487 399 669.
Quick & Cheap Emergency Furniture Removalist
Our after-hours movers/relocation service will begin from 7 pm to 7 am. During this time all work is considered to be after hours. Suiting those customers that have work commitments and that can not make any other alternative arrangements. We understand you can not be available during business hours. Businesses that operate at night could benefit from the after-hours service also.
Book Now Same Day Furniture Removalist
Sydney residents have the privilege to call and request two removalists and a moving truck. Weil service your home on the spot any day of the week 7 days a week. We also recommend you get furniture removal insurance in order to protect your second-hand items.
Moving & Packing Services For Sydney
Hire Quick Move To Pack Your Belongings In Boxes The Right Way
One of the most important parts of any move is the pre-pack. We specialise in offering great advice on your pre-pack for your small move. For just $45 per half hour, you get 2 professional packers that will handle everything with amazing care.
Highly Skilled & Trained Team Specialising In Homeware Packing
We will wrap your items like a baby. Let's face it, one of our main concerns when moving is your precious items being damaged. Well worry no more, know that our team's professionalism, experience, and care factor is at the highest it can get.
Once you are ready to go we will send two men and any size truck you like on the day. The movers will get the job done fast, this saving us and you time and money! We are by far the most careful and considerate when it comes to packing boxes with fragile items.
Experience is certainly the greatest asset in our company. And for your satisfaction, we are all fully trained beforehand. Not to mention are also fully equipped to make certain your precious items and belongings are relocated safe and sound without any damages.
Using only but soft padded blankets to ensure no scratches whilst we safely pack and tie furniture into the truck. Another point, for the fragile items we use bubble wrap to help protect from any sudden impact whilst in transit.
Free Hire Or Buy Packing Boxes For Your Move
Removalist Packing Boxes & A Buy Back Offer!
Free box hire service that allows you to simply hire the boxes for $3 per box. You have up to 5 weeks after your moving date to request for us to come and pick up the boxes. That way we can simply refund your box deposit in a reasonable time.
Our boxes are constructed from the highest quality, specifically developed to maneuver household items. For moving and storage every customer needs boxes, so why not hire them directly from the same furniture removals company that moves you, we have thousands of boxes on hand in our factory.
Simply order your boxes from us online and we will deliver them on the nearest Saturday prior to your moving date. This allowing you plenty of time to get all packed up. We have revolutionized the entire industry offering easy and convenient ways to get boxes delivered.
Or We Can Supply Packing Boxes, materials & Deliver To Your Door
We can supply all materials including the boxes wrapping and even tape! You won't have to buy a thing, all pre-packing quotes have all materials inclusive within its price.
We will provide the boxes and cartons as you would also be eligible for our free moving boxes offer. We use as much as we need to effectively keep all items safe. The major benefit is knowing that each and every measure has been taken to assure the safe arrival of your goods.
Taxi Truck Furniture Removalists in Sydney
Quick Same Day Taxi Truck Services
Quick Move has introduced its newest service "Taxi Trucks". Our Sydney Taxi Truck service is suitable for larger furniture pickups or even small moves.
Being a removalist company in Sydney. We can pick up pallets (providing a forklift is present at both locations to load and unload.
The versatile taxi truck runs 7 days a week, with such a demand it does require a little notice. Now depending on how many men you require obviously. So if you're in need of a taxi truck call us today for our availability. Please note that we are not a taxi service for customers. And we do not transport people or animals in our trucks sorry. Check out the prohibited list of items we will not carry.
Hire Two Men And A Taxi Truck For Light Removalist Work
Our taxi truck prices start from just $45 phh, that is for a truck and professional removalist. With our professional advice and great rates, the Taxi Truck service is sure to please you.
The taxi truck has a huge 3.6-meter tray and can handle loads of up to 2 tonnes. Ultimately there is really no furniture item that it can not handle. With its versatile tray back and high-powered motor, the taxi truck stands to be a real asset. You can use this service for a number of things. For example, to pick up eBay or Gumtree purchases & of course items you have found at garage sales. And perhaps Items that are too large to carry yourself.
One Man Delivery Van For Sydney Quick Move's
Hire Just One Man And A Van In Sydney Today & Save On Moving Costs
Our one man with a van Sydney service is available now 7 days a week. We specialise in making sure every job is done safely. We can send one or two men.
Even if only one furniture removalist is needed to move the item, we need to make sure there is always an additional man. It's important so that to spot and help guide our removalists whilst moving items you can nominate a helping hand. Or simply hire our two men service for a little extra.
We make certain that the movers are equipped with everything needed to relocate you. We get the job done in a quick and efficient fashion. Our one-man van service will do all the heavy lifting.
Highly Trained Removalists With Impeccable Customer Service
Though our prices are cheap and affordable our quality of work is very high. Furthermore, all removalists have been screened by us to ensure quality. And they have all the tools and packing materials in the vehicle to easily remove the most complicated items.
It has always been our policy to make sure every customer is satisfied. So not only will you have expert help on the day you also have a friendly team of customer support. All relocation's by one man and a van take time and we are very clear and concise when it comes to planning. As you would appreciate it it is very difficult to find parking in any busy city. However, sometimes a little pre-planning can make a big difference to your total time on the move.
Two Men And A Removalist Van For Small Studio Moves
Hire A Removalist Van & Two Of Our Men Today From Just $45 Phh
Quick Moves two men and a van for small Sydney removal work. The Vans are generally sized and capable of carrying up to 10m3. That's ten cubic meters, great for luggage, clothes, boxes, all of your hifi, and entertainment gear. And your small furniture items or even exercise machines can fit in also.
If you just have a few items don't pay any more than what you need to!! Because all you need is a Quick Move. Don't be confused we are not a van rental hire. We do not offer that! remember those rental companies won't give you the manpower you need for the heavy lifting. Unlike any other moving company, we make certain that every man on the job is a professional removalist. Professionalism and expertise are what we strive to achieve.
Cheap Removalists Van Hire Sydney Metro & Surrounding Suburbs
Hire two of our men and one of our trucks or a van. The same we can be there because we service the whole Sydney region. And pride ourselves in quality workmanship & customer service. Therefore it's no surprise why we are Sydney's first choice for removals and deliveries.
We have an amazingly cheap service available to the general public and retailers. Providing quick no fuss same-day removal work, whether it's a fridge delivery or an entire bedroom. You'll be glad to know we can do as many trips as it is entirely up to you. We have a remarkable team of furniture moving vans and vehicles that range from small to large.
Two Movers And A Ute Furniture Removal Service Sydney
Hire A Driver & Shuttle Vehicle Ute For Moving Items To Or From The Truck
Quick Move ute hire for removals and shuttle vehicle have a complex move? sometimes the truck just can't get close enough for the men to walk the distance, that's when you need a shuttle vehicle.
We have the best rates in town. Our prices are super competitive and we provide professional services for Ute Hire services. You will be happy to know that we can assist with any type of relocation requirements at an affordable and realistic price not to mention Sydney residents are also able to hire our moving boxes.
Our office relocation service is one of the best and affordable solutions you will find, just compare quality, experience, and price and we WIN hands down every time.
Great For Moves With Really Low Clearance Parking
Our two men and a ute service are our most popular for the simple fact that the ute is low and can park in any underground car park or low clearance unit blocks in Sydney.
The ute is perfect when the truck isn't able to make it up the hill, to the door of the home, the ute can carry many types of items such as tallboys, mattresses, sideboards, washing machines, etc. The shuttle ute is handy especially when you have really low clearance issues also. A cheap and reliable way to transport large bulky furniture to the truck.
Quick Moves Rates, Fees & Charges
Our Removalists Sydney Cost Less Than You Think
For those that don't already know, Quick Move is well known for our budget Removals and same-day delivery service. Saying that you would expect us to know a thing or two about removals. And now offering a whopping 20% less off the half hourly rate, we are offering you a price you can not resist. Book online with our 24-hour online booking form or contact us to discuss anything you have on your mind. Submit an online quote request or simply drop us a line by calling our mobile on 0487 399 669.
Call Us For The Best Prices In Town
Save hundreds, literally hundreds of dollars choosing Quick Move
Potentially you can save hundreds on the moving cost due to what some removalists in Sydney are charging these days Call for a quick chat on how we can save you money, during our conversation we will mention the savings and the benefits of using our moving services. We are an Australian-run and owned business. Therefore you can count on great communications and quality.
Quick Sydney City Furniture Removalist
Providing Quick & Simple Relocation Services For The City Of Sydney & Metro
Our Sydney City Removalists services are a simple solution for home or office relocations and even your once-off single item deliveries in the City.
Our company operates 7 days a week and provides amazingly cheaper rates than other furniture removals. We can remove your home & office contents and transport them to your new home.
Have you ever hesitated to purchase something online with the worry about how you were going to get it home? Or maybe seen the perfect item and stopped yourself from buying it as the expense and stress of transporting it is too much? We have it all, experienced men, over 20 trucks to accommodate all services needed, and all the necessary equipment needed to pick up and deliver furniture.
Quick & Reliable City Movers Operating In The Heart Of Sydney City
Nothing is too big or small for us, call us today and find out just how we can give you the absolute best price. Quick Move being number 1 in the furniture moving industry within Sydney, we have no worry about providing all the necessary tools and knowledge to ensure safe and easy relocation.
Our City team moves anything with ease, and we are well aware of all parking issues. Therefore, we come equipped with all trolleys and flat dollies necessary. Just if need be that we have to park a slight distance from the premises.
Inner City Sydney Removalist Services
Inner City Movers With Small, Medium & Large Removalist Trucks
We have more branches in the Central Coast, Newcastle, Wollongong & Sydney, this giving us the leading edge for all furniture pickups, removals, and deliveries. We can send two men and a truck to and from any of the locations on the map and all areas in between.
Because we truly are your local moving experts. Be happy knowing that all of our prices include GST, so there are no nasty little surprises for you at the completion of your job. That is where we differ from the rest.
We are very upfront with all of our prices, you will always be told about all fees and charges so you know exactly what you are up for on the day. Other furniture removalist companies have the tendency to leave out the GST from their rates and then they also slap a fuel and back to base charge at the end of your job.
Don't Pay More Than You Should! Hire An Affordable Mover In Sydney
Potentially paying up to 20% on top of your total. At least with us our prices are all-inclusive. On top of all this, we have over 20 trucks and can have a team of friendly staff out to you in no time if an emergency removal is needed. Same day removal is not an issue either get a quick quote today or if you have already obtained a quote you can call us to book over the phone or feel free to activate your discounts and use our super-easy online booking form.
Don't let the competitors tell you it's too hard and complicated! it is easy, and simply just call and let us take care of everything. Contact us for further information or if you have any questions about your quote. We also have our frequently asked questions & answers to assist you with the most commonly asked questions regarding your move
Furniture & Bedding Assembly At No Extra Cost
Forget About The Headache Of Putting The Bed Frames Together
All vehicles are equipped with the latest tools so we can easily assemble and pull down the beds for you, and large wardrobes, etc and we have the moving equipment to overcome the most difficult relocation task.
Let the furniture removalist take away that headache of reassembling the bed frames and cots, we know how annoying they can be. That IKEA furniture you have been dreading on pulling down don't! let the men do it for you on the day. Everyones trained and knows how to pull down then reassemble items back together.
Pickup, Install & Assemble Everything? WOW
We carry all the tools to dismantle. however, if there is a special tool required we ask you to provide that to the removalists. From stair climbers and moving trolleys to straps that allow us to hoist large items over balconies, there really isn't anything we can't do. Provide us with accurate details about the job at hand and we guarantee a reasonable price.
Fast, Efficient & Hard Working Is What You Will Say When You Refer Friends
Super quick and reliable workers, sit back and watch the guys relocate your items faster than you can pack them up. A service designed to meet the toughest of requirements. Whether you have simply moved from one unit to another or purchased a large bulky item on eBay, hiring our service should be your first choice!
Businesses that require relocation or delivery could use our furniture removalist service as well. Or perhaps other transport companies in Sydney that need some extra help on a big job and not to mention house furniture removals of course. We totally understand small moves, that is why we have developed a furniture removalist service specifically for helping small businesses. Payment methods accepted are visa, master-card AMEX, and cash and provide a tax invoice on the spot!
Quick Removalists Sydney Operating 7 Days a Week, No Breaks!
An all-in-one service that has customer service in mind. Even the Salvo's recommend us to pick up and deliver furniture that they can not. For furniture pick-ups for charity, We have you covered. Check out the great feedback we receive from local clients.
It's our job to make every single customer happy. You know moving can be hard at times especially when there is hard access, bad parking, and heavy furniture, but rest assure our furniture removalist will do their absolute best to make sure all aspects of the job run smoothly.