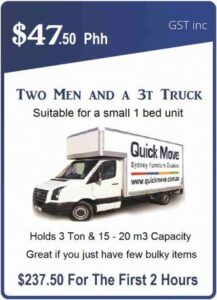 For those needing quick furniture movers Toongabbie, Quick Move is the best choice for you! Our workers are professional movers that will safely relocate all items! Give us a call today on 0487 399 669 and our staff will happily provide you with a free moving quote over the phone today!
Old Toongabbie movers that can relate to the area we serve. The removalist truck will come fully equipped. All furniture and appliances are wrapped carefully to ensure no damages. You will be happy to hear that we always send two men and a truck to all local Toongabbie movers.
Furniture Removalists Toongabbie, Sydney NSW
Toongabbie is a very large and populated suburb within the Western Sydney Region of Sydney, falling into the areas of these councils, City of Parramatta, Blacktown City Council & Cumberland Council. This suburb has approximately 14,500 residents as it is a very popular place to move to in Western Sydney. The homes within this area are mainly suited for families with children with 3+ bedrooms.
Quick Move's men relocate every single of furniture whether it be commercial fridges or just a couple of items, Quick Move can always help. Many of our previous clients can vouch for Quick Move. you can check out our customer reviews at any time and see all the great things people are saying about us!
A Quick, Trusted & Reliable Local Removalist Company
Furniture Removalists Toongabbie
If you are in need of a moving service Quick Move is your go-to for cheap and affordable services. Our men make the best efforts in keeping your furniture safe and sound using, padded furniture blankets that will be used to wrap all items, and we also complimentary plastic wrap the mattresses we move for you, for extra protection during the move!
Internal Removalists Toongabbie
Quick Move Now has a great service for those needing their furniture relocated within their own home. If there is any reason you are unable to relocate your items and need professional help, Quick Move will help you. Quick Move is happy to send out as many men you need in order to help your move continue smoothly.
Fridge & Heavy Appliance Deliveries Toongabbie
If you have purchased any heavy items and need workers to relocate them to your home in Toongabbie. Quick Move can help you! We can also pick up and deliver your appliances if you have purchased them online from stores.
Office Removalists Toongabbie
If you have been searching for cheap office relocations, then look no further than Quick Move. We can help relocate all small and large offices within Toongabbie for the cheapest rate compared to all other companies! Give us a quick call today on 0487 399 669 to learn more about Quick Move's services.
Reputable Furniture Removalists Old Toongabbie, NSW Open 7 Days A Week
Quick Move services the entire Sydney Region and anyone needing our services within these areas. If you were wanting to move to another suburb, Quick Move can 100% help you! Give us a call today to further discuss the areas we service if you are curious!
Toongabbie is a well-known and loved suburb within the Western suburbs of Sydney.  The suburb has its own local Toongabbie Train Station for those that depend on public transportation.
If you have decided that Quick Move is in fact the best choice for you, you can easily make a booking online today using our online booking form where you also have access to an online-only 5% discount! You can also contact us on any day of the week from 7 am – 7 pm on 0487 399 669 for one of our furniture lovely staff to book you in over the phone!
Quick Move Proudly Servicing All Suburbs Within The Blacktown City