Hire Cheap Removalists Burwood Today!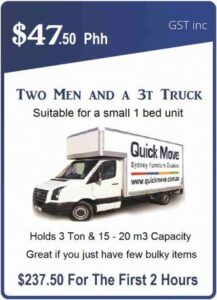 Those moving into Burwood will be extremely happy to know that Quick Move provides cheap movers throughout the whole Sydney region. Quick Move should be your number one choice. We are undoubtedly the cheapest that also offers the best quality relocations. So if you are looking for quick removalists then Quick Move are happy to help. Give us a call today on 0487 399 669 to learn all about us and why we are the better option for you!
Burwood is a very well known and popular suburb with its own Burwood Council in the inner western suburbs of Sydney. Living in this suburb grants you many advantages as you are quite close in distance to anything you may need. You are just a quick 20-minute drive and train ride to the Sydney CBD from Burwood Station. This way if you have a job in the city or are willing to get one you will always have a quick and easy way of transportation.
If you would like to get a free quote it is super easy and you can do it all by yourself just by going to our online booking forms. You can expect a detailed response from our staff in minutes! Or if you are on the go you can give us a quick call today on 0487 399 669 and we will happily answer all the questions you need to know :).
Affordable Home Removalists Burwood
Office Removalists Burwood
Throughout the Sydney CBD and Burwood, there are many office buildings requiring movers each day. Our furniture relocators have conducted thousands of office moves in the area so we have immense experience. You can trust Quick Move for your next large or small office relocation in Burwood.
Small Removalists Burwood
Quick Move is a professional and educated company thriving in Burwood. No matter what size move you may need to be done we can help. Whether it be a small 1 or 2 item delivery or a large home our movers will easily get it done! Our priorities are keeping your items safe and sound while living up to our name and conducting a quick moving service. We never fail to exceed our expectations!
Two Removalists Burwood & One Truck Services
Quick Move offers the best services you could imagine when searching for cheap movers. Not only are our prices incredibly low and affordable, but our guys are the best of the best! We promise you will not regret choosing Quick Move for your next move.
Furniture Removalists Burwood
Quick Move offers the professional movers you can really trust around your home and your items. We make sure we take the utmost care when relocating your furniture. We even cover all of your items in padded furniture blankets free of charge, as well as complimentary plastic wrap your mattresses for extra protection during the move.
Reliable Furniture Removalists Burwood 7 Days A Week
Quick Move offers our services to the whole Sydney Region. So, if our Burwood movers aren't exactly what you are looking for maybe our Five Dock movers might be more interesting for you! Fridge Deliveries and Heavy Appliance Relocations have been one of our most popular services for many years, so if you are looking for experienced men to relocate a few heavy appliances then Quick Move is the right way to go.
If you were wishing to make a booking with Quick Move then it is so easy to do so. All you have to do is go online to our booking form and take a minute of your time to fill it all out. Plus, those who do book online also receive a 5% discount upon purchase! So by booking with the cheapest company you are getting even cheaper rates!
Quick Move Proudly Servicing All Suburbs Within The Canada Bay City