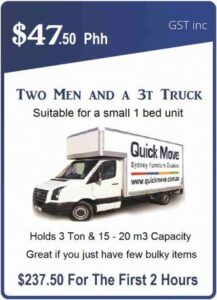 Quick Move is the best removalists Kirribilli without a doubt. Book with us for high quality and professional moves! Kirribilli is a very popular suburb on the lower north shore of Sydney Harbour. It is one of the most developed and modern areas in Sydney. Many people all over Sydney would love to move there although the apartments/ houses are very expensive. Kirribilli has a surprising amount of 4000 residents, which is quite a small number for a suburb being near the city especially on Sydney Harbour.
Furniture Removalists Kirribilli, Sydney NSW
Quick Move has been doing moves in Kirribilli for years. The suburb has been blowing up recently many new people are moving in and settling into brand new homes. The homes in Kirribilli are small 1-2 bedroom apartments usually nothing more than that. This suburb is absolutely perfect for those who have jobs in the city as Kirribilli is only 3 km from Sydney CBD.  Kirribilli's median house price is currently $3,700,000. Quick Move will easily move your entire home in Kirribilli for a very affordable price.  Get a quote online or contact us for a free quote over the phone.
Quick Move, the one and only Kirribilli Removalists
Kirribilli is a very loved suburb in Sydney, the beautiful looks of the Sydney Harbour attract many people all over Sydney, especially tourists. The Prime Minister of Australia actually resides partially in Kirribilli. Quick Move are a professional moving company in Kirribilli and thanks to our experience we know our way all throughout Kirribilli like the backs of our hands.
Cheap home removalists Kirribilli
Quick Move has been in many situations like where parking can cause the job to go longer than it should. For this reason, we pack all the necessary equipment to make the job run smooth such as trolleys and all tools to help disassemble and reassemble.  Kirribilli has many wonderful restaurants you should definitely visit but our personal favourite has to be Aqua Dining, you get mouth-watering food AND the beautiful view of the Harbour to gaze at while enjoying your food. Quick Move has moved thousands of people in Sydney and the surrounding cities, you can check out the areas we service to see if we can help you.
Hard working and professional Movers, Kirribilli
Quick Move is the most trusted and professional removalist company in Sydney. You can depend on us to help your move go smooth and well. Kirribilli is one of the best suburbs to live in Sydney, there are many entertaining things to do in the area that everyone can enjoy, for example, Luna Park is only a 5-minute drive which is great if you have kids, great entertainment and ways to get them up and out of the house and having fun. Living close to Luna park is especially good as the Big Top in the park hosts concerts at night time when the park closes. Living in Kirribilli means you will always be able to know if your favourite artist is performing just 5 minutes away from you. Quick Move does a wide range of moves each week, we service to everything whether it be small office moves to large full furnished homes.
Furniture removal service in Kirribilli
Quick Move is the best removalist company in Kirribilli. unlike other Kirribilli movers we do not do sneaky extra charges. The majority of the housing in Kirribilli are high rise apartments of course having lifts and many flights of stairs. Most other Kirribilli removals will charge extra for stairs. Many other companies take advantage of moves in Sydney as they move apartments more than anything else and they will charge up to $5 a step! With no extra charges for stairs and no hidden charges. We always have a range of different specials coming and going. At the moment if we move your home all mattresses get wrapped for free in our plastic protection wrap. This is so the mattresses will not get dirty during transit, this deal is one thing many other removalists in Kirribilli do not do, make sure you book with Quick Move, where we will keep your items safe at all times. Our company now has a Facebook page! Like our posts and follow us to keep in the mix of upcoming deals and specials!
Cheap and affordable removalists, Kirribilli
Lastly, and I'm sure you know by now, Quick Move is the best choice for you. Many people consider the suburb to be their dream area. Kirribilli is perfect for people aged 20-40 as there are many things to do in that age range. Quick Move is the ideal movers you should go with. We make sure all your items are packed safely into the truck, every item is wrapped in padded furniture blankets.
Quick Move can move anything you request. It may be helping move market tents, event setups, concert equipment or heavy restaurant machinery. Quick Move can do it all, we rarely turn down a request so hit us with anything! Quick Move are very popular in Sydney and book out on certain days very quickly, make a booking online right now to ensure you have your move on the day you wish ! You can also contact us by calling us any day on  0487 399 669 at any time from 7am to 7pm. Quick Move is the right move for those who need Kirribilli removals.
Quick Move Proudly Servicing All North Sydney Suburbs