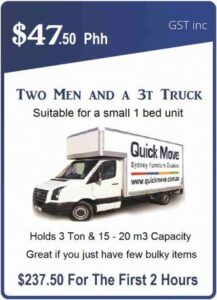 If you are in need of cheap furniture removalists Neutral Bay, then you have found the perfect Neutral Bay removalist company that will provide you with amazing services for cheap and affordable removalists. We promise that you will not regret choosing Quick Move for your next move. Contact us today on 0487 399 669 to have a quick chat with our removalists Neutral Bay that will supply all the information you need about us and why we are the only choice when looking for a cheap removalist.
Furniture Removalists Neutral Bay, Sydney NSW
Neutral Bay is a very popular suburb in the Northern Suburbs of Sydney, falling under the North Sydney Council. This suburb is well-known and loved by many. Most people would love to move to North Sydney, it is better for retirees and professional workers. The homes are usually quite small and expensive but the majority of the homes have amazing views. Views of the Sydney Harbour. The median house price for Neutral Bay is currently at  $2,200,000.
Other furniture removalists can not compete with our amazing prices and well-trained removalists in Neutral Bay Sydney. So you know when you have booked with Quick Move, you will receive a well organised and performed moving service. We offer our removalist services to the whole Sydney region.
Professional & Local Home Removalists Neutral Bay, NSW
We have performed thousands of moves in this Neutral Bay. With over 8 years of running our Neutral Bay removalist business. Therefore we definitely are the best and more experienced removalists for you. Here are our most popular in your area:
Furniture Removalists Neutral Bay
Here at Quick Move we really care about you and your items so you know that when you choose Quick Move for your upcoming move we will take every extra precaution to keep them safe and sound. Including free plastic wrapping on all mattresses and we will even complimentary wrap all of your furniture in padded removalist blankets.
Two Removalists Neutral Bay & One Removalist Truck
Quick Move offers the best removalist services in Neutral Bay, there is no doubt about that. In fact, we are also the cheapest and most affordable option for most people moving to this suburb. Why pay a ridiculous amount when you can get two hard-working removalists Neutral Bay as well as the North Sydney removalist truck best suited for your move for as little as $45 phh.
Furniture Deliveries Neutral Bay for Online Purchases
If you have ordered furniture and any other items online from websites such as eBay, Gumtree, Grays Online, and IKEA, then Quick Move's removalists Neutral Bay are the best option for you. We will pick up and deliver any item you need, plus we pack all the necessary equipment such as trolleys and dollys, tools to disassemble and reassemble, and we will even bring free packing boxes.
Office Furniture Removalists Neutral Bay
We have conducted 100's of office relocations in Neutral Bay, therefore all of our removalists Neutral Bay have a great amount of experience as well as qualifications to relocate any of your business furniture relocation requests.
Reliable Furniture Removalists Neutral Bay 7 Days A Week
For extra safety, we are sure other removalists Neutral Bay will not do. For example, we have installed hydraulic tailgate lifters onto a majority of our larger trucks. Therefore we will be able to get your fridges and appliances safely upright into the truck. From then on we will cover them in padded furniture blankets, and straps so it is secure during transit.
There are many things that make Neutral Bay a great suburb to move to. And for example, the Big Bear shopping center is just 5 minutes away which is a large center. It has many shops we are sure you will find convenient. You are also overlooking the harbor when being on the waterline of Neutral Bay which is a beautiful view of the harbor bridge.
Quick Move makes it easy for anyone to book in with us and/or get a quote. So if you were needing a free moving quote all you have to do is go online to our quote form, fill out the details, and once you are finished and it is submitted you can expect a detailed response within the hour.
If you were wishing to make a booking with Quick Move, it is just as simple. Go online to our booking form which will only take a few minutes to fill out. And once you have submitted you have successfully booked your date and time for your removalists Neutral Bay. You can also contact us between 7 am and 7 pm on 0487 399 669 if you were needing to do any of these over the phone today :).
Quick Move Proudly Servicing All North Sydney Suburbs