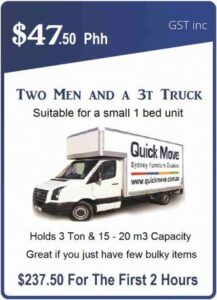 If you have decided to move into the great suburb of Paddington then you HAVE to choose Quick Move for your needed Paddington removalist services. Quick Move is the movers that you can actually trust. Firstly as we provide all of our customers with hardworking and experienced furniture removalists. Movers that actually know what they are doing. Not only do we provide the highest quality of moves for those moving to Paddington. But secondly, we also have the cheapest rates throughout the whole of Sydney. You can contact us today via our website or you can call us on 0487 399 669 and our staff will happily tell you all about us and what makes us the best in Paddington.
Furniture Removalists Paddington, Sydney NSW
Paddington is a very popular inner-city suburb under the City of Sydney Council that many people love. This suburb has approximately 12,000 residents although there are always thousands of more people visiting every day. It is always packed as there are many things to do for kids & adults to do. And many job opportunities as well. For example, one of the most popular things to do in Paddington is to go to the Paddington Markets. They are open every single Saturday on Oxford Street! A fun day out for the whole family.
If you are looking for cheap and affordable removals then stop. Stop where you are and book with Quick Move now! If you were needing more information for your type of move in particular you can get a free moving quote online. Therefore just fill out our small quote form, or you can give Quick Move a call today on 0487 399 669. And our helpful staff can provide you with all the information you need over the phone.
Reliable home & Office Removalists Paddington
If you were wondering what our company provides. It is cheap and inexpensive furniture removal prices. You have come to the right place, here is a shortlist of our moving services.
Furniture Removals Paddington Sydney, Any Size Move Welcome 🙂
Moving small units in Paddington is our most popular and requested removalist service. For those moving in or out of Paddington, we take the best care of all of your items. Ultimately by making sure they are extra protected during transit. To do this we wrap all of your furniture in padded moving blankets and we will even complimentary wrap all of your mattresses that we would be moving for you, how great is that!
Last Minute Removalists Paddington
Quick Move has encountered many people needing emergency moves. Their first choice didn't complete the job or didn't turn up at all. Quick Move will never leave you in the lurch! As we will always make sure we have done everything right before leaving. If you have unfortunately had a bad moving experience in the past, Quick Move can come to the rescue today.
Office Furniture Removalists Paddington
Quick Move isn't just a home mover, we also provide businesses with a moving solution. This is because a large portion of the inner city suburbs of Sydney has many large office buildings needing relocations each day. Quick Move will remove your office furniture and any other items you need in no time, there's no need to worry about Quick Move and the prices for your move 🙂
Furniture Removals & Delivery In Paddington
Quick Move was originally a furniture courier, then moved into removalist work, and now into full relocation services for any type of removal required.
Affordable & Quick Furniture Removalists Paddington Open 7 Days A Week
If you are looking for just that extra muscle power then you are in luck! Our two men and a truck Paddington team are ready for hire. And for cheap and affordable rates, with no extra charge for the truck. This is ideal for those that just needed a few heavy items to relocate around their own home but are unable to do it on their own. You are welcome to hire as many men as you need for the job so all you need to do is sit back, relax and let the hardworking professionals do everything for you.
Paddington is the perfect place to move if you are looking for a nice community
With small homes perfect for those living alone and professional workers within close proximity to most things you need. For example, you are only a quick 15-minute drive to the Sydney CBD where you have hundreds of job opportunities and many fun things to do. If you are looking for cheap removalists in Paddington then you are in the right place!
However, if you have decided you are moving into Paddington then we are the right choice for you, you can't turn down our amazing services and our unbelievably cheap rates! Call us today on 0487 399 669. And our friendly staff can get you all sorted for whatever service you need. Or you can make a booking all by yourself online and just by doing that you can also receive a 5% discount upon purchase!
Quick Move Proudly Servicing All Suburbs Within The Sydney Inner City