Furniture Removalists Rosebery, Sydney NSW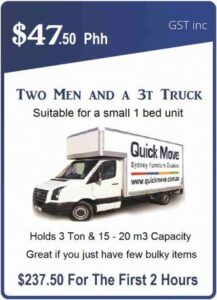 If you are looking for cheap movers in your local area in Sydney then Quick Move have some of the best movers that can provide you with a cheap service. Call Quick Move today on 0487 399 669 and our staff will happily tell you all about us and what makes Quick Move your best choice for moving.
Rosebery is a large and well-known suburb that falls under the City of Sydney Council as well as the Bayside Council, in the Southern Suburbs of Sydney. This suburb is great to live in! Especially for professional workers that work within the Sydney CBD. As it is only a quick 20-minute drive into the CBD. There is even a local Train Station! You will always have a quick and affordable way of transport 🙂
Quick Move has been in the industry for many years now, since our establishment in 2011. We started off with just one man and one van. We are now one of the most popular moving companies! If you were wishing to learn more about Quick Move and our cheap rates you can call us today on 0487 399 669 and our staff will happily hook you up with a free quote over the phone 🙂
Affordable Home Removalists Rosebery
Office Removalists Rosebery
Quick Move is the cheap company you need for your office relocation. Our men will easily relocate all of your office furniture! Including, heavy machinery, electronics, and more in no time! The best movers are right here are ready for your call – 0487 399 669!
Small Removalists Rosebery
Whether you are just needing a few small items delivered or a large 5+ bedroom home relocation. Our men are fit and ready for the job! Our employees are all trained and qualified after participating in many training courses! We make sure we give you the calm and carefree service you deserve. 🙂
Furniture Removalists Rosebery
Quick Move make sure you do not need to lift a finger when we are conducting any service for you. Our men will do anything you do all you need is to ask! Quick Move brings all the necessary equipment to the jobs that could be needed so you don't have to. These include Trolleys in case there are any height restrictions for the trucks. Dollys in case there are no close parking spots and need to relocate heavy items. We even bring tools in case we need to disassemble your items to fit safer in the truck or doorways.
Two Removalists Rosebery & One Removalist Truck
Quick Move offers all of our clients a cheap and affordable price that other companies can't compete with! We have our amazing two hardworking men and the truck size suitable for your move for as little as $45 phh. That is an insane deal other companies surely do not offer.
Reliable Furniture Removalists Rosebery 7 Days A Week
Quick Move is the professional and cheap company you deserve, we make sure that we conduct a safe, yet quick relocation for you so you can have a great moving experience, because if you choose unprofessional and non-trusted companies, your items and your home is at risk of damage. If you have unfortunately chosen another company that has provided you with poor service, Quick Move will organise an emergency relocation to get you back on track 🙂
If you were wanting to get a free quote or make a booking with Quick Move, they are both super easy for anyone to do! To get a free moving quote, all you have to do is call us today on 0487 399 669 and we can sort it out for you, or you can go online to our quotation form and just take a moment of your time to fill it out. When you are done you won't have to wait long to have a detailed response from our staff with a price.
If you were needing to make a booking with us, it is equally as easy! First off, when you book in with Quick Move online you receive a 5% discount upon purchase! So all you have to do to activate that discount is to go online to our booking form, take a couple of minutes to fill it out, and from then on you are all ready to go and you can expect a great team of professional and qualified movers 🙂
Quick Move Proudly Services All Suburbs In The South Sydney Bayside City