Furniture Removalists Quakers Hill, Sydney NSW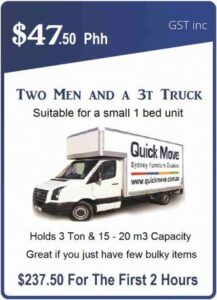 Those moving in or out of Quakers Hill will be extremely pleased to see Quick Move, the reason being, we have the lowest prices in the moving industry, not to mention our high-quality workers that will relocate all of your items in no time! For quick and speedy service, call Quick Move today on 0487 399 669!
Quakers Hill is a very large suburb in the City of Blacktown, within the Western Suburbs of Sydney with now well over 27,000 residents! The majority of those living in Quakers Hill seem to be families. This is because the homes are most suited, usually being modern homes with 3+ bedrooms. The median house price for Quakers Hill is sitting at approximately $779,250.
Quick Move has made it so you can access important information via our website at any time! We have FAQ page that we are sure would be very useful for quick answered questions. However, if you would rather have a chat with our staff do not hesitate to give us a call on 0487 399 669 and our staff will happily tell you all about us as well as answer any questions you may have.
Affordable Home Removalists Quakers Hill
Furniture Removalists Quakers Hill
Quick Move's men have performed thousands of moves within the Quakers Hill area. Therefore, we have tons of experience in moving homes and delicately moving your furniture. We have great deals and specials available to all that book with Quick Move, for example we bring along free packing boxes in case you have any loose or fragile items, we cover all items in padded furniture blankets for no extra charge and we even complimentary plastic wrap your mattresses for extra protection during transit!
Internal Furniture Removalists Quakers Hill
Quick Move has a large range of delivery services available to anyone, no matter what it is you need relocating! Quick Move is always happy to help and get you back on track. If you are unable to relocate any furniture on your own. Quick Move can definitely help you with that! We will even move items up and down flights of stairs, for no extra charge at that! That is something many other companies do not do.
Fridge & Heavy Appliance Deliveries Quakers Hill
If you have purchased any heavy appliances from stores and were needing professional movers to safely deliver your items. Quick Move is a great option for you! We offer these services and more for cheap and affordable rates you will be super impressed by. Give us a call today on 0487 399 669 for a free quote on your appliance deliveries!
Reliable Furniture Removalists Quakers Hill 7 Days A Week
Quick Move, unlike many companies servicing Quakers Hill, service the entire Sydney Region, not just the small area of Quakers Hill! Therefore, if you have been looking for another suburb instead. Quick Move can most definitely get a great team of movers Quakers Hill to assist in moving your furniture! Contact us today via our website or you can give us a call on 0487 399 669 and we can get you all ready for your move.
Quakers Hill is a fantastic suburb to move to for families with children as you are very close to all the necessary facilities, such as the 3 local schools within the area being Quakers Hill Public School, Quakers Hill High School as well as the Hambledon Public School. This is super convenient for parents with children old enough for schooling.
If you have finally decided that Quick Move is the best choice for you, then all you have to do make a booking is simply go to our website and fill in all the details requested on our online booking form, it is super easy and understandable for everyone. However, if you are not necessarily "tech savvy" or just would like to talk to someone about your move, give us a call today on 0487 399 669 and one of our wonderful ladies in our booking department can happily book you in over the phone with no problems!
Quick Move Proudly Servicing All Suburbs Within The Blacktown City