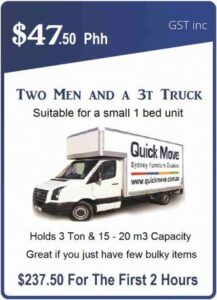 Firstly, Quick Move is your local affordable moving company in Glebe, NSW. Our removalists Glebe are here to make your moving experience stress-free. That is exactly what we will do! If you would like to know more about us and our pricing. Give us a call today on 0487 399 669 or apply online for a free moving quote!
Glebe is a very popular area in the City of Sydney and is truly a fantastic place to be.
Furniture Removalists Glebe, Sydney NSW
There are many facilities and an endless amount of opportunities in the suburb. Glebe is a very popular area in Sydney with approximately 12,000 residents. The distance from the Sydney CBD is just a quick 10-minute drive or a 22-minute bus ride.
Quick Move has an immense amount of experience in this suburb in particular. It is a very popular place to move, and Quick Move is the number one mover in the area! We will make your move to Glebe smooth and easy. Quick Move is a professional and efficient moving company happy to assist whenever you need it. Learn more about Quick Move and we are sure you'll be wanting us for your next move :).
Trusted, Respectful, Honest & Reliable Movers, That's Quick Move!
Secondly, our removalists Glebe are prepared for anything, and a huge part of our industry is parking. We are aware that parking in Glebe is extremely difficult in some areas. Although, our movers come prepared with trolleys, dollies, and tools for disassembling/reassembling. We specialize in small house moves, which is perfect for those moving into Glebe. We made it super easy and quick to get a quote. All you have to do is fill out a simple form with a few questions and you can expect all the details you need in an email. Our rates are incomparable, you will not regret moving with Quick Move.
Additionally, Quick Move has to be who you choose to relocate your home to, we are simply the best. We really outdo ourselves and our competition as we truly offer the best services in Sydney. Not to mention, the most affordable rates out there! We provide 2 movers and a truck for every move! We also wrap free plastic wrapping on all mattresses and provide free boxes on the day. Additionally, all furniture will be wrapped in padded furniture blankets to ensure safety during transit. You can trust our movers to take extreme care of your items as we have been in the industry for over 10 years! Most of our workers have worked with us for over 5 years and are experienced and ready for your move.
Budget Removalists Glebe, Open 7 Days A Week, Sunday To Monday!
Thirdly, Quick Move offers the movers that you can trust. We conduct home relocations in Glebe 24/7 which means you can call us anytime for a free quote. Call us on 0487 399 669 to get in contact with our helpful staff in head office if you have any questions. If you are needing answers and prefer to look online, we also have a FAQ page we are sure you will find very useful.
We offer a huge variety of services available to anyone in Sydney. For example, one of our most popular services is our fridge and heavy appliance deliveries. We can pick up your appliances straight from a store dock. Or if you have purchased them second-hand from stores like eBay, we can still assist. No matter the number of pick-up locations, we are always happy to help. We will bring along the truck best suited for your move to ensure a quick and smooth moving service. Our removalists Glebe are happy to help!
Finally, if you have decided that Quick Move is the best choice for you, contact us today. You can give us a call on 0487 399 669 between our contactable hours of 7 am-7 pm. By calling today we can have one of our helpful staff organize your future move with you over the phone. Or if you would prefer to book online you can definitely do that via our website! By booking online you will also receive a 5% discount which is only accessible to online bookers! Our removalists Glebe are the number one movers in Sydney, you can't refuse! 
Quick Move Proudly Servicing All Suburbs Within The Sydney Inner City