Furniture Removalists Gledswood Hills, Sydney NSW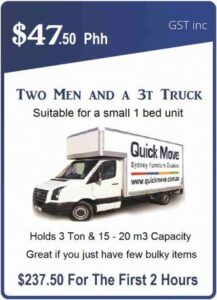 Our furniture removalists are the qualified and experienced men you should book with for the safest move. That is something all of our clients can agree with! If you would like to know more about us and our rates, do not hesitate to give us a call today on 0487 399 669 for a free moving quote!
Gledswood Hills is a very small suburb with under 30 residents! It is located within the South – Western Sydney suburbs while also falling under the Camden City Council. Those that live in the suburb tend to be those only needing 1-2 bedroom homes as apartments are the general types of homes available in the area. The median house price for Gledswood Hills is currently sitting at $835,000.
If you are needing Quick Move's men for a rather abnormal or unpopular service, such as event set up and relocations. Do not fret, as Quick Move can most definitely help you and get all of your items no matter how big or small relocated smoothly and safely. There is nothing we can't do to ensure our clients a perfect moving experience!
Reliable Home Removalists Gledswood Hills
Furniture Removalists Gledswood Hills
Our furniture relocators are well-trusted professional men you can depend on for a smooth and well organised moving experience. We even offer deals such as free packing boxes available for your use on the day of your move. Our men will also disassemble/reassemble any item needed for no extra price.
Office Removalists Gledswood Hills
Quick Move's workers have participated in hundreds of office furniture relocations all over Sydney. It is one of our most popular moving services. We move all office furniture including items like commercial printers and scanners as well as long boardroom meeting tables. Items like these are difficult to move for the average person. However, Quick Move is a professional company with experienced movers who have withstood far more difficult situations.
Home Removalists Gledswood Hills
Quick Move assists anyone in need of furniture relocations, no matter how big or small your home is! We have conducted moves for large 5+ bedroom homes all throughout Sydney and are very well qualified to do so! Your movers will take on the challenge and prove just how amazing we really are!
Affordable Furniture Removalists Gledswood Hills 7 Days A Week
We will service anyone in need of furniture relocations within Sydney, no matter the size. If you would like more about us and why we are the best choice for you, check out our customer reviews! Just by having a quick read through you can see why Quick Move really is a perfect choice! Give us a call today if you are wishing to get a quote and discuss our pricing for your move!
Make a booking super quick and easy today. To book online simply fill out the forms online, once you're all done you can expect a confirmation email! You can also give us a call on 0487 399 669 to book in over the phone with our helpful staff. Both methods are super easy. Now all you have to do is sit back and relax while the professionals take over :).
Quick Move Proudly Servicing All Suburbs Within The Camden City