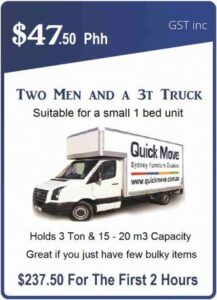 Quick Move removalists Balmain offers more value than any other company. Balmain is a very popular spot in Sydney for many reasons. Including events, sports, activities, amazing facilities, and restaurants, sure to give anyone of any age a good time. This suburb currently has around 12,000 people which is a large number for a suburb. Balmain is an amazing place to live and Quick Move is the best company to move you located in the Inner West Council.
Furniture Removalists Balmain, Sydney NSW
Balmain is the proud home of the West Tigers as I'm sure you know. We're sure footy fans would appreciate how close they are to them. They play their games at Leichhardt oval! That's great as there are different sports and teams there weekly so you've always got something to do.
Quick Move makes your moving experience carefree and relaxing. As we are professionals and insist you do nothing but sit back and let the movers do everything for you. This involves assembling and disassembling any furniture needed. This is why you should choose Quick Move! We are nothing but the best. Learn more about us and we guarantee you will want to book with us.
Cheap Removalists Balmain – Professional Moving Service
Balmain obtains some of the best events and facilities in all of Sydney! But, their restaurants are something to talk about. After your big move enjoys a night out, treat yourself to some of the best food in Sydney. Quick Move gets many moves in this area each week! So our men definitely know where the best feed is at and it's got to be Meyhane. With our fantastic rates and hard workers, Quick Move has got you covered!
Quick Move comes with all the necessities and more! Trollies, padded furniture blankets, and free plastic wrap for your mattresses? That's an extremely good deal, how can you not go with Quick Move? Living in this area is very convenient especially for those working or who need to travel to the city. This is because it is only a 12-minute drive or a 13-minute bus trip! Quick Move will assist with anything you need! This includes any form of equipment, anything you need to be relocated, Quick Move is the way to go. Scroll through our awesome reviews and you can decide for yourself just how good Quick Move is ( amazing )!
Removalists Balmain That Offers Budget Rates
If you're looking for a popular and busy suburb, then Balmain is for you! It's one of the best suburbs in Sydney to move to. In our years of working with this company, we have calculated how many times on average someone moves to or from this suburb each week and unsurprisingly it was approximately 5 homes. This suburb is that popular that we get at least 4 times each week, the suburb is only getting bigger and bigger.
The majority of the homes in Balmain are small 1-2 bedroom homes, suited for small families, couples, and single livers. This is perfect for Quick Move removalists Balmain as we actually specialize in small moves like these, supplying each job with 2 men and a small truck. Although if you do have a bigger or small move we have the trucks and vans to suit, whether it is a fully furnished 5+ bedroom home that would need a massive truck or a 1 item delivery needing just a van we will happily send over whatever you need.
Just need the muscle and no truck? that's fine too you can grab our men for hire and then can relocate, disassemble and reassemble any item needed. Quick Move simply does it all. We also make it super easy to get a quote online, just by filling out a small form you can expect an email with all the details in it as soon as possible. Or if you like you can call Quick Move at 0487 399 669 and our friendly ladies over the phone will give you a quote 🙂
Furniture Removalists Balmain & Local Areas!
You won't regret booking with Quick Move as we offer the most professional and hardworking team who will make your moving experience nothing but quick and easy. Our men have had a minimum of 5 years experience before working with Quick Move and we even have some men who have worked with us for over 8 years, they show us extreme commitment just like they do with our customers, making sure everything is safe and not damaged at the end of the move.
After Quick Move has got you all settled into your new home we recommend having a fun day or night out especially at the Karaoke and Disco nights at the Bowling Club, sounds like fun to us. Make a booking online to activate our online deals or you can book over the phone with our friendly staff at 0487 399 669. Quick Move removalists Balmain = the right move.
Quick Move Proudly Servicing All Suburbs Within The Inner West City