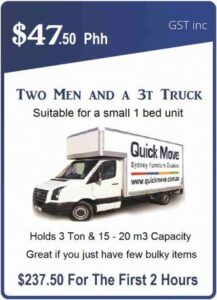 Have been on the lookout for a cheap and affordable furniture removalist in Waverton? Quick Move is your best choice, we are reliable, professional, and hard-working movers in Waverton. Firstly our prices are unbelievably cheap for the high quality you receive. When booking with Quick Move, give us a call today on 0487 399 669 and our staff will tell you even more about us.
Furniture Removalists Waverton, Sydney NSW
Because Waverton is a wonderful place to move to on the North Shore of Sydney. Falling under the North Sydney Council, there are many local facilities and fun things to do within the area for people of all ages which we are sure you will absolutely love! For example, The Greenwich baths are just a quick 5-minute drive away which are very popular pools within the suburb that many people adore, the perfect way to spend those hot summer days!
And Secondly, those that are in need of an affordable moving company in Waverton have come to the right place! Quick Move not only services Waverton, but we will help anyone within the entire Sydney Region! This means if you were specifically needing for example cheap removalists in North Sydney, then Quick Move is a great option for you! Give us a call today to organise your furniture removals Waverton with us!
Reliable Home Removalists Waverton
Furniture removalists Waverton
Therefore if you are needing a professional home removal company. Then Quick Move is your best choice. We take on the move and make sure we do all the safety precautions to keep your items safe and sound. We even cover your items in padded furniture blankets for no extra charge to keep you safe from damage.
Internal Removalists Waverton
Our movers are very happy to help anyone in need of moving services for any given reason. We have strong men with muscle to relocate your heavy or fragile items up and down a flight of stairs or to a separate room, we can definitely help you. Quick Move does not charge extra for stairs or lifts, adding to the many reasons why Quick Move is your best choice.
Small Removalists Waverton
For just $45 phh we can help you with your small move, we will send out a fantastic team of professional, hardworking, and qualified staff. As well as a small truck suited to fit all of your items, what a great price! There are no other professionals that can beat Quick Move's high-quality Waverton removalist services.
Event Setup & Relocations Waverton
If you were needing an even set up mover for a wedding, concert, party, market, or any other event. Quick Move is here and ready to help whenever you are in need! Give us a call today on 0487 399 669 to organise your event furniture removals Waverton.
Affordable Furniture Removalists Waverton 7 Days A Week
Quick Move exceeds and definitely keeps up with all of our customer's high expectations. When moving your items to or from your home in Waverton you cant look past Quick Move. If you were needing some extra reason to book with Quick Move, we recommend you have a quick look at our customer reviews as it is nothing but the truth from our awesome clients! We are sure you will appreciate it!
You will love living within Waverton, there are many family-friendly activities we are sure you will absolutely love. These include Balls Head Reserve which is a lookout where you can see amazing views of the Sydney Harbor! We are sure you will love this as it is something you can do with people of all ages!
If you have been meaning to make a booking you can do so via our website. You can do it even quicker by giving us a call on 0487 399 669 and our staff will forward you to our helpful ladies in our bookings department that can get you all locked in and organised for the day you request.
Quick Move Proudly Servicing All North Sydney Suburbs