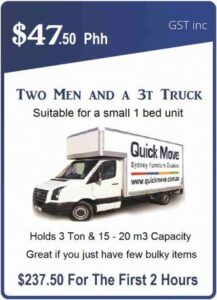 Our Londonderry removalist services are performed by professional, experienced, and qualified men.
All our guys have undergone thousands of moving services over our 9 years of experience. If you would like to know more about us and the services we offer to you, give us a call at 0487 399 669. Londonderry is a suburb located within the City of Penrith in the Greater Western Sydney Region, it is known for being a great suburb to move to for families.
Furniture Removalists Londonderry, Sydney NSW
The homes are quite large as well as having large backyards and even acreage. The median house price for Londonderry is currently sitting at $1120000. We are sure you will love living in Londonderry, especially if you appreciate quiet and small suburbs.
If you are only needing small furniture moves, then you have come to the best place. To find cheap movers just come on over to Quick Move! We offer 2 men as well as a small removalist truck suited for your move, for as low as $45 phh! This is an extremely cheap and affordable deal that we are certain no other businesses can compete with! Contact us or apply for a free moving quote online today to see all the details for your future moving services with Quick Move.
Reputable, Reliable, Responsible Local Removalist Company
Office Removalists Londonderry
Quick Move is one of a kind, and one way to determine that is the fact that we do not charge any extra fees when moving your furniture up and downstairs. Most Londonderry removal companies will take advantage of the fact that the majority of office complexes/buildings have stairs. Therefore, Quick Move is obviously the best choice! You never have to worry about unprofessionalism with Quick Move!
Furniture Removalists Londonderry
Quick Move offers trusted men prepared to do anything to make sure each and every one of your items is kept safe. We will complimentary plastic wrap all mattresses. As well as cover and protect all items in padded furniture blankets for no extra charge at all! No matter how many items you have, we always come stocked up and ready to go!
Home Removalists Londonderry
You will not be let down by Quick Move and that is guaranteed! We will do anything in need to make sure you have a smooth and well-done moving experience. Our men even move furniture for events such as markets and shows! You can have as many men as you need to relocate your concert equipment, market tents, stalls, and more!
Reliable Furniture Removalists Londonderry 7 Days A Week
Our workers have been in the industry for over 9 years. Therefore, they have extreme experience in moving all sized homes, whether it be a singular item or a 5+ bedroom home relocation. Quick Move is always happy to help! Even if you are needing us for another suburb such as Penrith removals then we are happy to help! The areas we service actually include the entirety of Sydney. Therefore, if you are needing Quick Move for anywhere within the Sydney Metropolitan area, you are good to go and book with Quick Move!
If you would like to make a booking with Quick Move and confirm the date and time for your move, then we have made two very easy and simple ways to do so. You can book online via our website booking forms that can be super easy and quick to get through.
However, if you need it you can take all the time you need to check out all the pricing snd services best for you etc. You are also welcome to give us a call on 0487 399 669 and confer with one of our removalists. We can give you a free quote over the phone so you know exactly what you will be getting when booking with Quick Move. Then we will transfer you to one of our wonderful ladies in the bookings department to get you all locked in and ready for your move! Super simple and easy to do, so give us a call today and we can jump right in!
Quick Move Proudly Servicing All Suburbs Within The Penrith City