Furniture Removalists Freemans Reach, Sydney NSW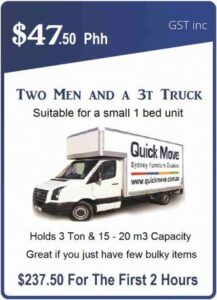 Welcome to our Freemans Reach page! Just a quick read through this page you will learn all about us and why we are the best choice for you if you are looking for cheap services. Our services are cheap and affordable while our workers are of the best quality!
Freemans Reach is a small suburb in the North-Western suburbs of Sydney that falls under the Hawksbury city council, with only approximately 1900 residents, making it quite a small suburb. This suburb is perfect for families with children and retirees. The local schools and the Windsor shopping center are just down the road.
You can contact Quick Move for cheap services 7 days a week from 7 am to 7 pm on 0487 399 669 and our helpful staff will happily provide you with a free quote. If our services weren't what you were looking for we also service throughout the whole Sydney Region!
Affordable Home Removalists Freemans Reach
Quick Move offers a large variety of services, call us today on 0487 399 669 if you were interested in any services from this list.
Office removalists Freemans Reach
Office moves are one of our most popular services. We have performed thousands of these particular services throughout the whole of Sydney. We are aware many offices are in tall buildings, so we have decided not to charge extra for stairs!
Furniture Removalists Freemans Reach
Quick Moves men take the utmost care of each and every one of your items when moving with us, we will complimentary wrap all of your mattresses in high-quality plastic protection wrap as well as cover all of your furniture in heavy-duty padded blankets. Your men will even come with all the tools and equipment to disassemble and reassemble your items.
Two Men And A Truck Freemans Reach
Booking with Quick Move will ensure you receive the best moving experience you can imagine. We have over 20 different-sized trucks and over 50 experienced and qualified men. Our men will make sure all of your items are kept safe. You will receive 2 hardworking and reliable workers when booking with Quick Move! Plus, the truck size you selected or our recommendation all for a cheap price. You can hire 2 of our workers and one truck for as little as $45 phh.
Last Minute Removalists Freemans Reach
Not all companies are as professional and efficient as Quick Move. Others are known to abandon their clients and leave them stranded even after payment. Booking with Quick Move will ensure this NEVER happens to you. We are a professional company that would never let that happen! To those who have unfortunately experienced this, we will easily be able to perform an emergency move for you!
Reliable Furniture Removalists Freemans Reach 7 Days A Week
You will receive the best moving experience when booking with Quick Move, there is no doubt about that. How can you complain after receiving 2 of the best workers and a truck, all of this for a much cheaper price compared to other companies? Check out our customer reviews today and we are sure they will prove why Quick Move is the best choice for you.
We offer services that other companies find too hard and not worth their time! We can move all fridges and heavy appliances for those who need them! Not only will we relocate your heavy appliances but we will also install them right into your new home in Freemans Reach. Quick Move comes prepared for your fridge moves! We even have trucks that will relocate your fridge safely into the truck using our hydraulic tailgate lifter! Keeping your fridge upright and safe at all times.
Make a booking online with Quick Move now and we promise you will not regret it, you will even receive a 5% discount! Or you can give us a quick call now on 0487 399 669 and our staff in our head office will easily get you all sorted for the day and time you would like your men to help you move.
Quick Move Proudly Servicing All Suburbs In The Hawksbury City