Furniture Removalists Cattai, Sydney NSW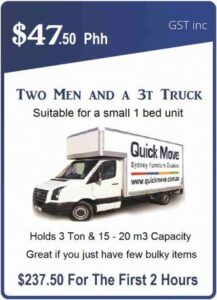 If you hire Quick Move's cheap removalists Cattai today, then you are in for a magical experience. Our movers are professionally trained in all aspects of moving services. So, whatever it is you need to relocate our furniture movers can do it all for you with no problems! Give us a buzz today on 0487 399 669 between 7 am-7 pm. Our helpful staff can provide you with a free moving quote today!
Cattai is a small suburb that falls under the City of Hawkesbury Council as well as the Hills Shire in the North – Western Suburbs of Sydney. This suburb is perfect to move to for families with children as it is usually a quiet suburb with only approximately 790 residents. The median house for this suburb is rating at $1,588,666, this is because many of the homes in Cattai have wonderful water views! Additionally, mainly 3+ bedroom homes with very large backyards along with pools and sheds suited for families.
There is no way you could choose any other company for your needed furniture relocations. If you were needing specific services for example our most popular is fridge deliveries and heavy appliance removalists. We can relocate your heavy appliances from anywhere within Sydney! Even from stores such as IKEA, Harvey Norman and more. We will make sure we take the most precaution by using our tailgate lifters that will successfully lift heavy items safely into the truck.
Affordable Home Removalists Cattai
If you are moving to Cattai then here is a small list of services we think will be a great option for you:
Two Removalists Cattai, One Removalist Truck Services
When you move with Quick Move you can expect an amazing team of movers that will relocate all of your items with ease. Our men are trained and experienced and will always accept a move. Quick Move offers two men services along with a truck suited for you for as little as $45 phh.
Office Removalists Cattai
Quick Move's furniture movers have done thousands of office furniture relocations all over Sydney. Our men are qualified and trained to relocate any business furniture you need. We will even bring the correct equipment like trolleys, dollies and tools in case we need to disassemble and reassemble any items at all.
Internal Removalists Cattai
If you have any large and heavy items that are just way too hard for you to move, then call Quick Move! You can contact us on 0487 399 669 for us to send out as many men you need for the move. We offer affordable services done by professional workers that will leave you speechless. There is no shame in sitting back and letting the professionals take on all the hard work!
Furniture Removalists Cattai
Quick Move's men are the only movers you can really trust when relocating your items. We will take the extra time and effort to plastic wrap all of your mattresses! Plus, we will even wrap all of your items in padded furniture blankets for no extra charge. That is a deal we are sure other moving companies will not offer.
Reliable Furniture Removalists Cattai 7 Days A Week
If you were looking specifically for cheap movers then congratulations! You have come across the correct information page to get all the info you need about us and our services. If you were not interested in our Cattai relocation services, then perhaps our furniture moving Castle Hill services are of more use. We can definitely help you move to this suburb as we actually service the entire Sydney Region!
Cattai is one of the best suburbs to move to if you were needing a quiet town. The homes in this area are perfect for children. The majority of the homes in this area have a great deal of space. However, if they would like to get out of their very own backyard there is also the Cattai National Park which has a beautiful lake and wharf that is quite peaceful to just sit and relax for parents.
If you would like to secure your date and time for a move with Quick Move. Simply make a booking today, you can do that by filling out our online booking form online all by yourself! Or you can contact us on 0487 399 669 and our helpful staff will happily book you in over the phone! There will be no regrets when booking with Quick Move
Quick Move Proudly Servicing All Suburbs Within The Hills Shire