Furniture Removalists Emerton, Sydney NSW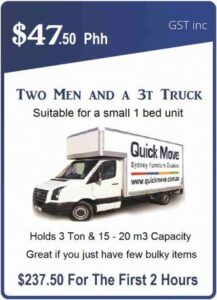 If you are looking for cheap removalists Emerton then you are in the right place. Quick Move offers just that and more with our cheap rates and impeccable moving services, we are definitely your best choice. We offer professional and efficient movers for cheap and affordable prices you can't look past. Call Quick Move now on 0487 399 669 and we can provide you with a free quote.
Emerton is a small suburb in the western suburbs of Sydney that falls under the City of Blacktown, with just around 2000 residents. It is considered a small suburb filled with a great community.  The majority of its residents being families with children and retirees. There are many things to do in Emerton but the most popular would definitely have to be the Charlie Lowles Leisure Centre, perfect for kids and adults! The homes in Emerton are usually small homes with generally 2-3 bedrooms, perfect for Quick Move as we specialise in small moves like these. With our experienced movers, we can get your house move done in no time.
We guarantee a smooth and relaxing experience with Quick Move. Your furniture movers can maneuver all of your items with ease. Your two men to arrive will both have a large amount of experience as the western suburbs of Sydney are one of our most popular areas for our services. Call Quick Move now on 0487 399 669 and you can take that time to ask as many questions as you may have and our helpful staff will happily answer.
Affordable Home Removalists Emerton
Furniture Delivery Removalists Emerton
Choose Quick Move for a smooth and carefree moving service. This is done by making sure we take the most care when handling your items/furniture. Firstly we will complimentary wrap all of your mattresses. Secondly, we cover all of your furniture in padded furniture blankets. Thirdly we supply free boxes so that you can be packed and ready to go for the day of your move. Lastly and most importantly read all about us and how we operate around the Sydney Region. We are sure you will want to choose us!
Office Removalists Emerton
Quick Move, the home, and office moving service specialists. Office relocations are one of our most popular services. We must have each and every employee trained and qualified for even the hardest relocations. Your movers will be able to relocate all of your business furniture including long meeting tables and more.
Last Minute Removalists Emerton
We are aware that other movers can't be as professional and efficient as Quick Move. Unfortunately, we have heard that many other companies have left their customers stranded even after payment. If you have fallen to this act then Quick Move is there to help you. We can organise an emergency move so you can relax and let professionals do all the hard work for you.
Two Of Our Reliable Men & One Of Our Trucks Emerton
Here at Quick Move, we supply the best services to everyone that is wishing to move homes. We provide two hardworking movers and our recommendation of your choice for the size of your truck. These services are available for as little as $45 per half an hour. Furthermore, if all you needed was a little extra muscle power you are welcome to hire as many movers as you need to help you perform internal moves concerning those items that are just too heavy to do on your own.
Reliable Furniture Removalists Emerton 7 Days A Week!
Contact Quick Move from Monday to Sunday any time between 7 am and 7 pm and our wonderful staff will happily answer any questions or queries you may have. We can explain and talk all about us and how we operate our services in your area! Above all, we offer our services throughout the whole Sydney Region!
Emerton is a family-friendly suburb with many fun activities and things to do for people of all ages. After you have moved in there are many things you can enjoy in your new suburb. Let's start with Jet pack Adventures Sydney. This is a huge craze right now and you are sure to have a BLAST when being on one of these!
Quick Move also offers fridge and appliance deliveries, therefore if you were looking for cheap movers to relocate your fridge Quick Move is the right choice for you. Call us now on 0487 399 669 and our wonderful staff in our head bookings department will get you all booked in for the date and time you request. Or you can make a booking online and save even more money, as when you book online you receive a 5% discount upon payment!
Quick Move Proudly Servicing All Suburbs Within The Blacktown City