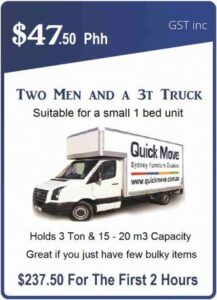 If you are needing Dawes Point movers for a cheap and affordable price, then Quick Move is your way to go! No matter how big or how small your relocation is, we can always take on the challenge! If you would like to know more about our rates and charges then give us a call today on 0487 399 669. We will organise our removalists Dawes Point to tell you everything you need to know about us.
Furniture Removalists Dawes Point, Sydney NSW
Dawes Point is a very popular suburb in the North Western area of Sydney that falls under the City of Sydney Council. Dawes Point is a very small suburb only consisting of 357 residents. The median house price for this area is approximately 3.9 million dollars! You are around 15 minutes away from the Sydney CBD which is a very close distance! Especially useful for those who have jobs within the city, or on the lookout for work opportunities. We are positive you will love living in Dawes Point.
If you are needing men to relocate your office furniture then Quick Move is a great option for you. Our relocators have been in the industry for over 10 years now! We have performed hundreds of office moves in the area and know the suburb like the back of our hands. We will relocate all of your general office items such as desks, heavy machinery and long meeting tables. Call us today on 0487 399 669 and our office furniture movers will happily help you out.
Budget Home Furniture Removalists In Sydney!
Small Removalists Dawes Point
If you are you needing movers for a small relocation such as a 1 bedroom home or apartment. Then Quick Move is the best option to go with. Furthermore, we offer unbelievably cheap prices for amazing quality moving services, you can't refuse! For just $45 per half an hour you can receive two of our best men who can relocate all of your items with our small truck. We will get it done and no time!
Last Minute Removalists Dawes Point
Quick Move's men are the only movers that you can trust to relocate your items in your home in Dawes Point. Many other companies have been proven to be unprofessional by performing poor quality moves or not even turning up. Quick Move will never do that to you! And to those that fell victim to their scam, give us a call on 0487 399 669 to arrange a last minute service today.
Fridge & Heavy Appliance Deliveries Dawes Point
If you have purchased a fridge from any stores like IKEA, then Quick Moves services are the way to go. The men at these stores are unprofessional movers. Therefore, your items are always at immense risk of damage! However, Quick Move offers professional movers all 7 days of the week for a cheaper rate! We will offer you a cheap and affordable price with high-quality movers that will not damage your items in anyway, you can trust us.
Internal Furniture Removalists Dawes Point
Quick Move has a new service that many people will find very useful. This is for anyone who needs heavy items relocated around their own home or in the same building. We can provide you with two or more men at your request that can relocate any items you need to wherever you like in your home. We are also happy to disassemble and reassemble if needed. Our men are prepared for anything! So, do not be afraid to give us a call and discuss your future internal house moves with Quick Move.
Reliable Furniture Removalists Dawes Point 7 Days A Week
If you are thinking of moving to Dawes Point, then you have come to the correct page to learn all the information about our services! However, moving to another suburb and Sydney and needing assistance, Quick Move can definitely help you! We actually service the entire Sydney region and many other surrounding cities. Give us a call today on 0487 399 669 to discuss with our helpful staff, whether we can help you move!
Dawes Point is an amazing place to move to. There are many things to do within the area for young adults and professional workers that work within the city. Dawes Point is basically right below the Harbour Bridge which is an amazing view that you get to see every single day. Everyone is fighting for a beautiful home in Dawes Point so if you have got one set then you are extremely lucky!
Quick Move has made it extremely easy for anyone to book in with us. You can either make a booking online and receive a 5% discount by simply just filling out our booking form. Or you can also give us a call on 0487 399 669 and our staff in the booking office will book you with Quick Move! You will have no regrets booking with Quick Move
Quick Move Proudly Servicing All Suburbs Within The Sydney Inner City