Quick Home Removalists Marrickville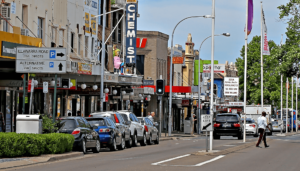 Marrickville furniture removalists service, Quick Move we make moving to Marrickville easy and cost effective. See our customer reviews It doesn't need to cost you a fortune when hiring a Marrickville mover. Why are so many people moving to Marrickville? Well it is a bustling city with over 29,000 residents currently living there. Most of the homes in Marrickville are generally small 2-3-bedroom homes and small 1-bedroom units. By the way we specialise in moving small homes and businesses. Marrickville is conveniently close to Sydney CBD and has the right transportation to do so. There is a local train station that will only take you 37 minutes on a train, although it is only a 30-minute drive. That's extremely helpful as most of the residents that live in Marrickville have jobs in the city, and even for a quick adventure into the city with friends it is only a quick and cheap train ride. Choose a nice convenient place to move to like being close to education is great, there are many schools for teenagers and primary aged kids, including religious and all boys/ girls' schools. The closest university to Marrickville is the university of Sydney, and luckily it is only a 15-minute drive or a 27-minute train ride to the university. Perfect for young adults wishing to continue their education and may even have a part time job near the uni.
There is a lot to do and see so when you are looking for the best removalist in Marrickville you cant look past Quick Move the removalist in Marrickville you can trust and rely on. Call us today on 0487 399 669.
Hire Two Movers Marrickville Today
Quick Move offers Marrickville removalists services 7 days a week, and when we say we can get the job done today we mean it. Hire a removalist the same day is very difficult but we can, why? because we have on any given day a minimum of 10 trucks in the area coming and going so we can generally have a removalist to you within the hour or so. So last minute moves we welcome! Marrickville offers so many local events and activities for people of all ages, we have setup a few events in the area just in the recent months. Speaking of, The Marrickville Festival held by the council for recognising multiculturalism in their community, is filled with live music and traditional delicious food from a variety of different cultures it is a fun experience for the whole family. We have on several occasions delivered the music equipment and catering gear for a few of the event holders. Marrickville also does an amount of live music and small musicals/ concerts mostly local artists to support them and provide gigs, enjoy a fun night out while listening and supporting your communities local bands and/or artists. There is so much to do and see in Marrickville so when choosing the right removalist give us a go and we are certain you will happy moving with Quick Move. Call us for a free quote on 0487 399 669.
Free Furniture Assembly
FREE
Assembling beds is frustrating! Let our removalists take care of that task for you. Then re-assemble the beds and place them exactly where they belong.
FREE MATTRESS WRAPPING
FREE
All Mattresses will be wrapped in plastic absolutely free of charge as part of the removalist service, protecting your mattresses from any dirty marks.
Free Pre Packing Boxes
FREE
Free to hire packing boxes, simply pay a deposit any that you don't keep, simply we for the boxes, we can pickup and buy back for the same price per box.
Marrickville Removalist Service That You Can Afford
Our moving prices are so affordable that doing the job yourself will more than likely cost you more. We offer free moving boxes too so you are unpacked, and the boxes are folded and you are ready to hit the town There are many activities to choose from such as the weekly Marrickville markets which have a variety of food stalls, fresh grown produces, veggies, home-made jams etc. There is also a night markets right in Marrickville, have a fun night out with friends or family! Another popular area in Marrickville is the local tennis club, have a match with your friends or family to find out who the best tennis player! After all the most popular place for the Marrickville locals is the leagues club. Its were we usually end up after a big move lol. Have an amazing pub feed with a nice cold beer or wine while watching the footy in the lounging room, my idea of a perfect night out and im sure it will be yours too. Hire a local two men removalist that will take care of you al the way from get to go hire Quick Move for all moving in Marrickville.
FRIDGE DELIVERY SERVICE
Fridges
Bought a new fridge?, or perhaps just need the old one taken away, whether its new or second hand, it really doesnt matter let us at Quick Move pick the fridge up and deliver.
Home Removals Service
Removals
Home Furniture Removalist service for Sydney residents. Hire Quick Move for your relocation today and save, we can pack and move you, we offer very affordable rates
Furniture Delivery Service
Deliveries
We will pick up any type of furniture or appliance from any seller online or private and deliver it directly to your door, we can assemble and place where you need it to go.
Furniture Removals Marrickvile & Surrounding Suburbs
Marrickville movers moving out of the area will also greatly benefit from our service. Those moving to will love it here because of the multiculturalism and variety of cultures all throughout the town, luckily for us removalists the food is great do if your a foodie that means so many different options for what you want for dinner tonight. It is simply too hard to choose from since every restaurant in Marrickville is insane when it comes to flavour. The town has spoken and the most popular restaurant in Marrickville must be Barzarri. Barzarri is a fine dining restaurant open till late at night and often doesn't even open till noon to 5 o'clock. This restaurant is extremely popular within Marrickville's community, with amazing reviews and a 4 and a half star rating you can expect a beautiful mouth-watering meal. Our removalists have delivered and installed most of the cafe equipment you see in the local stores. Another popular restaurant is the Lazy Bones Lounge and Restaurant, enjoy an amazing meal while listening to some incredibly talented bands, including local bands who plan their gigs there every week.
In conclusion, Marrickville is an amazing place to move to for whole families or single professional workers, the distance to the city is extremely quick and convenient as there are available high schools, primary schools, religious schools, all boys/girls schools plus the University of Sydney is very close and accessible by car or train. We setup events for local and the events in Marrickville are unmissable as they guarantee a whole lot of fun for the whole entire family. If you are moving to Marrickville make sure you book with Quick Move, we have a large amount of experience with the Marrickville area as we have a large number of customers requesting moves every week. Quick Move will make your moving experience completely stress free as the movers will take care of absolutely everything for you, sit back, relax and let the professionals do it all for you! Call us on 0487 399 669 for a quick quote.