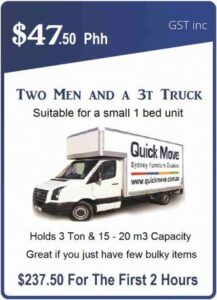 This is Quick Move's official information page for our reliable and cheap removalists Enmore! if you were moving to Enmore and were needing cheap movers. Then Quick Move is the right choice for you. No matter what size home you may have we are prepared for anything! Whether it be a full furnished 6+ bedroom home or a simple 1 item relocation. Your assigned workers are prepared and ready for any challenge. Contact us for our friendly staff to give you a free moving quote today!
Furniture Removalists Enmore, Sydney NSW
Enmore is a small suburb in the inner western council with only around 3000 residents. The number is quite small as the homes in this area are mainly suited for professional workers and those that live alone. The homes in Enmore are usually small suburban homes with approximately 1-2 bedrooms or apartments in high buildings. These are perfect with beautiful water views you will love. There is a huge theatre that is able to sit over 2000 people! It is one of the oldest theatres still operating in new south wales as it was opened in 1910.
If you are looking for cheap moving services then we are the best choice for you. We provide our services throughout the whole Sydney region. Therefore, if our Enmore services weren't for you, maybe you would be interested in our cheap movers in Marrickville. However, if you are needing our services outside the Sydney Region, we may be able to assist. We recommend giving us a call on 0487 399 669 to discuss the areas we service with our staff over the phone.
Local & Affordable Home Relocations In Sydney!
Furniture Removalists Enmore
Our men have a huge amount of experience in this suburb! After 10 years of experience, we are definitely the best choice. With complimentary plastic protection wrap coated on all of your mattresses and free of charge wrapping for your items in padded furniture blankets. It is clear we have the utmost care for your items. Therefore, hiring Quick Move for your relocation is guaranteeing the safest move!
Small Removalists Enmore
A large portion of homes in Enmore is small homes with generally 1-2 bedrooms. Quick Move specialises in small house relocations just like those in Enmore. So you can really trust your movers to move all of your items quickly yet safely.
Two Removalists Enmore & One Truck
When relocating homes in Enmore you must choose Quick Move! We provide 2 hardworking movers plus the truck size of your choice for all moves. Your assigned men have extensive knowledge and experience in this particular area as it is one of our hot spots in Sydney. Therefore, we are trustworthy and reliable movers we are sure you will be satisfied with!
Internal Removalists Enmore
If you were needing just that extra muscle power, then hire Quick Move today! Our men are buff and hardworking to ensure all of your items are moved safely. We can do internal house moves for a cheap and affordable price, as long as there is no need for a truck. All we expect you to do is sit back, relax and let the professionals do all the work for you!
Reliable Furniture Removalists Enmore 7 Days A week
Quick Move offers you local furniture movers offering cheap services 7 days a week. Not only do we do home and office relocations but the fridge and appliance deliveries are one of our most requested services too. We relocate your appliances and even install them into your new home if you wish. We have performed tens of thousands of heavy appliance deliveries and installations. Therefore, we know exactly what we are doing. We have even installed hydraulic tailgate lifters on our trucks to ensure your items are relocated as safe as possible! Unlike other removalists Enmore will carelessly lay your fridges down. Your assigned movers will use the tailgate lifter to set your fridge upright in our truck for maximum safety.
If you were looking for cheap furniture and appliance delivery services then Quick Move is the right company for you. Choose your date and time and by giving us a quick call on 0487 399 669 to book in. Or you can make a booking online and despite already having the cheapest rates we will also give you a 5% discount upon payment! If that's not a deal-breaker, I don't know what is!
Quick Move Proudly Servicing All Suburbs Within The Inner West City