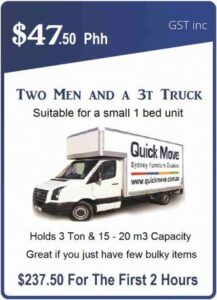 Firstly, here at Quick Move, we strive to be the number one moving company in Sydney. Therefore, every move we conduct must be to the best of our abilities! With our amazing removalists Epping and our cheap rates we are sure you will appreciate our services. Hire our professional and cheap movers and guarantee yourself a smooth and carefree moving experience.
Epping is a popular suburb in the North – West of Sydney, under the City of Parramatta council. It has approximately 23,000 residents. The majority of which being families with children and professional workers who have careers within the Sydney CBD. Those who live in Epping will be glad to know that it is only a short 31-minute drive to the Sydney CBD. And, only a 41-minute train ride straight from Epping Railway Station. So luckily for those who travel regularly into the city, there is more than one form of transportation.
Furniture Removalists Epping, Sydney NSW
Secondly, Quick Move offers the movers you need. We have participated in thousands of relocations in Sydney's North West, one of our most popular suburbs are Epping! Your assigned movers will happily perform any services you require. Whether it be fridge and appliance deliveries or internal moves. Quick Move can do it for you. Our guys will even be able to relocate and install your appliances! You can hire just our movers if all you require is that extra muscle power as well! This is for those needing an internal house move or relocation service with no need for a truck. Hire our removalists, Epping, for a perfect moving experience.
Experienced, Hardworking & Respectful Movers That Care!
Subsequently, every client of Quick Move is treated with the utmost respect for their items and their home. We will take every step and precaution to make sure your items are relocated safely. Inclusions that come with booking with Quick Move are. Free boxes available for use of the day and your movers will even help you pack and unpack! We will complimentary plastic wrap all of the mattresses and of your items are wrapped in padded furniture blankets! Plus, GST, fuel levy's, and back-to-base charges are included!
Thirdly, Quick Move offers the movers you truly need. We guarantee no other company can compare with our competitive prices and our number one movers. Call us now on 0487 399 669 and our helpful staff can answer any questions you may have about us. Or you can have a read through our customer reviews online today! We are sure you will be very happy with what you see.
Affordable Home Furniture Removalists Epping
Furniture Removals Epping
Quick Move started off as just 1 man and 1 van doing small moves for eBay and Gumtree relocations. This service is still now one of our most popular requests. However, we can now assist those needing up to 5+ bedroom fully furnished home relocations! We are one of Sydney's most popular furniture moving companies! Therefore, you can definitely trust your movers when hiring Quick Move.
Small removalists Epping
Moving to Epping will be super easy with Quick Move. We will make sure your items are kept safe and sound throughout the move. Our professional movers can relocate your whole home with no stress at all. All we expect you to do for us is just sit back relax and let the qualified movers take the lead!
Two Removalists Epping and A Truck
Additionally, every client that books with Quick Move will receive 2 experienced and well-trained movers! Furthermore, the large range of trucks we offer is destined to suit your move. Get a quote now by calling on 0487 399 669 to see the perfect size for you.
Office Removalists Epping
Office relocations are one of our most popular services throughout all of Sydney. Our hardworking movers will easily relocate all of your business furniture, heavy machinery, and boardroom tables. You will be surprised at just how well our men can maneuver your items in even the hardest places. Including, staircases and tight hallways. Unlike other companies, Quick Move adds no extra charges for stairs and lifts! However, other businesses will charge up to $5 a step!
Last Minute Removalists Epping
Finally, no matter what your circumstances may be. If you are in need of emergency assistance because your previous choice of movers has left you stranded. Quick Move will happily help you. We understand how stressful it can be when moving homes. Therefore, our movers are there to make your moving experience as quick and smooth as possible for you.
In Conclusion, Make a booking online now by filling out a small form and you will receive a coupon code of a 5% discount! Or you can contact us by giving us a quick buzz on 0487 399 669. We can organize one of our lovely ladies in the head office to book you in for the time and date choose. Our removalists Epping are one of a kind!
Quick Move Proudly Servicing All Suburbs Within The Parramatta City