Furniture Removalists Oakhurst, Sydney NSW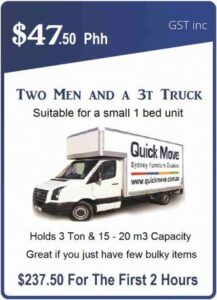 Quick Move is the professional and cheap business you should choose when moving any items to Oakhurst. We also offer our services to the whole Sydney Region! If you were needing a quick and cheap service, Quick Move will certainly do that for you. Contact us via our website or by giving us a quick call today on 0487 399 669 and our staff will happily tell you all about us and what makes Quick Move the best company
Oakhurst is a large suburb with approximately 7000 residents that fall under the City of Blacktown Council in the Greater Western Sydney Region. This is a great suburb to move to if you are looking for cheap real estate as the median house price is currently sitting at $659,394.
You will not find other companies offering cheap rates for higher-quality and trained men you can actually trust. If you were wondering what cheap prices we offer for the services you need, you can call Quick Move today on 0487 399 669 and our staff will happily provide you with a free moving quote over the phone!
Affordable Home Removalists Oakhurst
Quick Move has a large variety of services to make sure when you are moving homes you get the best one suited for you for the best price.
Furniture Removalists Oakhurst
Quick Move is the best company that actually cares about your items. We make sure we take all the extra precautions to ensure your items are kept safe throughout the entire move. We do this by completely wrapping all of your furniture in padded blankets. Our men will also complimentary plastic wrap all of the mattresses we would be moving for you!
Small Removalists Oakhurst
Quick Moves men have the best training and experience as our employees have stuck with us for over 9 years. We started off as a small business doing a couple of jobs a week, now Quick Move is a fully functioning company with over 50 employees and 20 trucks to ensure our clients have the best services.
Fridge & Heavy Appliance Removalists Oakhurst
Fridge and heavy appliance deliveries are one of our most requested services, so you know when asking for this service that our men are experienced to relocate your items. Not only do our men relocate your appliances but we will even install them into your new home in Oakhurst.
Office Furniture Removalists Oakhurst
A percentage of Oakhurst actually consists of large to small office buildings. Our men have moved many people in and out of these buildings so our men can do this easily! Not only will we relocate your furniture, but we'll even remove heavy machinery!
Reliable Furniture Removalists Oakhurst 7 Days A Week
Quick Move is the one you need for your move to Oakhurst if you're looking for the cheapest option. There is no way other companies could top our services. In fact, our staff has encountered many unhappy customers who unfortunately were let down by their first choice of business. Whether they didn't complete the job or didn't arrive at all. That is something Quick Move will never do to you. If you had a poor experience with another company, our staff will happily organise a last-minute service for you 🙂
There are many things you can do in the general area of Oakhurst. Which is what makes it a great suburb to move to for families with children. For example, The Family Entertainment Center is an inside play center for children.
If you are liking what you are reading about Quick Move we are sure you would appreciate reading through our customer reviews even more! Give us a call today on 0487 399 669 and our staff can organise a day and time for when you would like our men to relocate your items. Or if you were thinking of trying to save some extra dollars, we offer a 5% discount to anyone that make's a booking online! Quick Move is the best moving company for Oakhurst always offering you cheap prices!
Quick Move Proudly Servicing All Suburbs Within The Blacktown City