Furniture Removalists Rooty Hill, Sydney NSW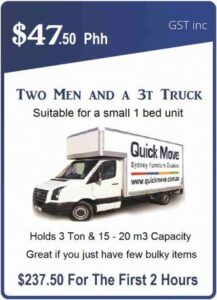 Quick Move's men are the experienced furniture relocators you can really rely on. There are no cheaper alternatives that you could possibly compare to Quick Move's affordable rates. We are simply the best! This page will give you plenty of information as to we are the superior company operating in Sydney! If you have any questions about us, feel free to give us a call on 0487 399 669 and our staff can tell you anything you'd like to know!
Quick Move has performed hundreds of moves within Rooty Hill as well as the general area, City of Blacktown as well as other suburbs within the Western Sydney region. We are positive Rooty Hill is a great suburb to move to! It has the local Rooty Hill Train Station which is definitely one of the most popular facilities, as well as Rooty Hill Public School, Rooty Hill School of Arts, and Rooty Hill High School. This makes it a great place to move for families with children, which actually take up the majority of the 14,000 residents! You will love living in this suburb!
There are no better choices than Quick Move. We have a range of services we offer to anyone in need. One of our most popular services in this area is Fridge and Heavy Appliance Deliveries. We can move all appliances directly from the retail stores, or we can pick them up from another location if they are bought second-hand. We can do anything to help our clients, we can even help with clients needed multiple delivery/pickup locations. There is nothing we can't handle!
Affordable Home Removalists Rooty Hill
As professionals, we have a range of extra services we offer for our loyal customers. These include free padded furniture blanket wrapping on all items. Free plastic wrapping on every mattress we move for you. Your movers will also bring along all tools necessary in case we have to disassemble/reassemble any items for you. Quick Move is an advanced moving company operating in Sydney. You will find no better movers for your move!
We offer our services to anyone in need, there are no limits to what we can do for you. Therefore, if you are needing services like event setup relocations or last-minute/emergencies, call us! Last-minute moves are definitely a popular service for us. This is because many companies in the area advertise "cheaper" prices, but are scammers and extremely unreliable. We have had hundreds of customers needing emergency moves due to another company leaving them in the lurch. Quick Move will never do this to any of our clients!
Reliable Furniture Removalists Rooty Hill
If you were looking for our services for another suburb, you're in luck. As long as the suburb is within the Sydney Metropolitan area, we are happy to help! However, if you are needing our services outside Sydney, it is worth contacting us. This is because we sometimes make exceptions especially if they are moving to or from Sydney from another location. Give us a call on 0487 399 669 or check out the areas we service to see if we can help you :).
If you have decided to go with Quick Move for your move, you have made the right choice! To book, just give us a call on 0487 399 669 and one of our staff can get you locked in for the day you would like! Or, you can make a booking via our online booking forms. Online bookers can also access a 5% discount, a bonus we are sure you will appreciate! Either way, booking a service with Quick Move is quick and easy and once it is done, all you have to do is sit back and relax while the professionals do all the hard work for you.
Quick Move Proudly Servicing All Suburbs Within The Blacktown City