Furniture Removalists Kirkham, Sydney NSW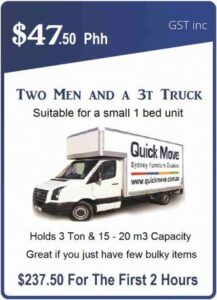 Other companies cannot compare with Quick Move removalists Kirkham, when it comes to low prices that you can afford! Contact Quick Move today by giving us a call on 0487 399 669 and we can have one of our staff tell you all about us and why you should choose us for your next move!
Kirkham is a small suburb located in the southwestern region of Sydney and has only around 600 residents. Falling under the lovely Camden council. Those mainly being families as the homes are quite large and spacious. The median house price is currently sitting at $1,580,000 with the average home being elegantly aged victorian styled. Which we are sure you will fall in love with!
Something that is very popular in the industry is other removalists claiming they are professional and qualified. However, many have been known to be quite the opposite with either performing work not up to standards. Some do not even arrive at the job! Quick Move will never do that to our clients and we even offer last-minute moves to those who are in need!
Reliable Home Removalists Kirkham
Office Removalists Kirkham
Our office workers are happy to assist in moving any items you need! Therefore our men can even help disassemble/reassemble your items for a safer move, especially for tight spaces like hallways and doorframes!
Small Removalists Kirkham
We offer the low price of just $45 phh for a small truck ready to fit all of your items which the 2 workers that come included in the price will do absolutely everything you ask! Furthermore there is nothing our workers will not do to help our customers have a smooth and stress-free moving experience!
Internal Furniture Relocations Kirkham
If you have been in need of professional assistance to relocate some heavy items within your own home, then do not hesitate to contact Quick Move! You can hire as many men you need for the job! All you have to do is sit back and relax!
Affordable Furniture Removalists Kirkham 7 Days A Week
Quick Move, unlike many other companies, aspires to help absolutely anyone in need of professional furniture relocators! This is why we have expanded the areas we service to the entire Sydney Region! Therefore, if you are actually in need of another suburb, then we can most definitely still help you!
Kirkham is a great suburb to move to if you are looking for quiet suburbs without too much fuss, retirees will definitely enjoy living in this suburb! There is also Camelot Castle which is a fantastic tourist attraction which we are sure many would be fascinated by.
Furthermore, if you would like to make a booking with Quick Move, then you should most definitely give us a call on 0487 399 669 and we can have one of our ladies within the bookings department help you organise your move over the phone! Or you can book online via our website if you are in no rush as you can take all the time you need!
Quick Move Proudly Servicing All Suburbs Within The Camden City