Furniture Removalists Marsden Park, Sydney NSW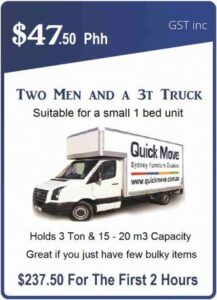 There are many reasons why Quick Move is your best option when searching for cheap movers. Firstly, we offer our clients extremely affordable rates that other companies cannot compete with. We promise that will not regret choosing Quick Move for your move. If you would like to get a free moving quote feel free to call us today on 0487 399 669 and we will happily help you.
Marsden Park is a great suburb to move to in the North-Western Suburbs of Sydney that falls under the City of Blacktown Council. The majority of those that live in these typical areas are usually families. As there are many local and useful facilities! The most popular area for kids to run amok is the Featherdale Wildlife Park.
Secondly, Quick Move offers our highly trained, qualified, and experienced workers to anyone needing to move. If you were looking for services in the surrounding suburbs, then Quick Move can definitely help you with that as we offer our services to the entire Sydney Region!
Affordable Home Removalists Marsden Park
Last Minute Removalists Marsden Park
Many other companies have been known to leave previous clients with unprofessional moves. Quick Move will never do this to you. Therefore, if you have been through a rough service with other companies which have no fulfilled your expectations, feel free to contact us and we will be able to organise a last-minute or emergency relocation that could be on the same day or first thing the day after.
Small Removalists Marsden Park
We promise that when you choose Quick Move you have a moving experience you will not forget! We will do anything to make sure you have a smooth and well-done service. No matter what size move you may have, our men are trained for anything.
Fridge & Heavy Appliance Deliveries Marsden Park
Quick Move is the company you need if all you were needing was a quick heavy appliance delivery. We can even organise a pickup and delivery service for those who purchased appliances from websites. Make sure you choose Quick Move! Not only can we pick up and deliver your appliances, but we can also install them!
Furniture Removalists Marsden Park
We are a professional company that promises that we will take every single extra precaution to make sure that there are no problems when moving your items! For example, we will complimentary plastic wrap all of your mattresses and we will even wrap all of your items in padded furniture blankets.
Affordable Furniture Removalists Marsden Park 7 Days A Week
Office furniture relocations are one of our most requested services of all time. We have conducted thousands of office relocations since 2011. So, all of our workers have done office relocations and have a large amount of experience. We will relocate all of your business furniture. As well as unplugging and relocating all of your electronics and heavy appliances which we are sure other removalists Marsden Park will not offer.
Marsden Park is a lovely little suburb that has a great community and good neighborhoods, especially for families with children. One of the most popular places to go in Marsden Park is the COSCO, it is a very large shop that has almost everything you can imagine from general grocery items to universal lollies, phones, computers, outside dining furniture and many more. There is even a restaurant within the building that has American-styled food that is absolutely amazing!
Therefore, if you were wanting to make a booking with Quick Move, call us today on 0487 399 669 and our staff will do it all for you. Or you can make it even cheaper for yourself by booking online as we offer our online bookers a 5% discount upon purchase! What a steal!
Quick Move Proudly Servicing All Suburbs Within The Blacktown City