Furniture Removalists Yennora, Sydney NSW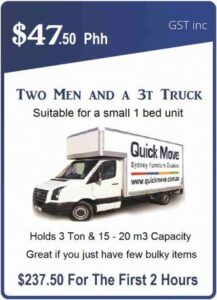 Quick Move's removalists are the absolute best choice for those that are in need of cheap furniture moves. We offer the lowest prices, starting at just $45 phh for a team of professional movers to relocate all items fitting in our small truck! Give us a call today on 0487 399 669 to know more about us and our rates.
This suburb is quite small with just over 1000 residents. It resides within the Western Sydney Region, falling under the City of Fairfield as well as the Cumberland Council. You will enjoy living in this suburb for families with children this is because there are many family-friendly things to do such as Knight Park. This is a great park with a children's playground and a nice sitting area for parents to relax.
Quick Move is always happy to help, no matter what size home or office you may need to be relocated. Quick Move will provide you with the best moving experience for the cheapest price within Sydney! Check out our customer reviews today and we guarantee you will be very pleased with what you'll see!
Reliable Home Removalists Yennora
Furniture Removalists Yennora
Quick Move is happy to move all items no matter the size. We do so in the safest manner, that no other furniture movers will do. Ensuring a happy moving experience for our clients and creating trust between you and your movers. Quick Move will happily complimentary plastic wrap all mattresses and we will cover and protect all items in padded furniture blankets, for no extra charge!
Office Removalists Yennora
Our staff have endured well over 5 years of experience before we hire them for Quick Move. Therefore, all movers you receive for your office move is qualified and can be trusted to relocate all office furniture. Including, long boardroom tables, heavy machinery, electronics and many more!
Last Minute Removalists Yennora
Quick Move operates in a professional manner and will not leave you stranded, unlike many other moving companies. Many have even been known to ditch their customers all together! Quick Move will never do this to you, and for those that have had this happen, Quick Move can help you with last-minute furniture relocations for a cheap price on the date and time you would prefer.
Internal Removalists Yennora
Quick Move is happy to relocate your items within your own home if that is a service that you need. Usually, people need internal furniture relocations to relocate heavy items like fridges and other heavy appliances. However, we will also assist in moving furniture up and downstairs, a service Quick Move does not charge extra for! Other businesses have been known to charge $5 a step!
Reliable Furniture Removalists Yennora 7 Days A Week
Quick Move is happy to help whoever is needing moving services within the entire Sydney Region as well as many other surrounding suburbs. Therefore, if you have been meaning to look for another suburb such as furniture moving services Fairfield. Quick Move is still happy to help! Contact us on 0487 399 669 to know more about us and the areas we service!
Yennora is a great suburb to move to for families with children for many reasons. The homes within this area usually have more bedrooms and larger backyards, perfect for families with children. The median house price for Yennora is currently sitting at $740,000.
Make a booking with Quick Move easily today by going to our website and filling out our online booking form. By booking in this way you will have access to receiving a 5% discount! You can also contact us on 0487 399 669 on any day of the week from 7 am – 7 pm to book in with our helpful staff over the phone!
Quick Move Proudly Servicing All Suburbs Within The Cumberland City