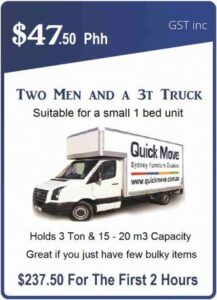 Quick Move's professional movers in Terrey Hills are available to help on all days of the week from 7 am – 7 pm. Our services offer the cheapest rates to you, while always giving you the best move. Firstly if you would like to book in with a reliable and professional company, give us a call today on 0487 399 669 and our staff can provide you with a free moving quote and help with any other questions you may have about us.
Furniture Removalists Terrey Hills, Sydney NSW
Terrey Hills is a small yet well-known and loved suburb in the Northern suburbs of Sydney, falling under the Northern Beaches Council. Secondly, This suburb is great to move for families as the homes within the area are known to be larger. The median house price for Terrey Hills is currently sitting at $1,500,000.
Therefore Quick Move is always happy to help, no matter how heavy your items may be. If you were still having doubts about Quick Move despite reading through this information page, have a quick look through our customer reviews and we are sure they will help change your mind for the best!
Affordable Home & Office Removalists Terrey Hills
Internal Removalists Terrey Hills
Quick Move is happy to help anyone needing our services. That means if you were needing a quick service relocating your items within your property, Quick Move can help you!
Furniture Removalists Terrey Hills
Quick Move is a highly trusted and popular moving company within the entire Sydney Region. All of our men have an amazing experience and are qualified to move to all-sized homes! Our workers even provide trollies, dollies, and useful tools in case there is a need to disassemble or assemble any items.
Last Minute Removalists Terrey Hills
There are many other companies that have been known to consistently let down their customers. Quick Move will never do that to you. Call Quick Move today on 0487 399 669 and our staff can organise a quick last-minute service for you.
Fridge & Heavy Appliance Deliveries Terrey Hills
Quick Move's workers are the men you need to relocate appliances from the depot. Or if they are from the start of your move, straight to your new home in Terrey Hills!
Reliable Furniture Removalists Terrey Hills 7 Days A Week
Because Quick Move is the best moving company you could possibly think of. In fact, Quick Move actually services the entire Sydney Region. So if you were needing another suburb instead then Quick Move can most definitely help you for the cheapest rate!
Terrey Hills is a wonderful place to move to. It's secluded and quiet with large properties being quite far away from each other. These homes are known to be 5+ bedrooms, some with acreage, and many with in-ground pools. The perfect place to move with or build your family.
If you have decided that Quick Move is the best choice for your move into Terrey Hills, then make a booking online today using our booking form. Ultimately by booking online you also have access to an online-only 5% discount! You can also give us a call today on 0487 399 669 to book in over the phone with our wonderful office ladies!
Quick Move Proudly Servicing All Northern Beaches Suburbs Of Sydney