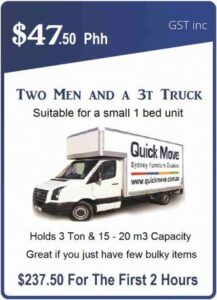 Here at Quick Move we really care about your moving experience and the items we move for you. There are no other removalists Elvina Bay that can compare to Quick Move's services. Especially, being that we have such low rates that everyone can afford. If you would like to know more about us and our rates then give us a call today on 0487 399 669.
Furniture Removalists Elvina Bay, Sydney NSW
Elvina Bay is a very small suburb in the Northern Suburbs of Sydney, falling under the Northern Beaches Council. The suburb has just over 100 residents. The median house price is currently sitting at 1.5 million dollars with the majority of the people being professional workers. There are many work opportunities locally and within the area of the northern beaches, we are sure you will appreciate.
If you are needing cheap furniture movers that take the best care of your items, then you have found the best company to assist. Our guys will cover all of your items in padded furniture blankets for no extra charge! We will even complimentary plastic wrap your mattresses to ensure they are at no risk of damage or uncleanliness during transit.
Budget Home Furniture Relocators Sydney, 7 Days A Week
Office Removalists Elvina Bay
Quick Move's men are the most qualified and experienced movers. We are experienced and ready to relocate your entire office, no matter the size. Quick Move's professional movers are always happy to help. We can relocate all office furniture including electronics, machinery and of course general business furniture. We are sure you will be happy to hear that we do not charge any extra fees for moving furniture up or downstairs. Other moving companies take advantage of this fee and will charge up to $5 for each step! That is absolutely ridiculous, we say!
Last Minute Removalists Elvina Bay
If you have been unfortunately left stranded by your first choice of cheap movers. Then Quick Move is the best company to call in this situation. Our men will perform a last-minute/emergency relocation for a cheap rate. And, we guarantee we will arrive with a great team for quick service. This will get you right back on your feet and fix the damage the unprofessional movers left behind.
Fridge & Heavy Appliance Deliveries Elvina Bay
If you have purchased any heavy appliances such as fridges, washing machines and more from stores like IKEA and Harvey Norman. Then you must call Quick Move on 0487 399 669 today. We can organise an appliance delivery to your home with no stress. Not only do our men deliver these items to you. Additionally, if you ask, we can even install them into your new home in Elvina Bay.
Small Removalists Elvina Bay
Quick Move provides cheap movers to all sized relocations. However, if you were needing just a few items or a small house move. Then the price will be, obviously, significantly cheaper for you. For just $45 phh you will receive a small truck or van along with 2 hardworking movers. They will be prepared to relocate absolutely anything you ask us to. Sit back and leave the professionals to do all the hard work!
Reliable Furniture Removalists Elvina Bay 7 Days A Week
If you are on the lookout for cheap relocators, then look no further than Quick Move. Although, if you were needing our services in another area such as cheap movers in the Northern Beaches. Quick Move can still assist. In fact, if you were needing our services throughout all Sydney suburbs and small surrounding cities, then Quick Move is the best choice for you. Give us a call today on 0487 399 669 to chat about the areas we service.
There are many reasons why Elvina is a great place to move to. For example, many homes within the area are usually quite small, which to some people like retirees is perfect. However, not only are the homes modern and beautiful to look at, majority of them come with an amazing water view as the homes are on the coastline. Something you will absolutely love. Some homes even have their own jetty!
Make a booking with Quick Move today and we guarantee we will perform the best moving experience you will ever encounter. You can book with us either online by filling out our booking form. Or, you can give us a call today on 0487 399 669 for one of our friendly staff to book you in over the phone. Quick Move is the number one moving company in Sydney, you will not regret booking with us!
Quick Move Proudly Servicing All Northern Beaches Suburbs Of Sydney