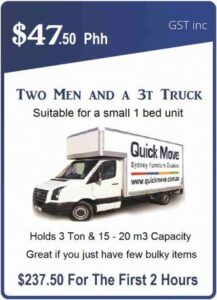 Looking for cheap and reliable removalists Acacia Gardens? You have come to the right place! Therefore you can hire our qualified and professional movers for a cheap and affordable price. We guarantee you will not find better deals when looking at other cheap companies. We offer free boxes to those that move with us on the day of your move and we can even help pack and unpack said boxes.
Furniture Removalists Acacia Gardens, Sydney NSW
You will love moving to Acacia Gardens. This suburb is fantastic for families as it is a very friendly suburb with close and tight communities. Acacia Gardens is a small suburb in the Western Suburbs of Sydney under the Blacktown City Council. This suburb has an estimated 3000 residents. Most of them live in small 2-3 bedroom homes. Above all a perfect and easy move for our movers!
Our company has a large range of truck sizes, starting from a small van all the way up to a 12-14 tonne truck. Furthermore, if you were just in need of the extra muscle power you can definitely hire just our workers.
Home Relocations Acacia Gardens
Quick Move has been in the moving business for 8 years now! After all of our experience in moving homes in Sydney, we have decided to expand our services. We now do all sorts of relocations These include:
One of Quick Move's most requested moves in Acacia Gardens would have to be Office relocations. Our professional movers will take care of your whole move and will relocate all of your business furniture safely in and out of our trucks. There is much to do for children in Acacia Gardens which makes it such a wonderful suburb. Such as The Stanhope Gardens local swimming pool and Karate classes are also super fun for the kids! Contact us by calling on 0487 399 669 and we can get our wonderful ladies on the phone to talk to you all about Quick Move.
Cheap Removalists Acacia Gardens
Booking with Quick Move means you are offered a range of inclusions we guarantee other companies will not supply. For example, we will move your furniture upstairs and lifts free of charge! Whereas other companies will charge up to 5$ a step! We also will wrap all of your furniture in free padded furniture blankets! Our workers will also wrap mattresses in plastic protection free of charge! We include these with our prices as we have no sneaky charges and like to be upfront with our customers. Furthermore, our main goal is to satisfy the customer and provide a stress-free moving experience. Lucky for you, your movers will come prepared with all the tools, needed to assemble/disassemble, trolleys and dollys, this ensures the move continues to run smoothly with no stress.
Quick Move Proudly Servicing All Suburbs Within The Blacktown City