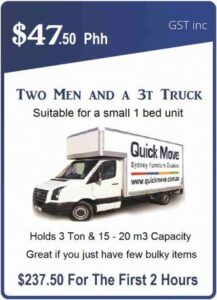 Quick Move's removalists Camellia are highly rated, professional, qualified, ready for your move! More importantly, we are furniture movers with over five years of experience, even before working with Quick Move! The majority of our guys have been with us for over ten years! Therefore, you can expect the absolute best when booking in with Quick Move. Give us a call today on 0487 399 669 to get into contact with one of our helpful staff for a free moving quote!
Furniture Removalists Camellia, Sydney NSW
Camellia is a great suburb to move to for many reasons. It is quite popular with nearly 7000 residents. The majority of which seem to be families with children who make great use of the local facilities. These include the Camellia Railway Station and the 3 local schools in the area. The One International College, Rosehill Public School, and Rydalmere Public School, all within close distance!
Quick Move has a large variety of services that we offer to anyone in need. We are available on all 7 days of the week from 7 am to 7 pm! One of our most popular services is internal furniture relocations in Camellia. This is for those who need items relocated within their own home or on their property. Basically, anywhere that does not require a truck for relocation. This is a cheap and affordable service that you will definitely appreciate! You can hire 2 hard-working and reliable furniture movers to assist with your job and ensure all of your items are relocated safely!
Reasonable Rates, Respectful Movers, Ready To Relocate You Today
Office Removalists Camellia
Firstly, our office furniture relocators are the trustworthy men that you can rely on for a high-quality and professional office move. We will relocate all furniture within your office including appliances and general business furniture. Not to mention, we can help relocate electronics and even long boardroom meeting tables. This item is something many other removal service companies refuse. It is always the best bet to book with Quick Move for your office relocations.
Furniture Removalists Camellia
Secondly, if you are needing reliable movers to relocate fragile or delicate items that require extra care, then it is your absolute best choice to hire Quick Move. We have extra services such as complimentary plastic wrapping on all mattresses as well as completely covering and protecting all items in padded furniture blankets. This ensures maximum safety when moving your items! There is no better choice than Quick Move when moving homes within camellia.
Home Removalists Camellia
Additionally, Quick Move's men have even made sure that we bring along the correct equipment such as trolleys dollies, and extra tools. This ensures that if there is a need to disassemble/reassemble any furniture then we can definitely help you with that! This makes it easier for us to re-locate any items through skinny door frames/hallways and any other difficult areas!
Affordable Furniture Removalists Camellia 7 Days A Week
Have you been looking directly for furniture movers in Camellia? Or have you've been looking for surrounding suburbs such as cheap furniture removals in Parramatta. In this case, Quick Move is still the best choice for you. And, this goes for anyone in need of our service within the entire Sydney region! The areas we service venture to the entire Sydney metropolitan area! We can even make arrangements to assist those in need outside of Sydney. All you have to do is give us a call on 0487 399 669 and we can have it all organized over the phone today!
Finally, Quick Move has made it super easy for those who would like to make a booking online. We know many prefer to spend the time to make sure all the details are entered correctly. You can do this by going through our website and using our booking forms and it is as simple as that! However, we are aware many would rather speak to our staff directly. So, give us a call on 0487 399 669 today and we can book you in over the phone today!
Quick Move Proudly Servicing All Suburbs Within The Parramatta City