Furniture Removalists Wisemans Ferry, Sydney NSW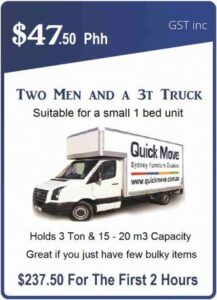 You will not regret choosing Quick Move for your upcoming move, we provide free moving quotes whether you would like to receive one online via entering your details in our quote form, and then you will receive the quote in email form with all the information you require. You can also give us a call today on 0487 399 669 and we will help you with a free quote over the phone today!
Wisemans Ferry is a very small suburb with just approximately 200 residents. The median house price for this suburb is quite low sitting at just $240,000. With the majority of the homes being quite small. However, many have large backyards which make it great for families! This is a very quiet suburb. So if that is something you are looking for, then Wisemans Ferry is a great choice.
Whether you are moving in or out of Wisemans Ferry Quick Move is happy to help. No matter what size moves or how long it takes for our men. We will do whatever it takes to ensure a smooth moving experience for our reliable clients. If you would like to see some of our customer reviews you can do that at any time you would like and we are sure you will be very pleased!
Affordable Home Removalists Wisemans Ferry
Furniture Removalists Wisemans Ferry
Quick Move's men have been in the business for well over 5 years. And have an extensive amount of experience and training. You can definitely trust Quick Move for your move. Our men will even cover all items in padded furniture blankets, for no extra charge! We are the company that genuinely cares about your moving experience.
Fridge & Heavy Appliance Deliveries Wisemans Ferry
Have you recently purchased any items from stores that supply heavy appliances such as fridges and washing machines? Then Quick Move can definitely help you! With a quick service where we deliver the appliances straight to your home in Wisemans Ferry! There is no need for worries when choosing Quick Move!
Internal Removalists Wisemans Ferry
If you are unable to relocate any furniture within your own home for any reason. Then you must call Quick Move today for an internal service! This is because, unlike many other companies, we do not charge extra for stairs and lifts. You get high quality workers for the cheapest rates in Sydney, you can trust Quick Move!
Reliable Furniture Removalists Wisemans Ferry 7 Days A Week
If you are moving in or out of Wisemans Ferry, then Quick Move's men are the men you need, this page has all the information you need, however, if you have any more questions about us feel free to give us a call on 0487 399 669 to further discuss! If you were needing services for another suburb, then Quick Move is very happy to help, in fact, we service anyone within the entire Sydney Region!
Wisemans Ferry is a small and lovely little suburb to move to in the Northern Suburbs of Sydney, falling under the Hawkesbury Council and Hornsby City Council. Many of the homes within this area have a great view of the river that runs through the suburb, which has many great fishing spots, and if fishing isn't your thing, there are even dolphins that occasionally swim through!
If you believe that Quick Move is the best choice for you were intending on booking in with Quick Move, then we guarantee that is the best move and we have made it super easy for our customers to book in on their own! You can make a booking using our online booking form on our website or you can give us a call today from 7 am – 7 pm on 0487 399 669 and our staff will forward you to our wonderful office ladies that will get you all sorted for the correct date and time you would like!
Quick Move Proudly Servicing All Suburbs Within The Hornsby Shire