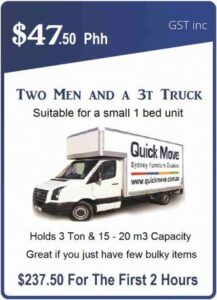 Artarmon removalist services available 7 days a week. Artarmon is a lovely little community filled with friendly people and amazing facilities. There is something there for everyone and anyone. Quick Move is a well-known removalist company in Artarmon due to the thousands of jobs we do each year.
Furniture Removalists Artarmon, Sydney NSW
This little area can become quite popular as it is only a 21-minute drive and a 28-minute train ride straight from Artarmon station. This is perfect for those who have jobs in the city or have to travel to the city regularly as you have 2 easy ways to get there and back. Artarmon has approximately 9000 residents and Quick Move has definitely moved quite a bit of that number. Check out the local Artarmon council a huge amount.
You Found The Right Mover In Artarmon
Quick Move is the most trusted removalist company in Artarmon. We have moved a huge amount of people to and from the area, so we have an immense amount of experience. We do know one thing for sure is that the parking can be quite tricky. It can be hard to grab a spot since there are many people plus the roads are quite slim. Despite these problems, Quick Move has learned to improvise in situations like these. So we decided to start packing trolleys and the necessary equipment to help in every single truck. Wondering how to get a quote? well Quick Move makes it super easy to get one.
Home & Office Removalist In Artarmon
Artarmon is quite an old town with most of the homes being small town houses built from the 1920's and 30's. These homes are very welcoming and antique-like and many of these houses have inherited some very antique and old items. Speaking of, the protection on your items can never stop, Quick Move supplies many things to keep your items safe during transit such as padded furniture blankets being wrapped on all items and being places safely in a way that it wont be damaged.
Of course in the off chance that we get an extremely fragile item you can actually purchase extra wrapping and protection for any item you require. Artarmon has many things to offer to their residents but one thing that almost everyone in Sydney loves to go to is the factory outlet. This building has over 50 outlet stores that everyone definitely appreciates because who doesn't love a good deal?
Hardworking Two Men & A Truck Artarmon
Quick Move is a professional removalist company with hard-working men who can and will do everything you ask, we are here and designed to make your moving experience care and worry-free. Don't stress about your move, Quick Move has got it all under control all you have to do is simply sit back and relax.
Quick Move offers a whole bunch of inclusions when booking with us for example we will assemble and disassemble any item you require, we can help pack your items into boxes although we do recommend packing beforehand because it can take up some time. We also wrap any of your mattresses that we would be moving in FREE plastic wrap for protection. Quick Move has moved 10s of 1000s of happy customers, so make sure you have a look through our customer reviews to see what everyone is saying about the fantastic Quick Move!!
The Most Affordable Movers in Artarmon
Quick Move must be the removalist you choose to go with, we are the only company that does not have any sneaky charges. For example, GST is included, we do not charge extra for stairs and lifts, yes you read that right, NO EXTRA CHARGE! We understand the frustrations that many people go through when booking other companies. That is why we have carefully selected a large number of men that are hardworking. Professional and efficient with every move they start guaranteed. These movers have been in the industry for more than 5 years before even employed at Quick Move.
After Quick Move has moved you into your new home there are many things you can do in the area of Artarmon. You really can't choose any other removalist company, seriously. What companies can offer you, hard-working men, with over 8 years of experience? And extremely cheap affordable rates other than Quick Move? None.
Let's Talk About Booking In Your Move To Artarmon
Quick Move is the best and the one and only well organised and trusted company in Artarmon. If you are moving to an area we aren't sure we service to there is a quick way to have a look, just have a look at the areas we service and if your suburb is there then we definitely can and will, if you have some doubts that's completely fine just call in at 0487 399 669 and we will happily tell you 🙂
Hire An Experienced Yet Cheap Removalist Artarmon
Surprisingly Quick Move started off with just 1 person. I know right, the biggest removalist company with only 1 person. Quick Move started off with just 1 man and his van but soon enough we gained more popularity. We needed more workers and more trucks, now we are one of the biggest companies in the industry.
Quick Move is trusted by all the residents in Artarmon. As we are very locally known and appreciated, we specialise in small house moves and apartments. Although we also do 1 item deliveries and huge 5+ bedroom homes, put more simply, Quick Move does everything. Artarmon can be quite expensive but we assure you, you get the best of everything. The majority of the homes in Artarmon are 2-3 bedroom antique townhouses ranging from 900,000 to 1m. I'm sure after you've read all about us then you will definitely decide to go with us, I mean how can you refuse with our amazing rates and our big strong hardworking removalists?
To make a booking you simply just have to answer a few questions on a form and fill out a few details and then voila! you're all done. Although if you would rather talk to someone about it and figure out which way is best for you then just give our lovely staff a quick call on 0487 399 669 and they will happily book you all in!
Quick Move Proudly Servicing All Suburbs Within The North Shore