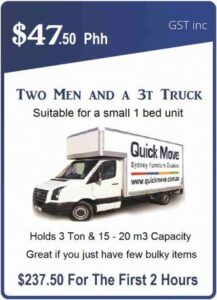 Professional removalists Eveleigh are what you can expect when moving with Quick Move. We have over 50 movers that are all qualified for your needed services. Therefore, booking with Quick Move will ensure a smooth and stress-free moving experience. If you would like to know more about Quick Move and what we offer call us today on 0487 399 669.
Furniture Removalists Eveleigh, Sydney NSW
Eveleigh is a well known and loved suburb under the City Of Sydney. It is a very popular and expensive place to move to in Sydney because of its close proximity to the Sydney CBD. The suburb is situated just 4 kilometres away from the Sydney CBD. It is very rare that you will find a large home in Eveleigh. The homes are usually small 1-2 bedroom apartments with the median house price sitting at 1.4 million dollars.
Quick Move is contactable via our website or you can call us today on 0487 399 669. We can have our helpful staff explain why Quick Move is the best option for you! Our staff can even provide you with a free moving quote over the phone! We guarantee there will be no regrets when booking with Quick Move!
Reliable Home Furniture Relocation Services In Sydney
Office Removalists Eveleigh
Office relocations are a large percentage of what we do. Especially, in suburbs such as Eveleigh as you are very close to the Sydney CBD that has hundreds of offices. Quick Move can move and relocate the furniture in even the hardest circumstances. These include stairs and lifts and slim hallways. Unlike other movers, we do not charge extra if we have to move your furniture up and downstairs. Therefore, another reason why Quick Move is the best choice to go with!
Small Removalists Eveleigh
A very small percentage of homes in Eveleigh is over the 3 bedroom mark. This is because the majority of the people living in this suburb are professionals that may work in the Sydney CBD. Quick Move specialises in smaller sized services just like those in Eveleigh. We have all the right equipment and truck sizes to make it the cheapest option for you :). Furthermore, Quick Move offers a low price of just $45 phh for a team of movers and a small moving truck!
Furniture Removalists Eveleigh
Quick Move takes maximum care when we are moving your items. We guarantee we will make many more extra precautions than other companies. We are movers that actually care! Your relocators will cover all of your possessions in padded furniture blankets free of charge and we provide free boxes on the day! We will also complimentary plastic your mattresses so there is no damage during transit 🙂
Internal Removalists Eveleigh
Quick Move is the company you need to go with if all you wanted was that extra muscle power. Our guys are always for hire for no extra charge for the truck. You are welcome to request as many men you need for your move. Your removalists Eveleigh will do anything you need. Whether we are redecorating your home, or moving your furniture to another apartment. We are always here to assist for a cheap and affordable rate!
Reliable Furniture Removalists Eveleigh 7 Days A Week
Quick Move offers many more services that we are sure will find very useful. For example, We offer fridge delivery and heavy appliances for a cheap and affordable price you can't ignore. Not only will your relocators deliver your fridge and appliances to your door. But, our movers are experienced and qualified to even install your furniture into your new home :).
Eveleigh is a great suburb to move to, who better to get you there than your local movers. Make a booking today by easily filling out a small form online. When you're all done and can expect 2 hardworking movers for the day of your move. Or you can contact us today on 0487 399 669 for our helpful staff to book you in over the phone :).
Quick Move Proudly Servicing All Suburbs Within The Sydney Inner City