Furniture Removalists Narellan Vale, Sydney NSW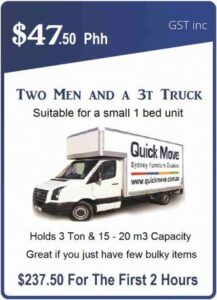 Narellan is a lovely suburban town that you would love to live in, and Quick Move removalists Narellan Vale will help you get it done, with our fast-moving and strong workers we will get you moved in. Furthermore, we give out free quotes and also answer inquiries if you'd like any discussed you can most certainly give us a call on 0487 399 669, and we will gladly help you.
Narellan Vale is a roughly small suburb, with only 7,200 residents. It is part of Camdens Council and resides in the southwestern part of Sydney. Therefore this suburb has many large homes and parks for families with young children and cozy small homes for retirees. A few minutes away is Mount Annan Central shopping Center. The local shopping center.
If you'd like to see our clients reviews you can always access those online or if you have been looking for some extra information about us and our prices you can always give us a ring on 0487 399 669 and our lovely ladies with over 9 years of experience will help your every need.
Reliable Home Removalists Narellan Vale
Office Removalists Narellan Vale
It's hard to find a good company that doesn't charge extra for stairs and lifts. Luckily here in Quick Move, there will be no charges. If you have files and documents but without storage, Quick Move sells them for $3 each before your move. Furthermore, we offer free moving boxes you are welcome to use on the day of your move!
Home Removalists Narellan Vale
No matter what type of home you have we will assure you that our strong and fast workers will get it done for you. Therefore large quantities of furniture are no worries! Our trucks range in lots of different sizes and varieties, from small Utes to 24 Tonne trucks. Contact us via giving us a call on 0487 399 669 to organise your home relocations with Quick Move!
Furniture Removalists Narellan Vale
The safety of your furniture is in good hands when you book in with Quick Move. Firstly,  our workers will provide you with free padding furniture blankets to prevent scratches. Secondly, we offer free complimentary plastic wrapping for your mattresses, this way your mind is at ease knowing your mattresses are free from dirt, rippings, and other damage during transit! Thirdly all items are strapped securely during transit. Lastly and most importantly we aim for customer satisfaction. Call us today.
Affordable Furniture Removalists Narellan Vale 7 Days A Week
Our services are provided for you all throughout the Sydney region! You can check out the areas we service online via our website or you can give us a call on 0487 399 669 and one of our staff will assist you in letting you know if we can help move to or from your suburb.
Narellan Vale is a cozy, little suburb, with lots of families, parks, and schools. Such as Narellan Vale Public School, the local and nearest school. If you are wanting to keep your furniture safe when moving, then Quick Move is your best bet! You can't go wrong with booking for Quick Move!
Want to book in with Quick Move? Great! You can call us up on 0487 399 669 for one of the professional staff to organise your move for the date and time you would like for your move. Or you can make a booking on your own online, using our website's booking forms, this way you can also have the offer of our 5% discount code!
Quick Move Proudly Servicing All Suburbs Within The Camden City