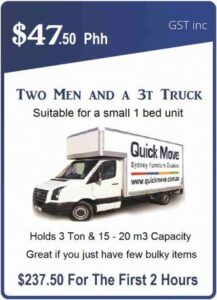 Are you looking for cheap removalists Crows Nest? Then Quick Move is the company for you! Here at Quick Move, we offer qualified for the cheapest prices that you can afford. Quick Move is the movers offering affordable moving services 7 days a week. Give us a call today on 0487 399 669 and we can organise a free quote for you!
Furniture Removalists Crows Nest, Sydney NSW
Crows Nest is a popular suburb in the North Sydney Council, with currently 4072 residents it is considered quite a small and homely suburb. This suburb is perfect for professional workers that have jobs in the city and small families as the majority of the homes are small apartments or 1-2 bedroom homes. There are many local events and activities that you are sure to enjoy, such as The Crows Nest Museum & Historical Village, and educational, interesting, and fun experience.
Quick Move will provide the quickest relocation services you can ever imagine. When moving into your new home in Crows Nest. Contact us any day of the week from 7 am to 7 pm and our wonderful ladies in the head office will tell you all about Quick Move.
Removalists Crows Nest Sydney Open 7 Days A Week
Quick Move has to be your first choice when moving into Northern Suburbs such as Crows Nest and the North Sydney suburb. Our furniture removals Crows Nest are all performed by our best, we guarantee a smooth and carefree moving experience when booking with us. Check out our customer reviews by people we have moved throughout the whole of Sydney!
Crows Nest is perfect for those that need to travel regularly to the Sydney CBD, whether it be for business or leisure you will definitely enjoy the closeness to the city. It takes only 20 minutes by car and only 28 minutes from the St Leonard Railway station, the local train station to Crows Nest.
If you are needing a fridge and appliance removals in Crows Nest then Quick Move is the one for you. Your movers take extreme care when moving large appliances, such as fridges, washing machines, dryers, etc. Our trucks come equipped with tailgates so when we move your fridges instead of laying them down like other movers Crows Nest we can keep them upright. Not only will we relocate your appliances from A – B we can also help install said appliances. Call Quick Move now on 0487 399 669 if you were looking for quick furniture removals Crow's Nest.
Affordable Home & Office Removalists Crows Nest
Office Removalists Crows Nest
Quick Moves team are extremely experienced in office relocations Crows Nest as it is one of our most popular services. We will be able to relocate all of your office furniture including long meeting tables and heavy machinery.
Furniture Removals Crows Nest
Here at Quick Move, we take extreme care of all of your items unlike other businesses we will: complimentary wrap all of your mattresses in high-quality plastic covers, as well as wrap all of your items in heavy duty padded furniture removalist blankets.
Small Removalists Crows Nest
Quick Move offers small removalist services in Crows Nest 7 days a week from 7 am to 7 pm, so if you are looking for qualified and experienced movers then Quick Move is your best choice!
Last Minute Removals Crows Nest
Quick Move receives calls every day from people who have unfortunately been let down by their first choice of removalists Crow's Nest. Whether they didn't turn up at all or only moved a small number of items before they gave up, Quick Move can still help you. This is why you should choose Quick Move first as we will never leave you stranded.
Call Quick Move now on 0487 399 669 and our wonderful ladies in the bookings department can get you all booked in for the day and time you would like! Or you can do it all by yourself, make a booking online, and if you do you will also receive a coupon to activate a 5% discount! Choose Quick Move, the right move.
Quick Move Proudly Servicing All North Sydney Suburbs