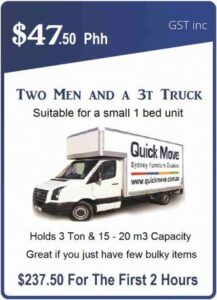 If you have been on the constant lookout for perfect removalists Maroota, then you can stop your searching as you have found the best movers for your move! Firstly there is no better choice than Quick Move, with our hardworking, professionally trained, and qualified removalist company. Not to mention our astonishingly cheap and affordable rates. We are the obvious first choice for those moving into Maroota. You can contact us by calling 0487 399 669 between 7 am-7 pm on any day of the week and our friendly staff will happily answer any questions about us you may have.
Furniture Removalists Maroota, Sydney NSW
Secondly, Maroota is a small suburb with just over 200 residents falling under The Hills Shire and Hornsby Shire Councils. Located within the North-Western suburbs of Sydney. Those who live in this suburb tend to be families with children or retirees. Those that enjoy quiet and open areas, as many of the homes within the area have large backyards. And acreage that kids would run a muck around! The median house price for Maroota is currently sitting at $1120000.
Furthermore, Quick Move has been within the removalist industry for over 9 years now. Therefore many of our current removalist staff have been with us from the start. We make sure you definitely have a great experience. Check out our customer reviews and you can see for yourself just why Quick Move is the greatest choice for you!
Local, Reliable & Reputable Movers That Are Affordable!
Small Removalists Maroota
Therefore those that are just needing small furniture removals, should definitely book with Quick Move. For a quick, safe, and most important to the majority of our clients, cheap removalist service. Quick Move offers our low price of just $45 for two professional removalists in Maroota. They will relocate all of your furniture into our small removalist truck suited best for your sized move!
Fridge & Other Heavy Appliance Deliveries Maroota
However for those that are just needing relocations for your large appliances, then Quick Move can definitely help with that. We perform the safest moves making sure all of your heavy appliances such as fridges and washing machines are relocated safely using the hydraulic tailgate lifter that we have installed onto a majority of our larger-sized trucks.
Internal Removalists Maroota
Quick Move helps those needing furniture removals in Maroota. When anyone is in need, no matter how big or how small your items may be. Quick Move is always happy to help. If you were needing just the extra muscle for your internal home. Quick Move's two men no truck option can definitely help. Therefore there is nothing Quick Move will not do for our amazing clients.
Furniture Removalists Maroota
Quick Move performs removal and delivery services, as we take extreme care of all items ensuring our customer's satisfaction with our move. Our furniture removalists will even complimentary plastic wrap all mattresses we move for you as wells completely cover all items in padded furniture blankets for no extra charge to ensure a safe move during transit.
Affordable Furniture Removalists Maroota 7 Days A Week
In conclusion, you will not regret choosing Quick Move for your next move. And you have come to the perfect page to learn all the necessary information about Quick move. However, if you have instead been looking for a storage company, then we can most definitely still help you as we actually can refer you to the nearest storage facility. The areas we service can be seen online via our webpage or you can give us a call today on 0487 399 669 to see if we can help you!
Maroota is a great place to move to for families with children for many reasons, these include: There is the local Maroota Public School we are sure parents will find super convenient as they will not have to travel far every day for school, you are also just 8 minutes away from the Wisemans ferry Medical Centre which is always useful to be close to medical services.
If you would like to book in with Quick Move for your furniture removals Maroota, then you can quickly do that today by just giving us a call on 0487 399 669 and our furniture removalists in Maroota will happily book you in over the phone! Or you can go to our website and make a booking via our booking forms where you will also have access to an online-only 5% discount code! You will not regret choosing Quick Move!