Furniture Removalists Cabramatta, Sydney NSW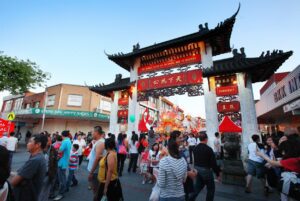 Hire our cheap removalists today for high-quality services for a low and inexpensive price. You will not regret choosing Quick Move for your future relocations! Our men are extremely talented in Cabramatta moving services. Over our 10 year course, we have performed thousands of relocations in the immediate area. You can trust your assigned movers, we know the suburb like the back of our hands!
Cabramatta is a very popular, well known and loved suburb in the Western / South Western Region of Sydney. This suburb is quite large and populated with currently around 21,700 residents and resides within the Fairfield City Council. The suburb is renowned for its beautiful section of amazing Vietnamese / Asian style restaurants and Asian grocers.
Quick Move offers local Cabramatta movers. We offer the best quality services for our significantly cheaper rates, compared to all other moving companies. Quick Move is undoubtedly the best movers throughout the whole Sydney Region! However, if you are looking to move outside of Sydney, you must check the areas we service. Or you can give us a call on 0487 399 669 to chat with our friendly staff and see if we can help you move! If you were wishing to get a free removalist quote then do not hesitate to contact us.
Budget Home Removalists Cabramatta
Here are some of the affordable relocation services Quick Move offers:
Furniture Removalists Cabramatta
Firstly, Quick Move is the professional moving company you need for your next move. Whether we are relocating into a new restaurant space or office building. Our relocators will take the utmost care of each and every one of your items. Therefore, you can completely trust Quick Move. We will cover all of your items in padded furniture blankets, complimentary wrap your mattresses in plastic protection wrap, and we will even supply free boxes that you are welcome to use on the day of your move.
Office Removalists Cabramatta
Secondly, we will relocate all of your furniture and more for a cheap and inexpensive price that won't break the bank! There simply is no better choice than to book with Quick Move. Your assigned movers are prepared to move all business furniture. Therefore, if you have boardroom meeting tables, electronics and other heavy machinery, have no stress! We are a professional moving company with qualified movers you can rely on!
Two Removalists Cabramatta & One Removalist Truck Service
Thirdly, Quick Move is the moving company you need for your future relocations. We have all the necessary equipment such as trolleys, dollys and tools to disassemble/reassemble. Therefore, ensuring a quick and safe relocation. Quick Move really is your best choice.
Online Purchased Furniture Removalists Cabramatta
Additionally, Quick Move not only relocates your items to your new home or office. We can move your items from online and physical stores! These include Grays Online, Gumtree, eBay, IKEA, and more! We will pick up and deliver the items from the store dock! Even if we have to do multiple pick-ups, we are always here to help!
Reliable Furniture Removalists Cabramatta 7 Days A Week
Our movers are available for hire 7 days a week from 7 am to 7 pm. We are not limited to certain services and will do anything to keep our client trusting and satisfied. Quick Move loves your feedback! So, check out our customer reviews and we are sure you will be happy with what you see.
Finally, if you are moving to Cabramatta then Quick Move should be your number one choice. Make a booking online today for cheap movers! Or you can give Quick Move a quick call on 0487 399 669  from our contactable hours of 7 am -7 pm and our staff can tell you all about us and get you booked in over the phone!
Quick Move Proudly Servicing All Suburbs Within The Fairfield City