Furniture Removalists Mount Colah, Sydney NSW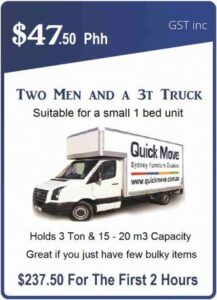 If you are on the lookout for cheap and affordable furniture removalists then you can finally rest as Quick Move is the best possible option for you. Especially if you are thinking of moving in or out of Mount Colah quickly and safely for cheap rates. If you would like to know more about our pricing and what we can offer you, then give us a call today on 0487 399 669!
Mount Colah is a great place to move in the Northern Suburbs that falls under the Hornsby Shire Council. This suburb is mainly for families with children as there are many things to do locally that can be fun for children and adults. Including the Kalkari Discovery Centre which is an information centre as well as a beautiful view from Mount Colah, a great hike and day out!
Those that are in need of affordable and cheap movers are in the perfect place. However, if you were needing services in other locations such as furniture relocators Mount Kuring-Gai, then Quick Move could definitely still provide you with cheap furniture moving services. We offer services to the entire Sydney Region, as well as a selection of outer Sydney cities. Contact us on 0487 399 669 to talk to our staff about the areas we service and whether we can help you!
Reliable Home Removalists Mount Colah
Fridge & Heavy Appliance Removalists Mount Colah
If you have purchased any heavy appliances such as fridges and washing machines either online or in-store. Then you will be needing professional movers. We have the right equipment including hydraulic tailgate lifters to relocate any heavy item with ease! You must choose our professional relocators for a job like this. Whether you need us to pick up the item straight from the store dock or go to multiple locations, we are happy to help.
Furniture Removalists Mount Colah
Quick Move has the cheap furniture movers you can really trust. We make sure we take the best care of your items by wrapping all items in padded furniture blankets for free, as well as complimentary plastic wrapping to be placed on all mattresses we will be moving for you. We also offer free packing boxes on the day of your move! Or if you would like to pre-pack your items you can purchase our boxes for just $3 each!
Last Minute Removalists Mount Colah
We are away that many unprofessional moving companies will completely ditch their jobs, leaving their client stranded. This is something Quick Move will never do to our customers! We are a professional company and will even come to help you with a last-minute relocation service if this has happened to you. We do everything in our power to ensure a smooth moving experience for all of our clients.
Affordable Furniture Removalists Mount Colah 7 Days A Week
If you were needing any sort of office furniture relocations, then Quick Move is a fantastic choice for you. We can relocate all of your business furniture including, long boardroom tables, electronics, heavy machinery and more. Whatever you need, Quick Move will happily strive through and perform with no complaints to help you have a smooth and calm office service.
Mount Colah offers beautiful views from many parts of this suburb. Many people will go on long hikes and walk to see these beautiful views, some include it as their daily source of exercise. This a perfect plan as all walks and runs in Mount Colah will be rewarded with great views from the mountain!
Make a booking with Quick Move today and we promise you will not regret it. You can do this today by simply going online to our booking form and once you have filled it in and submitted it you can expect an email confirming your move with Quick Move! You're making the right choice by using Quick Move for your upcoming furniture relocations to or from Mount Colah :).
Quick Move Proudly Servicing All Suburbs Within The Hornsby Shire