Furniture Removalists Waterloo, Sydney NSW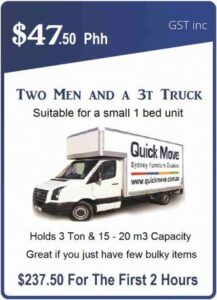 If you are needing a cheap move then you must choose Quick Move. Our workers are the only men that you can actually depend on. We will always exceed your expectations and never leave you with an unsatisfactory and poorly organised service. If you would like to get a free moving quote today, give us a quick call on 0487 399 669 and our staff will tell you all you need to know about us :).
Waterloo is a large and very popular suburb to move to in the Inner City Suburbs of Sydney falling under the City of Sydney Council. This suburb has a whopping 15,000 residents, the majority of which being professional workers that obtain jobs within the Sydney CBD and those who live on their own as there are many available small units and apartments in large buildings in Waterloo, the median house price is currently sitting at $985,000.
You can't ignore Quick Move when looking for a cheap company, as we have the cheapest rates in the whole Sydney Region. So if you were needing services elsewhere or in surrounding suburbs. Contact us today via our website or giving us a quick call today on 0487 399 669 and our staff will happily get you a free moving quote for where you would like to move.
Affordable Home Removalists Waterloo
Furniture Removalists Waterloo
Quick Move's professional workers can relocate all of your items in absolutely no time! As well as being as safe and cautious as possible. When moving your homes we will complimentary wrap all of your mattresses, we offer free moving boxes, and we will even wrap all of your items in padded furniture blankets free of charge.
Last Minute Furniture Removalists Waterloo
If you have unfortunately had a bad experience with unprofessional companies. Feel free to call Quick Move today on 0487 399 669 and our staff will easily be able to organise an emergency service for you.
Internal Removalists Waterloo
Quick Move offers many services, one of our most popular is our no truck services. This service is for people that only needed movers that would relocate furniture within their home. Therefore, you can hire as many men as you need for a cheap and affordable price.
Office Removalists Waterloo
A large percentage of Waterloo is high-rise office and apartment buildings. Luckily, our men have performed hundreds of large to small office moves. So you know when you are choosing Quick Move for your move, our men are qualified and experienced to help!
Reliable Furniture Removalists Waterloo 7 Days A Week
Quick Move is the company you need when moving your fridge and heavy appliances. This is because Quick Move actually takes care of your items. Our men make sure all items are being packed and lifted upright into our trucks using our hydraulic tailgate lifters. We will even strap and cover the appliances in padded furniture blankets. Not only do your assigned workers relocate appliances, but we are also qualified to install them!
There are many reasons why Waterloo is a great suburb to move to! Firstly, those who wanted a nice stroll along the water will really enjoy the ARTPark Australia in Waterloo. There are many relics and beautiful monuments you will see when walking along the wharf! Secondly, there are also many restaurants that offer delicious food in the area such as Luke's Kitchen.
If you were wanting to choose Quick Move for your much-needed move, feel free to call us today on 0487 399 669 and we can either get you a free moving quote or book you in over the phone where you will not have to do a thing. Or you can make a booking online by filling out our online booking form today where you will receive a 5% discount.
Quick Move Proudly Servicing All Suburbs Within The Sydney Inner City