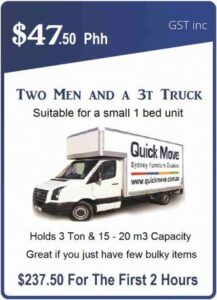 Our Blacktown furniture removalists cover the entire city and surrounding suburbs. We are a company that offers furniture relocation services at affordable rates no other companies can compare with. Whether you're needing large or small moves in Sydney, give us a call on 0487 399 669 to hire us!
Blacktown is a growing suburb in Western Sydney with over 47,000 people currently living there. It is quite a busy suburb with everything you could think of in a short distance away. The Blacktown council is super close and available to anyone living in or surrounding the area. That alone is a fantastic reason to move there as you will always have quick access to aid.
Furniture Removalists Blacktown, Sydney NSW
Firstly, Quick Move is a well-known local and reputable moving company operating in this area. We specialize in moving small to medium size homes which are perfect for those moving into the suburb. We totally understand why Blacktown is so popular! Our movers are constantly relocating young families to the area and are happy to help anyone in need. If you are seeking affordable movers in Blacktown, do not hesitate to contact us first and get a quick quote.
Moving to Blacktown or surrounding suburbs? You should definitely choose Quick Move! Our reputable services offer great value and a bang for your buck. Check our online reviews and see for yourself what people are saying about us why we should be your number one choice! The suburb is always switching it up and hosting events for the whole family such as the Sweet Indulgence Dessert Festival how amazing? We have had many people ask if we could assist with relocating markets and event equipment, that's no problem!
Secondly, our services are available for anyone in need of furniture relocations in this area. Whether it be large or small office relocations or fridge/heavy appliance deliveries. We will move all business furniture including long boardroom meeting tables, which is an item many other moving companies will not help with. Our movers will take on the challenge and ensure your items are well taken care of.
Affordable Rates, Hardworking Men, Reputable & Trusted Movers
Thirdly, our fridge and heavy appliance services are super quick and easy. We can organize relocations for second-hand appliances from stores like eBay or brand new from Harvey Norman! Many retail stores offer staff to help move, however, they are nowhere near as experienced and qualified as our movers! Why go with unprofessional guys that will most likely damage your items before you get to use them? When you can hire Quick Move and have a perfect moving experience with your items well taken care of!
Finally, Make a booking online via the website and save yourself a further 5% off the price!. Or if you would like to book in over the phone, give us a call on 0487 399 669. If you contact us to book in we will have one of our helpful staff explain the best service for you and lock you in for the date and time you would like. It is always the best choice to move homes with Quick Move!
Quick Move Proudly Servicing All Suburbs Within The Blacktown City