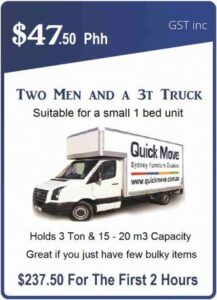 Leichhardt is one of the most popular suburbs to move to in Sydney. And who better to move you than the suburbs' very own local, professional and affordable moving company? That's Quick Move of course! Quick Move's men are the only movers you can actually trust when moving homes as no other company will take that extra step to make sure all of your items are safe and sound, providing 100% customer satisfaction. If you were looking to get a quote, simply give us a call today on 0487 399 669 and our staff will happily answer whatever questions you may have.
Leichhardt is one of the most popular suburbs to move to in Sydney, it falls under the Inner Western Council and has over 14,500 residents. This suburb is also known as "little Italy".This is because it is the Italian culture hub! Where there are many Italian restaurants, cafes, pubs, and more. The suburb even hosts an annual event called the Festa food festival every October! Thousands of people will come to see it all lit up and filled with beautiful Italian cuisine.
Furniture Removalists Leichhardt, Sydney NSW
We know that moving homes, especially in the inner western Sydney suburbs can be quite stressful as it can get quite busy, although when choosing Quick Move you will not need to lift a finger, all you have to do is sit back, relax and let the professionals do all the heavy lifting! Have a quick look at our customer reviews today and we promise you will be happy with what you see about Quick Move.
Affordable Home Removalists Leichhardt
No other company could possibly beat Quick Move, here are some of our most popular and requested services:
Office Removalists Leichhardt
There are many high-rise buildings in Leichhardt. No matter how big your move, our workers can definitely help for an inexpensive rate you can actually afford!
Internal Removalists Leichhardt
Firstly Leichhardt's majority of homes are small 1-2 bedroom apartments in high-rise apartment buildings. One thing Quick Move does that other companies don't is have free charges on stairs and lifts. Secondly, Other companies are known to charge up to $5 for each step they are relocating furniture up / down. Therefore If you are unable to move items in your own home you are very welcome to hire as many men as you need!.
Furniture Delivery Services Leichhardt For Online Purchases
Many people will buy heavy/large furniture like washing machines, dining tables, and more from websites. And some without thinking about how they're gonna get these items to their home. Lucky for you Quick Move will go to wherever you need and deliver it to you!
Cheap Furniture Removalists Leichhardt
Our men take extreme care when relocating every single piece of furniture. Because this includes: completely covering your items in padded furniture blankets, free packing boxes available for your use on the day of your move, and we will even complimentary plastic wrap any mattresses we will be moving for you.
Reliable Furniture Removalists Leichhardt 7 Days A Week
If you are thinking of moving homes in or out of Leichhardt. Then you have come to the perfect spot to find movers for a cheap and affordable price! Although if that wasn't specifically what you were looking for. We also offer our services to the entire Sydney Region!
Leichhardt, like said before is very well known for its amazing Italian cuisines that people go flooding for. Our men always stop into this area if they are on a lunch break! Our men recommend, Moretti Ristorante Pizzeria.
If you have decided that Quick Move is the best option for you, hire us today! All you have to do to make a booking online is simply fill out our booking form and once it is all submitted you are ready and can expect a professional pair of workers on the day you selected for your move!
Quick Move Proudly Servicing All Suburbs Within The Inner West City