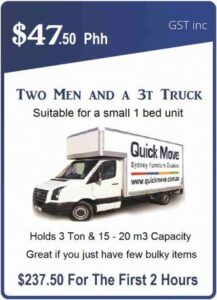 If you have been constantly on the lookout for cheap furniture movers within Smithfield then Quick Move is here for you!. Especially if you've been looking for cheap companies. Quick Move offers low and inexpensive rates that will absolutely blow your mind. You really get a bang for your buck when booking with Quick Move!
Smithfield is a popular suburb with over 11,000 residents in the City of Fairfield as well as the Cumberland Council, in short within the Greater Western Sydney Region.
Furniture Removalists Smithfield, Sydney NSW
This suburb is home to general families as the homes are perfectly suited for which, usually being 3+ bedrooms with the median house rate sitting at $707,500. Smithfield is actually where Quick Move's base is so we can get your move done quick and snappy!
If you have been wondering more about Quick Move's cheap and affordable rates, we recommend you give us a call on 0487 399 669 today as we can have one of our staff organize a free moving quote over the phone with you so you understand our rates even more! You can also check our about page or FAQ for any other questions you may have!
Smithfield's Most Affordable, Hardworking & Trusted Movers
Furniture Removalists Smithfield
Our men are capable of moving absolutely anything as they have been specifically trained to relocate heavy items at the safest position during transit!
Office Removalists Smithfield
Our men have been in the industry for over five years now! Therefore, they have amazing experience and qualifications to move every single piece of furniture that you need, do not be shy to ask questions or ask us to do any other services such as assist in packing or disassembling/assembling any items as we can certainly help you!
Home removalists Smithfield
Our men can help relocate your furniture from all sized homes. We have over 30 trucks available for your use on all seven days of the week! Our smallest vehicle is a transit van while the largest being a 12–14 tonne truck. We supply high-quality men who you know what they doing and can get your move done in no time.
Affordable Furniture Removalists In Smithfield Open 7 Days A Week
Lucky for you our base is actually located within Smithfield! This means we finish your move quickly and easily!
If you would like to make a booking with Quick Move then we suggest you do so online. This way you have access to use our discount code offering 5% off. You can also take as long as you need to make sure all the details you enter are correct. However, if you prefer to speak to our staff then you can definitely give us a call on 0487 399 669 and we can organize your move over the phone with one of our wonderful ladies in our bookings department.
Quick Move Proudly Servicing All Suburbs Within The Cumberland City