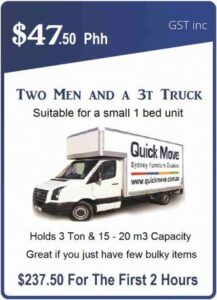 Hire our experienced removalists Bayview for the cheapest home and furniture relocations. We guarantee you 2 men and a truck for your move, along with all the necessary equipment. Our experienced movers Bayview have done thousands of moves in this suburb, Therefore we are completely aware of the parking situations. Contact us today by calling us on 0487 399 669 and we will provide a free quote instantly.
Home & Furniture Removalists Bayview, Sydney NSW
Bayview is a small suburb with approximately 4000 residents falling under the Bayside Council. The majority of them are families with children and retirees as it is a lovely town with many local and useful facilities. The Pittwater Place is only a 7-minute drive away making this a hot spot in the area. Quick Move offers a large variety of cheap moving services these include:
The most experienced movers come prepared with trolleys, dollys, and all tools to disassemble/reassemble your items. Therefore, we will relocate all your items to your new home. Furthermore, we will place them where they need to go in each room.
Office Removalists Bayview
Firstly, you can expect the best office movers when booking with Quick Move. Secondly, we will move your general business furniture as well as large boardroom tables and office equipment. Thirdly, we send a minimum of 2 men to all moves. However, if you require more we will send as many as you need.
Fridge & Appliance Removals Bayview
Your team of men will easily relocate your heavy items, we can even install appliances like fridges and washing machines for you! Many people purchase appliances online these days. We offer a simple pick-up and delivery service for all appliances. We will not drop them at your door. Above all, our men will bring them inside, upstairs and place them where they need to go. We will even install your washing machine for you for no extra charges.
Muscle Power Internal removalists Bayview
If you were looking for that extra muscle then we can happily send out as many guys as you need. It is awkward moving large items of furniture around rooms. Or perhaps you are getting your floors redone and need items to move to your garage. Either way, we can move your items and then place them back where they need to go when you are ready.
Cheapest Removalists Bayview
Bayview is a great place to move for many reasons, the Rowland Reserve is a perfect place to take your young ones to swim on those extra hot days. It is waveless, therefore, a relaxing day for children and adults! The majority of those who live in Bayview have large houses with quite large backyards. The current medium price for Bayview is 1.4 to 1.7 million dollars.
Our moving company will easily sort all of your items into our trucks no matter how much stuff you have. We have over 30 trucks ranging from as small as your typical Ute, to the large 16-tonne truck. Therefore, you should call us today on 0487399669.
Quick Move has no hidden charges, unlike many other companies. We do not charge extra to move items up and down stairs/lifts. GST is included, we also carry free boxes on the day of your move so you can use as many as you need. We will even help pack and unpack those boxes if you need us to.
Removalists Bayview You Can Rely On!
Quick Move is the removalists Bayview you can really depend on. We get many calls a week from people who have chosen other movers and have been let down, Quick Move will easily perform last-minute moves. We will relocate all of your items with ease. You can make a booking with Quick Move online now to activate our daily deals and promotions. Alternatively, you can call us now on 0487 399 669 and our head office will happily book you in over the phone.
Quick Move Proudly Servicing All Northern Beaches Suburbs Of Sydney