,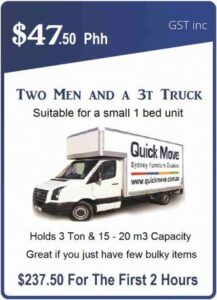 Those that are moving in or out of The Rocks might as well stop looking for other companies right now as you have found the cheapest moving company throughout the entirety of Sydney. If you don't believe us you can check out our customer reviews or call 0487 399 669 to have a chat with our staff that can give you a great price for your move!
The Rocks have to be around the top of the list for the most popular suburbs in Sydney. This is a wonderful place to move to in the City of Sydney if you have the money, which is why it is perfect for professional workers because there's many job opportunities within the Sydney CBD. The median house price for The Rocks is currently placed at 3.6 million dollars, because of how big the homes are.
Furniture Removalists The Rocks, Sydney NSW
Those that are moving to The Rocks have come to the perfect company for the job! There are no other businesses you can really depend on for your move. However, if you were looking for other suburbs, then Quick Move can definitely help you! We offer our services to the entire Sydney Region!
Affordable Home Removalists The Rocks
If you are moving to The Rocks then here are a few of our best services we think you may be interested in:
Furniture Removalists The Rocks
If you are needing professionals to relocate your delicate and fragile items, then you must choose Quick Move for your move!. Our men will not break the bank or your items, always book with Quick Move!
Last Minute Furniture Removalists The Rocks
Many companies are untrustworthy and unprofessional. You will never know what you are paying for and whether it is a scam. Hire Quick Move first for a guaranteed service on the correct day that you selected. And if you have unfortunately had a terrible service, you can always call Quick Move for last-minute services.
Fridge & Appliance Removalists The Rocks
If you have recently purchased any appliances or items from stores, then you will most likely be needing movers. Not only will our men take the best care of delivering your appliances to your home. But we can even install them for you!
Reliable Furniture Removalists The Rocks 7 Days A Week
Quick Move has cheap and affordable services available to anyone needing to move any day of the week. Our contactable hours are from 7 am – 7 pm. Meaning, if you were needing to ask any questions at all about our services then feel free to give us a quick buzz on 0487 399 669 and our staff will happily tell you anything you need to know about why our services will always be the best choice for you.
There are many things to do along The Rocks. The most popular is to have lunch and dinner at the beautiful restaurants along the water. Our men always stop into The Rocks after doing a hard move for a lunch break. Their most recommended restaurant is 6Head! Which overlooks the harbour bridge as well as the Sydney Opera House! What a wonderful view!
You can make a booking with Quick Move today by simply giving us a call on 0487 399 669. Quick Move really is your number one guy, and if you were looking for the cheapest moving company, then booking with Quick Move is the best choice for you.
Quick Move Proudly Servicing All Suburbs Within The Sydney Inner City