Furniture Removalists Potts Point & Kings Cross, Sydney NSW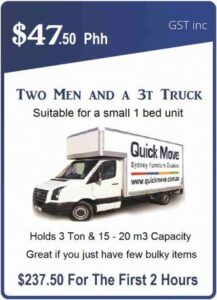 Quick move is the cheapest and most affordable removalists Potts Point. However, we offer our remarkable services to anyone in Sydney. This suburb has a variety of attractions and facilities open to all of its residents. Located in the Council of Sydney City, it only has 4000 people currently living there. Therefore it's considered a small residential suburb. However, hundreds of people each night come in and experience the amazing nightclubs that Kings Cross is so renowned for.
Quick Move can guarantee a professional and hard-working team to move your items for you. All items we move are taken care of. Therefore always being packed securely into the truck correctly.  All items are wrapped in our padded furniture blankets. We come equipped with all the necessary moving equipment needed for the job. This including trolleys, tools, extra plastic wrap, etc. We don't only do house relocations. Furthermore, we conduct small office moves, event setups, concert equipment, just to name a few.
Our staff will take the extra step and not only move these items but we can assemble/disassemble any item needed. Our number 1 priority is keeping the movement under control. Therefore relocating all items quickly and safely. Above all ensuring our customers are happy with our service. We move 10's of 1000's of customers each year as we have been in the moving industry since 2011. Being well known in the industry for a great moving experience is our goal.
Scroll through our great customer reviews today.
Movers Potts Point You Can Rely On
Quick Move provides you with 2 men and a truck for all moves. If you are just after muscle power then we can send out two strong men. Our prates and charges are the cheapest in Sydney. We have no hidden fees and GST is inclusive.
It's extremely convenient to live in kings cross as it is so close to the CBD. It is perfect for those who have jobs in the City you have quick and easy transportation on hand. Kings Cross has a lot to offer. For example, the restaurants and eateries are amazing. Harry's Cafe' de wheels is an extremely popular stand in Kings Cross.  Many celebrities or influencers have visited. Therefore proving it is becoming one of Sydney's biggest tourism spots.
Quick Move has the most affordable rates while still offering the best service. You really get value for your money. We offer amazing services all over Sydney. However, we are the most professional, efficient, and affordable. You can call us between 7 am-7 pm any day Monday – Sunday on 0487 399 559.
Popular and Highly Recommended Furniture Removals Potts Point
The majority of residencies here are small apartments or 1-2 bedroom homes. Quick Move specialises in small moves. Moving to the busy streets of Sydney can be daunting. Not for us though. We do not have any sneaky charges. Furthermore, 1 thing many furniture moving companies in Kings Cross cannot say. We do not charge extra for stairs or lifts. GST is included in our rates and there is no additional fuel levy's. We do not chargeback to base, therefore the time starts and stops at your door. We offer a wide range of deals that we are constantly updating and changing such as.
Firstly we offer free plastic wrapping on ALL of your mattresses. Secondly, you have unlimited free usage of boxes on the day. Thirdly, we can sell them for only $3 a box! Lastly and most importantly we offer a 5% discount on all bookings made via the website. Book online today and take advantage of our online promotions.
Potts Point would be the perfect place to move to for a young family. Some may say that it is not particularly "family-friendly". The nightclubs at Kings Cross are extremely popular and have 100's of visits every night. After Quick Move has you all moved into your new home go have a fun night out with your friends at one of these incredible nightclubs.
Potts Point Removalist providing professionalism and efficiency to every move
There is surely a range of events in Kings Cross you will stumble upon. If you are into these events you are sure to make friends and meet new interesting people. Check out  The Kings Cross Organic Food Markets, Open mics, comedy nights, nightclubs, and many more. These are the perfect events to find people with the same interests as you.
Above all, we will never take advantage of our customers. Our movers are professional teams. We have extremely high standards. Our staff are all hard-working and experienced employees. Contact us today on 0487 399 669.  Book online or click here for a free moving quote today.
Quick Move Proudly Servicing All Suburbs Within The Sydney Inner City